What makes your website/mobile app design stand out from the crowd? While many say the images, videos and visual content, others consider the layout of the design as an impactful source. No doubt, all these elements play a crucial role in engaging the users, but the main player in the game to rule the heart of your audience is TEXT.
According to the market reports, 95% of online communication is still made with texts. This implies that no matter how good design plan you have formulated, how engaging icon you have used if the text (typography) is not interesting, engaging and effective, the communication between your app and the users will suffer. And, this will eventually affect the success of your online platform.
Taking the same thought into account, we will discuss the importance of typography in the design in this article. In addition to this, we will look into the best tools and trends to consider for bringing a major impact on the user base.
Need to Consider Typography While Designing an App/Web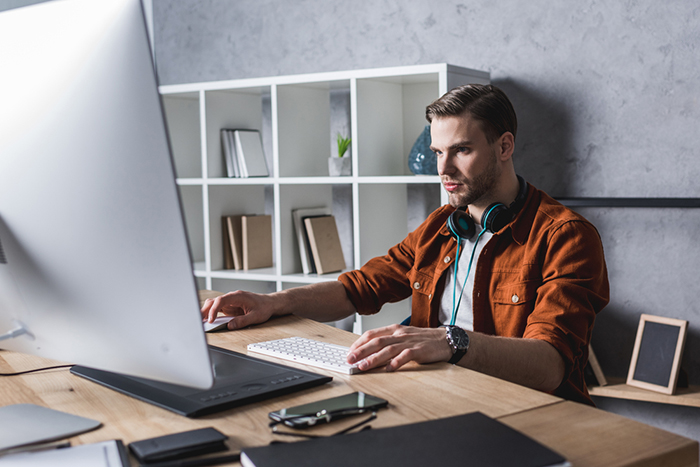 Typography acts as the body language for your website or mobile app. It plays a major role in building the first impression of your platform, which eventually brings an impact on user acquisition, engagement and conversion aspect.
For stable work without lags, you'd better have a graphic design laptop with a powerful CPU and high-resolution screen.
On a broader scale, considering typography in the designing process is necessary because:
It boosts Readability
As per a study regarding how human read online, the typography makes a significant role in how users understand the information. If your content is typographically well-curated, the user will find it easier to go with the flow, visualize the information and comprehend it effortlessly.  
Besides, use of different types of typefaces, sizes, and colors in the content compels the users to focus more on the highlighted information, rather than reading them on the same note. This technique will aid you to provide them with relevant information easily and quickly, which will eventually lead to a positive user experience.
It improves Conversion Rates
The right typography compliments the UX experience. It encourages the users to spend more time on your platform, which increases the chances of users asking for your products/services.
It reflects Professionalism
The way you represent the information on your website or mobile application highlights your professionalism level. If you use stylish fonts that do not fit with your brand's tone or philosophy, it will leave a bad impression on your end users. The target audience will assume that you are not serious about your brand image in the market, because of which you may fail to reach your goals. Thus, it is crucial to focus on the typography of your platform to deliver the right message to the right audience.
As per the top mobile app designers, the fonts to be used depends highly on the type of services you offer. For example, if you are in a real estate business, you can't use quirky fonts like that in the case of an entertainment business.
Now as you know why is it important to consider the typography in your app design process, let's look into the list of the best tools to use.
Best Typography Tools for Designers to Use in 2018 (and Beyond)

Fontface Ninja

Ever happened that you liked the typography of a website so much that you wish to know which typography style it is. You spend an inordinate amount of time in the research process and turn towards every designer, but fail to find that particular typography style.
If so, then Fontface Ninja will surely bring a wider smile on your face. Available as a free extension for Chrome, Safari, and Firefox, this typography design tool is fantastic for inspecting, trying and buying different font styles used on a website. All you have to do is to install the browser extension, click on the icon and hover over the content. The tool will provide you with the insights related to that font, including name, size, line spacing, color, line height, etc.
It will offer you a blank window on the same website you are browsing to try the font as well as display the price of that font and a link to purchase it. In this way, it eases your journey to find, try and buy a particular font for implementing in your website/mobile app design.
Bonus: The Fontface Ninja typography design tool will sooner let you bookmark a font in fontfacedojo.com for later.
Google Fonts

When it comes to online typography tools, Google Fonts is always on the top of the list. Also called Google Web Fonts, this typography library provides you with an access to more than 900 fonts on the same screen. It also offers you an interactive web directory for exploring the library, and the APIs to use these fonts via Android and CSS, and filter them out as per your design guidelines.
Emotypes

Considering how important are emotions for higher conversions, if you are wondering which typography to use to trigger positive emotions in users visiting your platform, Emotypes is the right option to go with.
Emotypes categorizes the typography as per the emotion they generate. In this way, it makes it easier for the designers to pick the right set of fonts easily and quickly. For example, here are the font types that emotypes tool recommends for inducing a welcoming feeling in the end users.
Font Joy


Font Joy is another impressive typography tool that every designer must keep in their creative toolkit. Based on the concept of Machine learning, this tool gives you the freedom to experiment with different combinations of font and find the best contrasting yet complimentary typography to leave an everlasting impression.
For example, here are the different typefaces that I tried for the Heading, Subheading and Body text.
As shown in the picture, you can select the right font combination by tapping on the settings button placed on the left of the screen in front of all the font categories. You can also set the contrasting power of each typeface to build an enticing design.
Modular Scale

Ever experienced that your app reading experience does not seem perfect, even when you've chosen the best typefaces?
Well, such situations are often faced by an app designer when he/she does not pay attention to the size relationships between various heading and body text modules. And this is where Modular Scale tool comes into play.
As depicted by the name, Modular Scale helps you to learn the hierarchy of the font sizes for different fonts and the mathematical formulas to calculate the optimal ratio. In this way, it eventually helps you to determine the right range of ratios and create a seamless reading experience.
Flipping Typical

Ever got struck with recalling the typography you've used to write content when asked to proceed after a long time? If so, then Flipping Typical is at your rescue. This mobile app design tool will let you preview and compare font styles to determine which typography style you have chosen earlier.
For gaining these insights, all you have to do is to type in the uppermost section and the tool will instantly display the content in all the typefaces that you have ever installed from your browser. In this way, you will be easily able to find out the right one and continue with your work.
Typekit Practice

Last but not least, Typekit Practice is another amazing typography tool that lands into this list. This platform empowers you to look into different font styles belonging to the same font family as well as keep your knowledge updated through its resources section.
In other words, this platform is a complete package in itself where you can learn, download and practice different font styles to polish your designing skills.
Though the aforementioned typography tools are really effective in creating an engaging design, the knowledge of the market trend can bring a significant difference. So, taking the same thought forward, here are some of the new changes you will notice in 2019 and beyond.
What's New in Typography?

Geometric lettering will rule the market in 2019, with its clean and sophisticated design approach and potential to evoke futuristic vibes. This precise design perspective will make this style suitable for designing business cards and logos.
While geometric font will give a professional's look, the hand-letter fonts will add an emotional touch to the design. It will make the design look more casual, enable the users to easily relate to it, and thus encourage them to remain with the brand using this typography style in their product design, invitations, and logos.
Watercolor fonts will also be a big hit in 2019. It will add another dimension to the existing typography, give a humanistic appearance to the design, and increase the opportunity for designers to engage the users. When talking about these types of fonts, they will be widely used for creating a company logo, promotional items, and social media graphics. Do you find this article helpful? Share your thoughts in the comment section below.