The right font can elevate your website to something truly special – or render it completely unappealing. When a visitor lands on your site, they will form their initial impression within a fraction of a second. If they can't read your text or find it off-putting, they are unlikely to stick around. There are thousands of paid and free options out there. Picking the perfect font for your project can be a daunting task. Where should you begin?
Experimenting with free creative fonts is a great first step. In this guide, we'll introduce you to some of the best fonts available online. Whatever your style or project type, you'll find something here that suits your needs.
Although these fonts are free, this doesn't mean they are automatically inferior to paid versions. Many designers enjoy producing and distributing free creative fonts as a creative challenge or a self-promotion tool. Never assume that a font's price tag – or lack thereof – is a reliable indicator of its quality.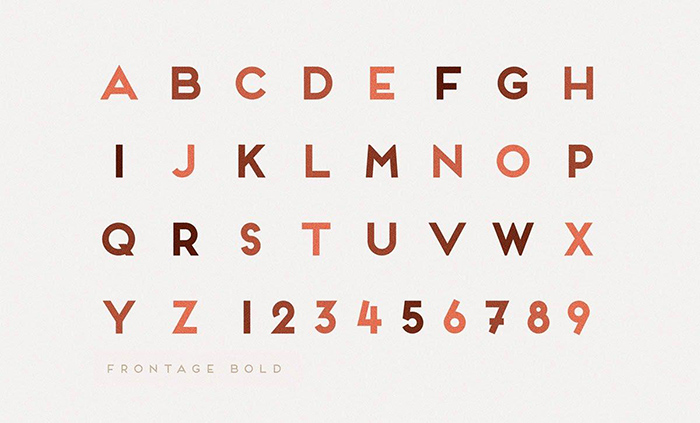 A highly flexible font with several variations, Frontage is a wonderful choice if you are creating work with a vintage feel. You can use the capital letters for a striking look, or take advantage of its layering system for a shadowed or 3D finish. It is perfect for logos and headlines.

Do you need a logo that truly stands out from the rest? If so, check out POLYA. With its unique yet curved geometric design, it immediately commands attention.

Do you need a flexible font that looks great as a headline or as main body text? Oranienbaum may be the answer. It's a fresh, updated version of classic Antiqua free creative fonts. Its pronounced serifs lend it a timeless elegance, making it perfect for websites selling high-end products and services.

A contemporary serif typeface that brings classical curves up to date, Butler is available in 7 regular and 7 stencil weights, making it perfect for all kinds of projects. Whether you need an eye-catching title or an aesthetically pleasing text body, this font will get the job done.

With its clean, minimalist aesthetic, Alcubierre is a fantastic sans serif typeface for creating highly readable content. Use it to create headlines, main body text, or anything in between.

This pair of free creative fonts can be used together to create a striking yet balanced look. The designer behind Big John/Slim Joe initially devised Big John as a chunky font, then decided to create a lighter version – Slim Joe – as a counterpoint. They are best used as headings.


This rounded, easy-to-read font was created by Danish engineer Johan Aakerland. It is attractive without being intrusive, making it a strong choice for large blocks of text. It can also be used to add words to logos and headers.

Do you need to give your project a rustic vibe? Westfalia may be the perfect font for you. Rambler Creative have created this hand-painted sans typeface for people who want to convey a sense of adventure in the great outdoors. With its messy lines and marker-like finish, it has an informal, youthful feel. It is perfect for headlines and logos.

A stunning calligraphy font with a classical finish, Ambarella lends a feminine feel to your project. Best used for headings, it lends a subtle flair to any website.

If you want a handwritten font suited to both main body text and headlines, consider Shadows Into Light. With its gentle curves and softly rounded edges, it will lend your project a distinctly feminine touch.

With its soft yet distinctly urban appearance, this marker style font produces striking text that demands a reader's attention. It balances a graffiti aesthetic with readability, but the designer advises that it is more appropriate for headlines than regular text.

Arvo is a highly readable, flexible font that comes in four styles: Normal, italic, bold, and bold italic. It works well for print and screen use.

Available in 27 styles, HK NOVA is a versatile sans serif font that takes inspiration from Futura and Century Gothic for inspiration. Whether you display it as a large heading or use it for regular text, your readers will appreciate its legibility and style. It comes in three versions: Standard, Rounded, and Narrow.

Designer Fabien Despinoy came up with this handwritten, informal font that will give a cozy feel to your project. It looks stunning against a blackboard-style background and works beautifully for both screen and print.

Jaapoki comes with two alternatives: Subtract and Enhance. The Subtract alternative features broken lines, whereas Enhance offers a more robust version of the standard typeface.
Final Words
These fonts are free to use as of 2018, but always double-check licensing terms and conditions before using any fonts in your projects as they are liable to change at any time. If you are unsure, always contact the creator before proceeding.
When picking out a font, you need to ask yourself several important questions. Don't choose one on the basis that it appeals to you on a visceral level.
Consider:
Whether a font fits your brand's personality and ethos;

Whether you need a font for a header or regular text;

Whether your audience has accessibility needs;

How multiple fonts will fit together
Designers appreciate acknowledgment and feedback. If you use a free font, give credit where credit is due. Send the designer a message thanking them for their hard work, and consider supporting them with a donation if they have a button set up on their online portfolio.