Any consumer who spends their hard-earned money on varied products and services would firstly like to have a proof that they are investing their money intelligently.
Showcasing consumers that others have already bought your products and services and witnessed an awesome experience is a powerful social proof which can turn out to be really beneficial for encouraging new buyers. An impressive number of positive testimonials may be the last push required for converting hesitant buyers into trustworthy customers.
You can easily contact your previous customers and ask them to email you with testimonials about their purchase and then add them manually to your site ensuring to style them correctly. However, testimonial WordPress plugins can make your task easier to manage, collect and showcase testimonials from varied clients.
In this article, we will discuss some of the most popular testimonial plugins that you can integrate into your site and increase your conversion. Let's have a glimpse:
Captivating Testimonials Plugin For WordPress
Testimonials Widget comes in both free and premium version. This testimonial plugin allows you to randomly list or slide is chosen quotes, portfolios, text with images, reviews or videos on your WordPress website. You can seamlessly insert testimonial content via theme functions, shortcode, widget with different category and tag selections.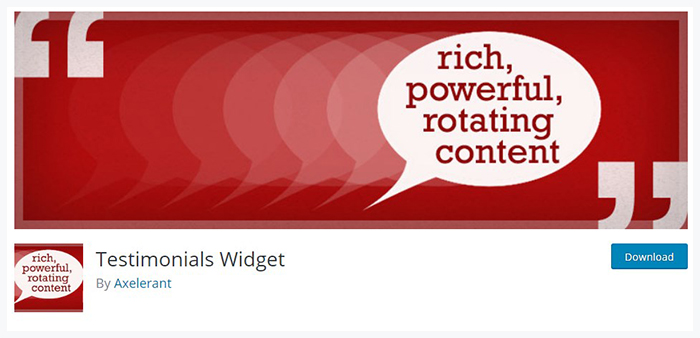 Outstanding Features
Shortcode compatibility.

Loaded with slide text that is utilized for rotating testimonials.

Shortcode and widget ready.

Can be displayed randomly.

Shortcode and widget ready.
Testimonial Rotator is the perfect way to handle testimonials. This plugin has around 20,000 active installs making it the most popular choice among businesses. This plugin is designed in a way that it allows you to create testimonials as per the customized post types and include testimonials to custom rotators for displaying. Testimonials are showcased via shortcode or a widget.
For personalized display of the testimonials, you can easily design your own custom templates or utilize the paid or free testimonial themes offered by the plugin author. There are some rotator settings which can be personalized including the display of star rankings, author details, and next or previous information.

Captivating Features
Capability to design custom templates.

Include testimonials to multifarious rotators.

Space for author information.

Star ratings.

Vertical align testimonials as per the height.
Strong testimonials is the most sought after plugin which not only works seamlessly for beginners but also offers advanced functionality. With around 8000+ active installs, this plugin is worth a look.
Strong testimonials offers an entirely customizable front-end form for gathering testimonials from customers. You can easily remove or include fields, configure anti-spam features and set up notification emails to multifarious administrators. The display of testimonials is managed by the views that enable varied options to be installed like the style of display, sort order, which testimonial to showcase and distinct layout options.  

Distinct Features
Includes masonry and grids.

Laced with custom fields.

Star ratings.

Developer-friendly.

There are no complex shortcodes.
Handsome Testimonials is one such plugin that comes with testimonial shortcode generator allowing you to change fonts, colors, alignment and several other styling options for getting your testimonial look the way you wish. In addition to this, it also offers a live preview for checking what your personalization looks like before adding the testimonials to a page. The shortcode settings can be saved and restored in pages, widgets, and posts making it simple to design copies of testimonial displays. The plugin also offers free testimonial designs for using as a starting point.

Captivating Features
Modify the color of subtitle, title, and body text.

Alter image size and alignment.

Select square or round images.

Seamlessly include testimonials to sidebar widgets, with the help of app widgets.

Include a shadow to a customer image.
If you wish to get direct reviews from the clients but do not want to spend huge bucks, then this plugin is the perfect option for you. Rich Reviews testimonial plugin allows a site owner to gather reviews from customers via the site and showcase were chosen reviews anywhere on the site with the help of shortcodes.
Testimonials can be easily posted in any page, post, sidebar or footer widget. Shortcode customization enables you to create an aggregate review rating from some reviews.

Eye-catchy Traits
Designed completely around shortcodes, enabling you to include any from the three major features on the post, widget, page, sidebar or footer on your website.

Install with gravatar images and user accounts.

Present for translation.

Moderated submissions which simply means that you can select which review to post on your site.

Infinite color options for the star and numerical rating systems.
Testimonial Basics is created in such a manner that it is highly simple to use and up to the point without complicating things. Though it is easy, it does not lack any essential features. The plugin is equipped with styling functionalities and distinct fonts which assist you to personalize the look of the testimonials. The plugin provides such testimonials which support five-star rating system including Gravatars. This simply shows that you no longer require to go through the tough task of uploading the image but the person writing the review must have Gravatar. In addition to this, there are several input forms which can be used as shortcodes or widgets to get testimonials from customers on the site directly.

Impressive Features
Group testimonials for individual display.

Usage of excerpts and sliders.

Restore and backup testimonials.

Fully compatible with RTL.

Utilize one among the nine web friendly fonts.
Ending Notes
To sum up, it is extremely easy to get baffled in the presence of numerous testimonial plugins as to which WordPress plugins would be the perfect option for your testimonial content. But, the above list might help you in taking a wise decision. No matter you are looking for advanced customization or common functionalities, you may find one plugin in this list which meets your needs. So, why to wait for? Select the testimonial plugin which meets your business requirements. In case you feel that we have missed out any vital plugin, then feel free to share your ideas in the comment section below.