If you are one of those who got their fingers wet into the waters of WordPress, WordCamp is a good opportunity to hop on. What is WordCamp about? Well, nothing more nothing less but building connections. Whether you want to meet people you'd like to work for and freelancers you could partner up with, WordCamp will take you forward. 
Have you ever spoken on Twitter to people you'd love to meet? With WordCamp, it's easy to make your dreams a reality. Better yet, you can talk to people who, say, could become your mentors and partners later. So, do it right and hop onto the opportunity to say 'hi' to people you want and lots more. The best thing is that you can attend WordCamp as a part of the team if you're afraid to do it on your own.
Being one of the biggest WordPress events, WordCamp broke a number of records this time. With 3260 tickets been sold, WordCamp is a great place to catch up with old friends and meet new ones. Even more, for over 50 percent of attendees, it could be their first ever WordCamp. 
June is the best time for having a vacation and chill, however, our ThemeREX team thinks quite the opposite. That's why we decided to delve into the spirit of the WordPress community even deeper and we found the best possible place for that, which is WordCamp Europe 2019. The conference was held on June 20-22 in Berlin.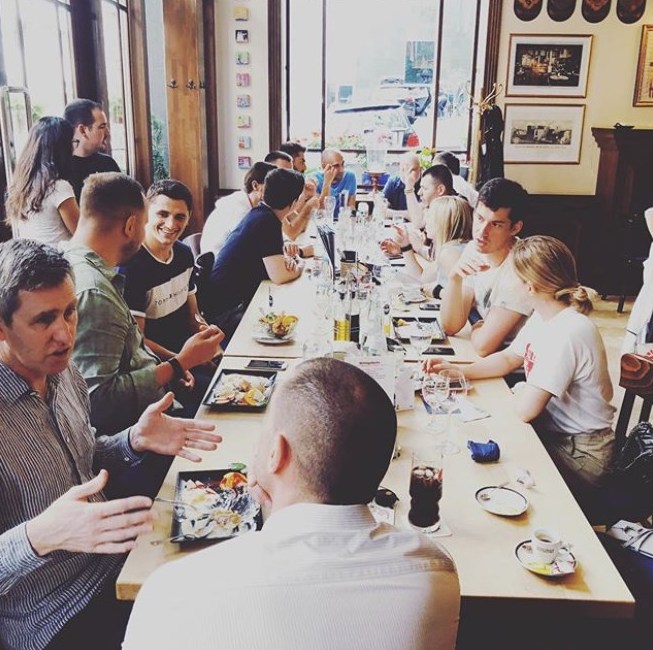 Source: www.instagram.com/jamesgiroux
Envato Authors Are Indeed the Part of the WordPress Community
Prior to the WordCamp itself, ThemeREX team got the chance to meet our fellow Envato authors and discuss the future of the industry, share experiences and have fun, of course 🙂 
Many thanks to Envato WorldWide team for the dinner and networking. You can only imagine how great it was to witness the representatives of TOP 10 ThemeForest Authors, such as ThemeFusion, Artbees, Qode and be able to exchange ideas, concerns, and collaboration offers, sipping a fancy glass of wine. 
Won the hearts of 523K of satisfied customers, ThemeFusion needs no introduction today. Imagine, no other product has become the #1 selling WordPress theme on Themeforest.net. within a short span of 3 years. So, the opportunity to meet a team behind Avada is really huge. 
When it comes to Artbees, 100.000+ customers can't go wrong. Well, Artbees cornered the CMS market with an awesome beast called Jupiter. In fact, it has a reason to be one of the top 10 WordPress themes on the Envato marketplace. Now, face it, meeting these top authors in person is huge, right?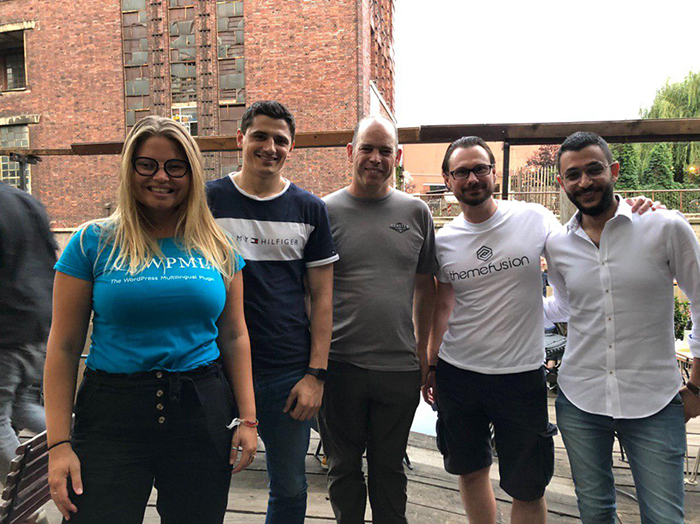 Being a true Harry Potter fan means getting the invitation to Avada party, organized by ThemeFusion team, that was all about magic powers that all Envato authors possess. A big shoutout to the creative teams of WMPL, EvensCalendar that we make our lives better every day. 
WordCamp: Day 1, Day 2
What's Up with WordCamp?
Forget everything that you know about various conferences and workshops because WordCamp is one of a kind. The atmosphere is soaked with community spirit, the attendees are open-minded and eager to get to know each other, the organizing team is really helpful and the speakers are immensely inspirational.
What to Do at WordCamp?
Meeting our old friends and partners such as Bluehost, SiteGround, Woocommerce, and discussing some future perspectives and collaboration terms, along with Envato authors that had the chance to be a part of sponsors and organizers really made us feel like a true part of a whole WordPress community.
Networking and sponsored merch were equally exciting. Nobody left without a bunch of free and creative stuff that was spread around the place by sponsors and attendees.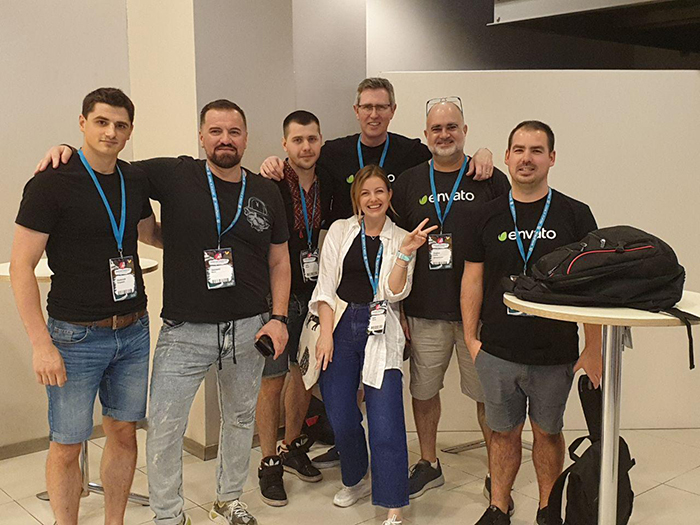 Any Fun, No?
Nothing can go smoothly, though, especially if you are Matt Mullenweg and you don't know who James Girlou is :). Don't worry if you didn't get the joke, we're going to explain it. 
 We're pretty much sure that if you are one of Envato authors you've heard of tons of speculations concerning "WordPress and Envato" confrontations,  that were completely shattered by the co-founder of WordPress, Matt Mullenweg, and James Giroux, the Envato WorldWide representative.
During his Q&As Matt was asked about the Hundred Years' War between WordPress and Envato and dispelled all the myths that may stand in a way of understanding and collaborative nature of the WordPress community.
James in his turn did pretty much the same in his Instagram post.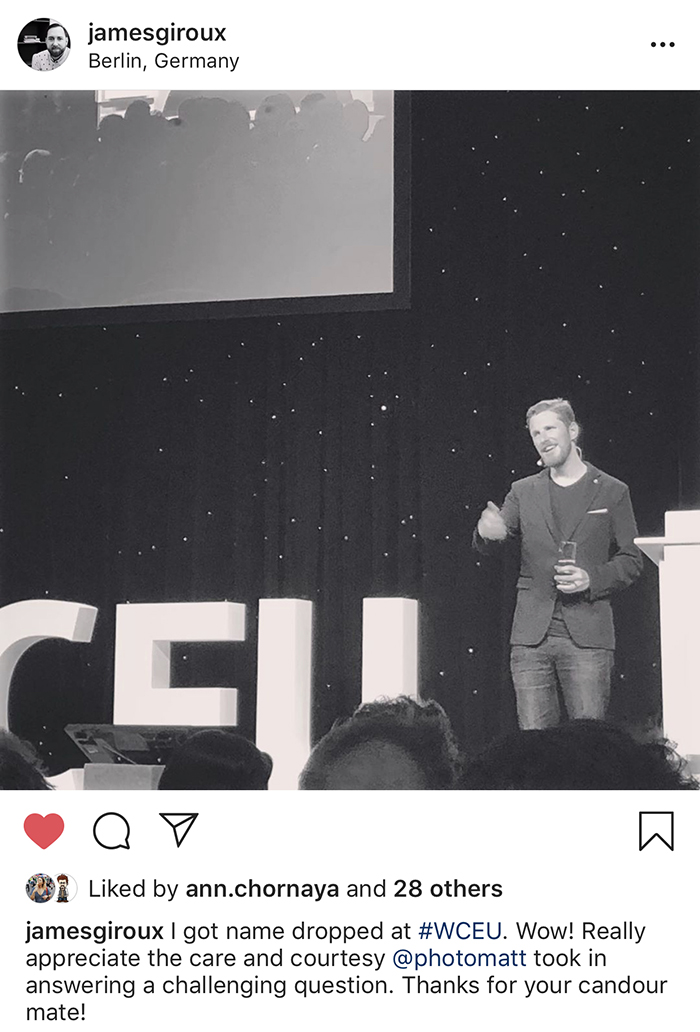 So, there's a place for intrigues and conspiracy theories, guys, as Envato employees are not allowed to become speakers or sponsors on WordCamp. However, nobody prevented the Envato team from wearing their branded t-shirts. 
Em, Any Gutenberg News?
Not much, except for the fact that Gutenberg is everything, and all of us have to learn how to leverage the power of it and get ready for more updates and features. Yet, there are some things you shouldn't miss out on. 
First, remember that we are now in phase 2 of Gutenberg's – experimental. It means that it's easy to take advantage of all the cool improvements that happen right away. Second, snack bars. Want to show off what's new? Do it with a snap bar pop up in the bottom left corner of the screen. Also, nesting and column improvements, which allow you to create blocks within blocks within blocks. 
On top of that, Gutenberg for Drupal is here, too. Chances are you've missed this news. So, from now on, Drupal and WordPress developers could work side by side to create even more outstanding possibilities for end-users. All in all, one thing is certain, Gutenberg and other advances are in progress and you should stay tuned for more. 
The next two phases like collaboration and multilingual support will happen soon. Without a doubt, multilingual support it's very important for European WordPress community. Also, nobody forgets about the Latin/South America regions for WordPress space. Quite the contrary, they are under more focus today. As a result, more regional WordCamps are going to happen. Even though English is popular, to see regions, not in English is far more interesting for Matt.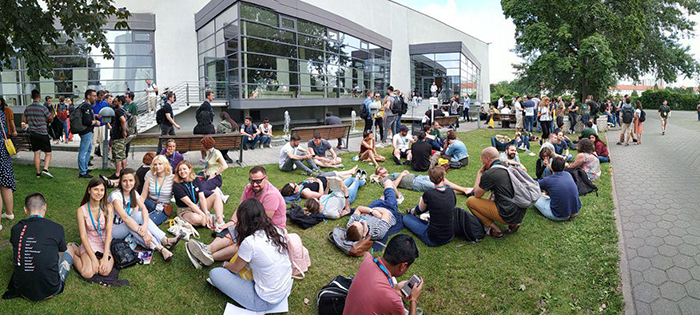 Sad to Leave When the Party Is Over
Workaholics know how to rock the best 80's afterparty ever with bright outfits, fiery dance moves and embracing the 80's vibe to its fullest. It was really the perfect place for a totally unstructured way to make new friends, develop existing relationships, find business partners, mentors, clients, and collaborators.
If you're planning on visiting 2020 WordCamp in Europe, ThemeREX team is going to show you, how to make a statement.
All in All
WordCamp is the best place to explore WordPress community and find mentors and partners.

If you haven't tried your hand at launching a WordPress theme on Gutenberg, you'd better hurry up.

Envato authors form a big group of talented and proactive people within the WordPress community.