Wonderful Travelling and Hotel WordPress Themes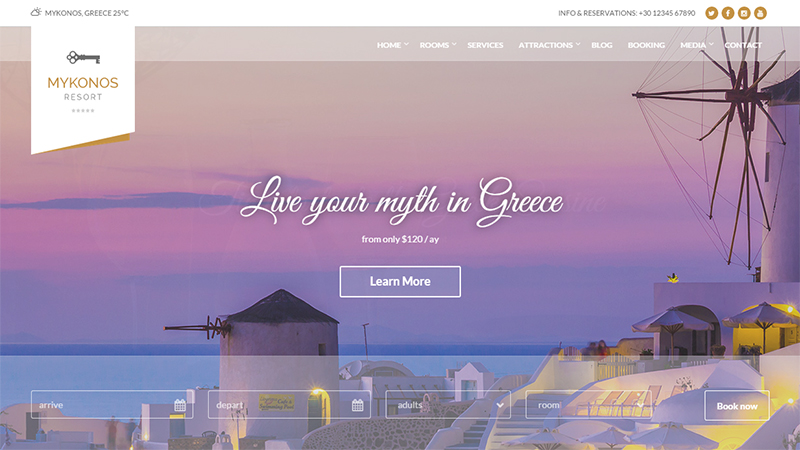 Like any type of business, travelling agencies and resorts require professional advertising, along with respectable website that will also be interesting and engaging to the clients.  Such a beautiful thing as vacation planning deserves beautiful presentation and fast processing. Web designers have foreseen this need and come up with quite a few solutions that are perfect for your travelling/hotels/resorts websites.
This collection is dedicated to the best WordPress themes for all kinds of tourism, vacations, sightseeing, personal blogs etc. The variety and versatility of the options is really mind-blowing. Get ready for the best summer with these wonderful pieces of web development!
Solaris – Travel Agency WordPress Theme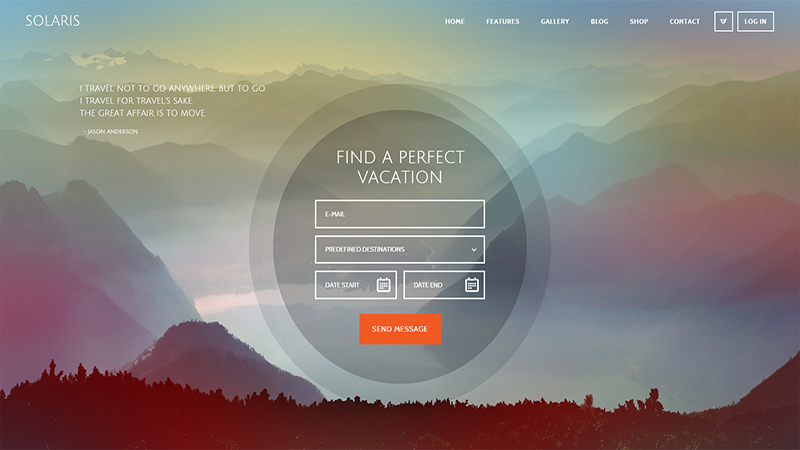 Solaris is a great travel agency/personal blog/tourists guide/holiday booking WordPress theme for those who like beautiful, functional and simple design. The flexible structure of the theme allows adjusting it the way you need it to serve for your website. It is now possible to have a real travelling blog and showcase images due to powerful widget and shortcode sets. Also, it is going to be easy to build a successful e-store: Solaris supports WooCommerce and all the elements that you might only ask for your shop. The nice modern layouts vary, letting you choose what you think is going to work best for your site. Among other great features is the Vacation Request From that allows your clients checking availability/booking tickets/appointments online. The requests come as e-mails to your e-mail address, which is very convenient and effective. Solaris is SEO optimized, WPML plugin compatible, fully responsive and highly customizable.
Mykonos Resort – Hotel WordPress Theme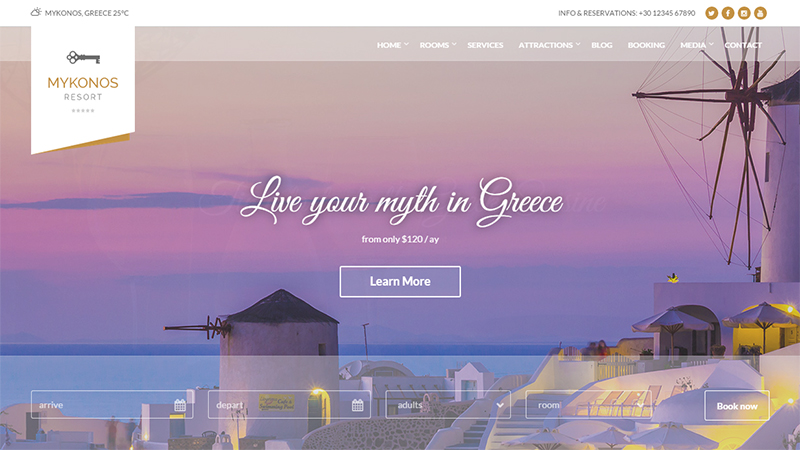 If you are looking for a sophisticated solution for your hotel/travelling agency website, Mykonos Resort is going to be a good choice. This nice and professional theme can help you achieve your goals easily. Just let all the features and elements guide you through a simple customization process. Mykonos Resort is ideal for hotel websites, but can also be adjusted to travelling bureau etc. The theme is equipped with an awesome widget system that allows building endless drag&drop combinations/variations of homepage. There is also a Booking Request Form that will allow the visitors to send you booking requests right through the site. Additionally, it is multilingual, responsive and counts 7 content types (slider, video, gallery, room, services and attraction post types).
Starhotel – Responsive Hotel WordPress Theme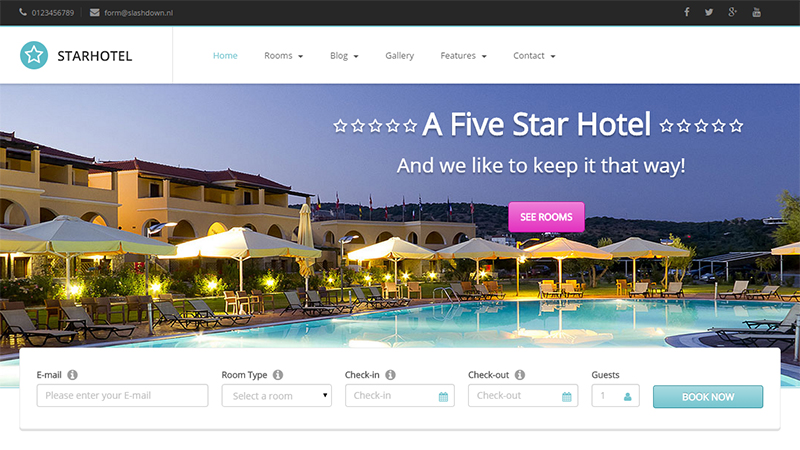 Starhotel is a classic business-oriented hotel & resort WordPress theme for your hotel business. It is quite handy for organizing reservations, search the site-wise, blogging and showcasing. Not only will you be able to promote your services, but also to convert random visitors to regular clients. Modern and flexible, Starhotel uses simple navigation for quick access to all sections of the site. With this theme you will be able to add/create separate room profiles with pictures and descriptions by just a few clicks. Also, it comes with Visual Composer for effective responsive page building. And, of course, it is responsive, translation ready and is full of nice visual effects.
Hotel Master – Hotel Booking WordPress Theme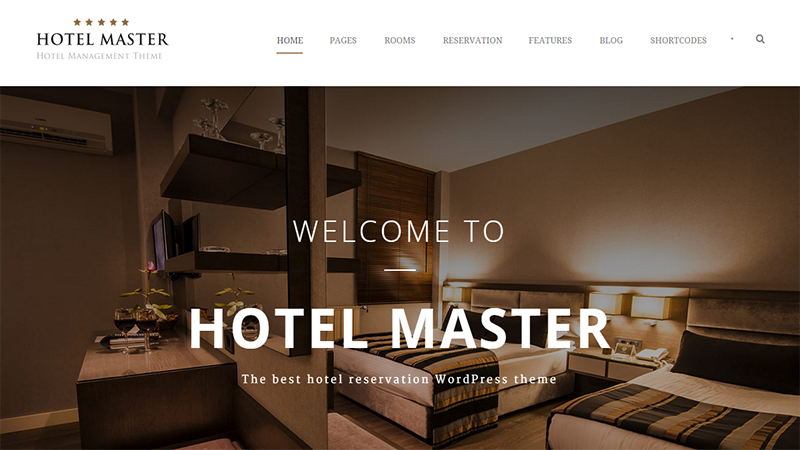 And again we are looking at a hotel WordPress theme that is supposed to become a solid ground for building a website. It comes in 3 demos, two of which are classic and elegant examples of a hotel business website, but the third one is its modern and funky version. As the title says, it is truly a booking WordPress theme – your clients will be able to check rooms' availability right on the homepage. After entering the necessary information the site takes them to the next step where they can apply for reservations. It is handy, simple and fun. You will also find tons of layouts and styles for other pages of the theme, as well as Seasonal Pricing and Smart Booking System that includes popular payment gateways.
Traveler – Travel Tour Booking Hotel Booking WordPress Theme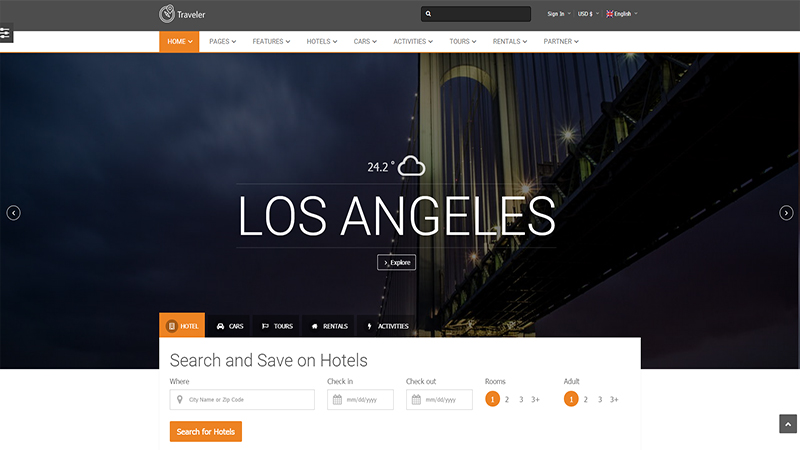 Traveler is an awesome WordPress theme for tourist websites, informational portals for travelers, city&country guides, resorts etc. The authors have used tons of great components to come up with a powerful tool that will help you build the most extraordinary and successful site. Traveler comes with 8 different demos. Each demo has a different homepage layout depending on the primary goal of your website. The visitors will be able to book a hotel room, to rent a car, to find out which activities there are to enjoy and to pay for all this quickly and easily via PayPal. The theme is WPML ready, Supports Visual Composer, Discount for Any Item (optional) and counts many other wonderful features that are at your disposal.
Amber – Luxury Business WordPress Theme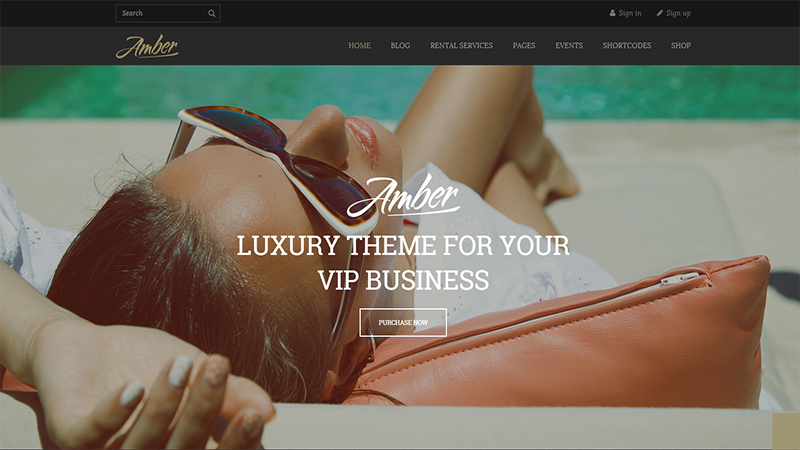 This theme is for those who like to keep it simple, minimalist yet sophisticated. Amber is a nice WordPress theme for your rental business that is somehow connected to travelling/resorts or sports. It is modern, with quite a few pleasant features that make it user-friendly and flexible. For instance, there is a nice section dedicated to eCommerce side of your business. Amber is WooCommerce ready with drag&drop Visual Composer page builder. You can use it as a platform for showcasing: of rental items, services, team members etc. Additionally, you will be able to list Events and Blog posts in two different styles.
Altair – Tour Travel Agency WordPress Theme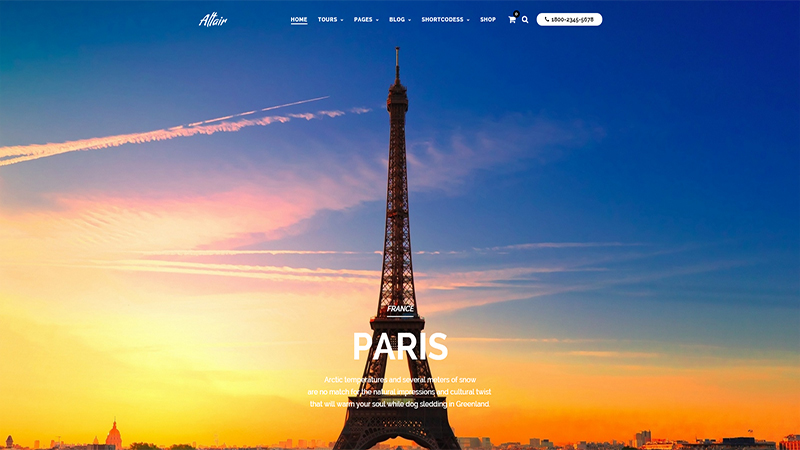 Altair is one of those themes that are made to impress not just with layouts or photography, but with its functionality. Here you will find so many options and elements it'll make your head spin. The theme works best for travel agencies since it is crafted for efficient listing/searching/booking/browsing traveling tours, places of interest, comparing prices and even selling products. Altair supports a nice Booking Form for your customers to quickly apply for reservations thereby improving customer service a lot. In the special section Tours you can list all kinds of tours that are available for taking, and pretty much any kind of information that has anything to do with your business. Available is also a Blog, a Gallery and Destination (you can use it as a journal, a magazine page, a portfolio etc.).
Travelo – Travel Tour Booking WordPress Theme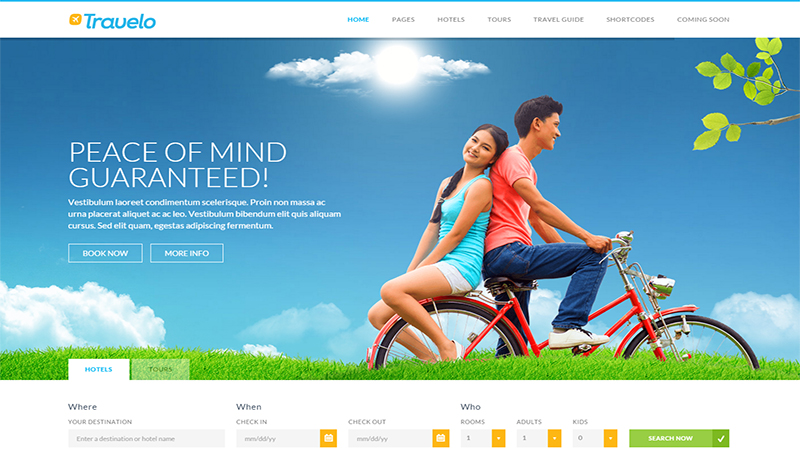 Travelo is ideal for resorts, travel blogs and all types of travel agencies. It comes with over 10 different homepage layouts for you to simply choose the one that is going to be perfect for your site. The theme is full of amazing elements that will make the customization and using experience smooth and fast. Available are 55+ shortcodes, custom Icon Pack, multiple styles/skins/options, dashboard pages, Ajax pagination etc. Another useful feature is Currency Management and WPML support that is very handy for international travel business. Recently the authors have added PayPal to the theme, making it more powerful.
Anchor – Hotel Reservation System WordPress Theme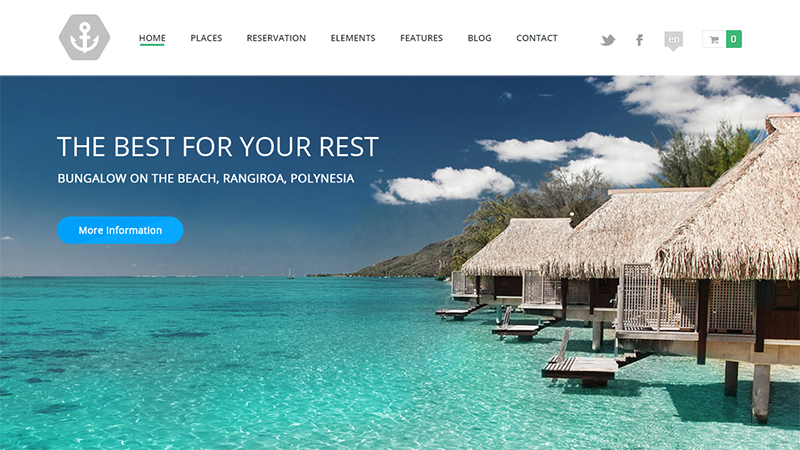 Anchor is a simple yet nice WordPress theme for your hotel and resort website. With its help you will be able to create a great business card for an agency, a personal blog, a travelers' portal or simply a booking page where the clients can apply their reservations online. The theme comes with an updated Admin Panel with a custom-built page builder, unlimited color combination and focus on security. Anchor supports WooCommerce, WPML plugin and is SEO ready (which is great for a business and an agency). Also, you will be able to create and manage events with a simple Events Manager that is already included in the theme.
Holiday – Hotel WordPress Theme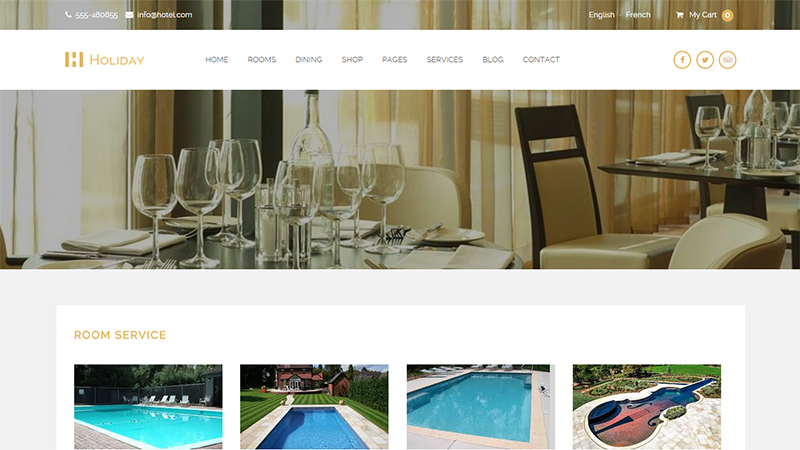 If you are running an inn, a hotel, motel or even a spa resort, Holiday is going to help you create a nice and user-friendly website. It was designed specifically for Hotel businesses and fits the main needs of this type of business. The theme comes with nice elegant layouts that allow showcasing rooms, halls, yards and everything that needs to be presented to the customers. Of course, they will be able to book any room that they like and is available. It can be arranged with the help of the Booking Form Builder and the Booking Database. Holiday supports WooCommerce, and is translation ready for international clients and agencies.
Concierge – Luxury Lifestyle Services WordPress Theme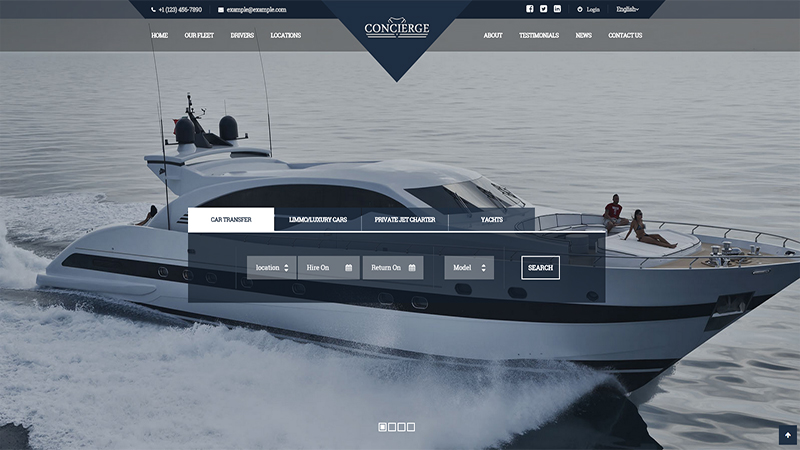 This theme is perfect for a website for travelers, tourists and random clients who go on holidays that like luxury resorts, transport and exotic places. Concierge will help you promote your agency/business by helping you creating beautiful sites and attracting more visitors. There are several variations of homepage available, along with powerful AngularJS-based searching and filtering that is very handy for this type of sites. With this theme it is easy to list, sort and remove items, post news, beautiful photography and indicate different locations all over the world. Concierge supports WooCommerce, WPML and Rating & Review System with date blocking.
Trendy Travel – Multipurpose Tour Package WordPress Theme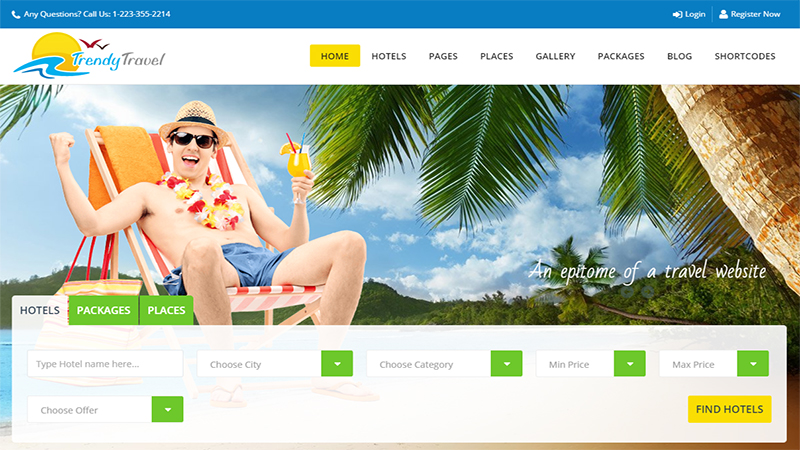 Trendy Travel is a great WordPress theme for those who are planning to have a website with lots and lots of different content. You will find that there are many ways how you can arrange it: images, posts, calendars, tables, ratings etc. This will work for any type of tourist site: from resorts to informational portals about traveling and blogs. Trendy Travel comes with BBPress for creating forums easily and BuddyPress for implementing your own version of social network right in the website. With Events Calendar Pro you can manage events, and integrated WooCommerce allows you building a successful e-store with little effort. Multiple styles of Blog, Gallery, and Places leave room for your imagination and needs to decide what works best for your tourist business.
Paradise Cove – Hotel WordPress Theme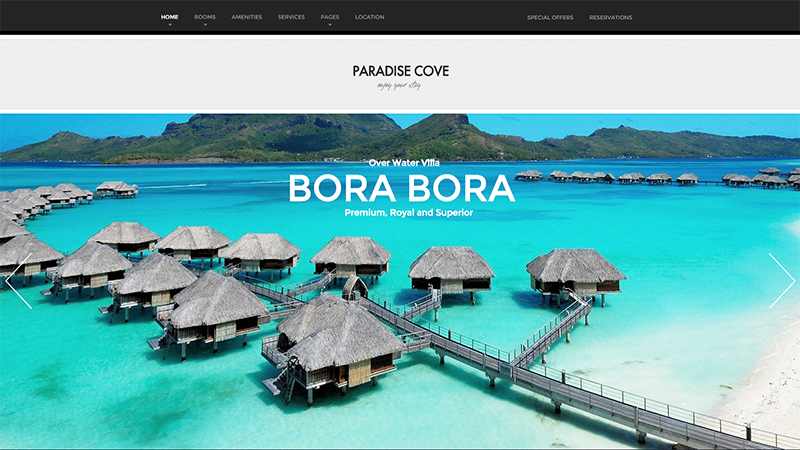 Paradise Cove is a beautiful theme for beautiful resorts, hotels and exotic places for tourists to book and visit. With this theme your website can get to a new level: large sliders are going to help you amazing results with visual accents and reservations availability makes it really powerful for users. You will find several homepage variations, an interesting blog and a separate section that is dedicated to Special Offers. The theme is translation ready, contains a powerful Contact Form and advanced SEO options. Also, Paradise Cove comes with built-in Weather Widget, so it will help avoiding thunders in Paradise!
Love Travel – Creative Travel Agency WordPress Theme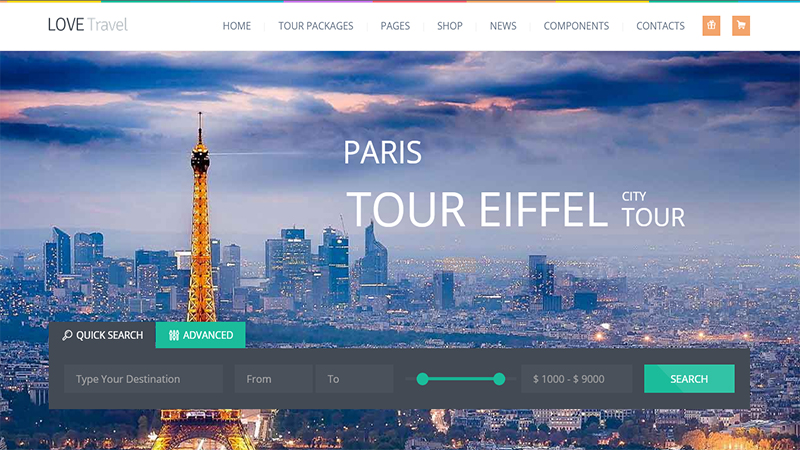 This is another feature-rich and multipurpose flexible WordPress theme for travel agencies, tourists, guides etc. There are so many sections, offers, examples that you will need to spend some time to decide the right strategy for your particular site. However, the variety also helps to see what's there for travel agencies and what customers might be looking for while browsing the site. Maps, Booking System, Video support, Destinations and Tour pages, Counters, Mega Menu, Search Travel filter and tons of other components are at your disposal!
Fatherland – Local Tourism Travel Agency Excursions WordPress Theme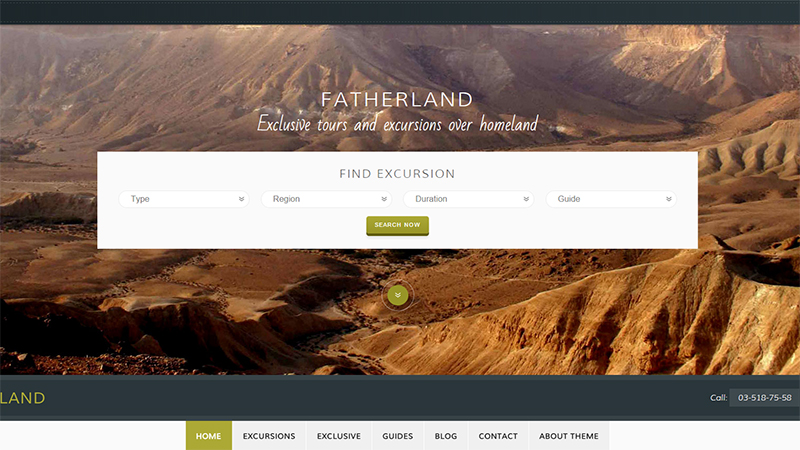 This beautiful theme will be closing our summer parade of wonderful tourist WordPress themes. It was designed for smaller travel agencies that concentrate on one location as a tourist place of interest. The theme works best for sites that are dedicated to one specific subject: the layout helps you concentrating on content, its logical disposition, storytelling and simply is nice for using. There is a separate section Guides that is handy for profiling staff members, Exclusive for special offers/tours/information and powerful Blog, Gallery and Video support for every part of the side.
For the Updates
Exploring ideas at the intersection of design, code, and technology. Subscribe to our newsletter and always be aware of all the latest updates.