Want to Build a Multilingual Ecommerce Website?
A multilingual eCommerce website in more than one language opens up a flood of opportunities for you. Why limit yourself to a local market? Let your business go global and attract users from all around the world. But don't get yourself wrong. Don't think of it as a one with a translation feature installed. Instead, it's the one that has separate localized sites for different languages.
If you're just starting out and look for a great solution, Ozisti should be on top of your list. Ozisti is a revolutionary multi-concept WordPress theme compatible with the WPML plugin. It's a perfect match for multilingual eCommerce websites of any kind. So, no matter your niche, selling online through a multilingual site brings you more profit.
Flexible and easy to use, Ozisti is compatible with the Elementor page builder. As such, it allows you to skip a lot of the time-consuming site-building work. It means that you can not only add as many new page layouts but also translate every part of the Ozisti theme using the WPML plugin. So, let's get started to see how to take your business global with Ozisti.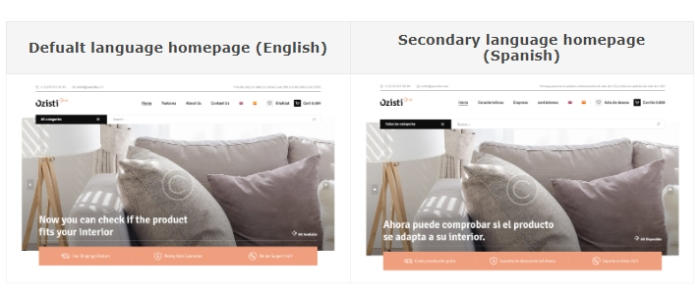 Once you activate the Ozisti theme, go to the Appearance -> Themes page. You'll see the list of plugins there:
WPML Multilingual CMS

WPML String Translation

WPML Translation Management

WPML Media Translation
Now, activate them. Once you're ready, it's time to move forward.
The beauty of WPML is that it enables you to translate any type of content on your site. Pages and posts are no exception, too. Enjoy the full Getting Started Guide to make the best of your eCommerce site. You can also use professional translation services if needed, indeed. The WPML Translation Management will come to your aid.
How to Translate Pages Built with Elementor
Elementor is compatible with the WPML plugin, so you won't face any issues while translating your site. You have three options to choose from when translating the content. First, you can do the translation yourself. The second option includes the translation of the content by sending it to translators. At last, the third one offers you to translate your content through a professional translation service. All three options are available without leaving your WordPress dashboard. You can learn more about your options in this Guide.
How to Translate Team Pages and Categories
Translating team pages as well as categories doesn't need to be a headache too. Important to follow the same steps as for translating any other types of pages. Go to the
WPML -> Translation Management
page to send content for translation. In case you are the only person who translates the content, click the plus and pencil icons next to your content and translate. For more information visit the full
Guide on Translating Contents
yourself.
When it comes to translating Team Groups, go to
WPML -> Taxonomy Translation
page. Then, make sure you follow the next steps:
Select the

Team Group

from the drop-down menu and see a list of categories to appear.
Next to the category click the

plus icon

for translating it for the respective language. You can also use the dialog box that appears for adding the translation.
Now keep in mind that every change in translation you make will be updated everywhere – translations of categories are universal.
How to Translate Texts from Ozisti Theme, Plugins, and Other Places
Indeed, posts and pages are not the only content a user sees on your site. Chances are the texts coming from other places is what a user expects to enjoy. That's where the
Guide on How to Translate Texts
with the help of translating strings will come to your aid. Here's what you need to do to translate the footer copyright text:
First, go to

Theme Panel -> Theme Options

. Next, click the

Footer

tab and start editing the text in the

Copyright

field. Once you are ready, click the

Save Options

button;
Now, navigate to

WPML -> String Translation

and search for the copyright text. Once you click on the translations link, it's time to add your translated text. Make sure the

Translation is Complete

and click the

Save

button.
Menus, as well as any other contents, need to be translated. As such, you have two options – to do it manually or synchronize it with WPML. To do it yourself, go to
Appearance -> Menus
. Translate it and click the plus icon to the other languages. As a result, you create a new menu, which serves as a link to the translation of this menu.
To use WPML menu sync, go to
WPML -> WP Menus Sync
. Here's WPML will show what to do, what to add or remove from the translated menus. Once you're ready, click the
Sync
button. For more information use the
menus translation tutorial
. 
Compatibility with the Slider Revolution plugin comes as a nice extra to promote your best-selling items or services effectively online. To make sure that they are also translated, visit the full translation
Guide
.  The process is quite simple and takes several steps to complete the task.
First, go to the slider editing screen and click the
General setting
button. At the bottom, you'll see the
Use WPML Settings
options and click the
Save
button. Go to the
Slider Options -> WPML ->
choose the default slide language -> click the
Save
button. Now, go to the
Slides
menu item and click the duplication icon. Choose the slide you duplicated and translate its content. Now, go to the
Slide Options -> WPML
. From the
Slide Lang
drop-down menu choose the language you translated into and click the
Save
button.
To use WPML menu sync, go to
WPML -> WP Menus Sync
. Here's WPML will show what to do, what to add or remove from the translated menus. Once you're ready, click the
Sync
button. For more information use the
menus translation tutorial
. 
How to Translate WooCommerce Elements
To make this happen, make sure the
WooCommerce Multilingual (WCML)
plugin is downloaded.  Now activate it. Just because you need to translate different elements like products, categories, shipping classes and the like, it's recommended to follow the dedicated
Guide on How to Translate WooCommerce Elements using WCML
.
Need Help with Building Your eCommerce Site with Ozisti?
Before shouting out loud for help, get your hands wet in web design with Ozisti. Worry not, just because Ozisiti was chosen by WPML as one of the best WPML ready WooCommerce WordPress themes to build multilingual sites, it means a lot. On top of that, Ozisti comes with Augmented Reality integration which can add extra points to your site. Whether it's fashion, interior, clothes or designer online shop, Ozisti fits the bill. There is so much inside, that you'll be spoiled by convenience.
Haven't you experienced Ozisti yet? There is a good reason to give it a try, so begin to expand your business to new worldwide destinations.
For the Updates
Exploring ideas at the intersection of design, code, and technology. Subscribe to our newsletter and always be aware of all the latest updates.