Agriculture is a complicated yet beautiful business that provides healthy food and organic products. It is complex, because running a farm, working in fields and gardens might require a lot of energy and knowledge. It is beautiful, because it has everything to do with nature and making people healthier.
This type of business (like pretty much any type of business) requires powerful and beautiful websites to attract new clients and sell the products or services. We sometimes forget how important it is to consume natural food, breathe fresh air and take care of nature to simply stay healthy. Agriculture area needs proper promotion. In comparison to companies that sell, let's say, sweets and fast food, farms spend much less time and money to try and sell fruits and vegetables. Unfortunately people start to forget how food influences our being. Therefore, agriculture business is in a great necessity of advertizing.
Web designers have foreseen such requirement and come up with quite a few WordPress themes to help you create functional and unique sites. In this collection there are a couple of themes that were designed a few years ago; however, they are being updated constantly and are still of current interest and serve agriculture websites' needs.

Healthy Farm – Food & Agriculture WordPress Theme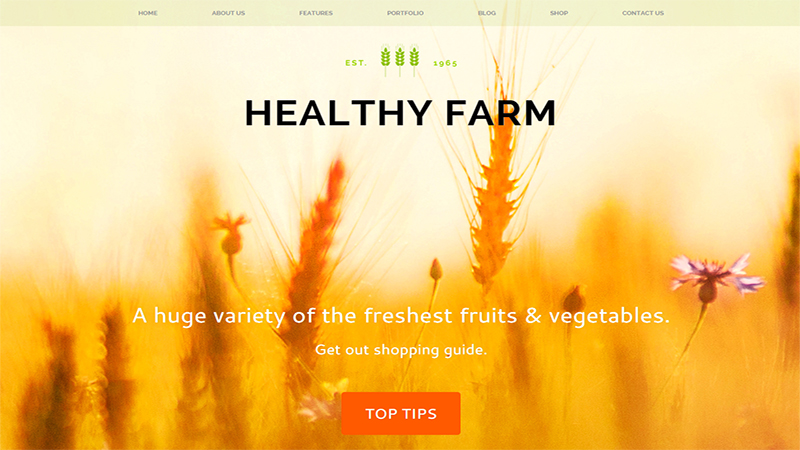 Healthy Farm is a brand new, fresh and clean WordPress theme that was designed for your agriculture business website. And here a wide range of agriculture aspects is meant. It may be a website dedicated to agritourism, a healthy lifestyle/food blog and even a store where you would be able to offer organic products. There is really no limit to its possibilities! With this theme you receive multiple features and elements that make it highly functional and customizable. For instance, it supports WooCommerce, Visual Composer and is equipped with a wonderful Rating & Review Mechanism. Healthy Farm is ideal for creating beautiful galleries and portfolios, and numerous pages layouts will allow experimenting with overall appearance.
Agrofields – Food Shop & Grocery Market WordPress Theme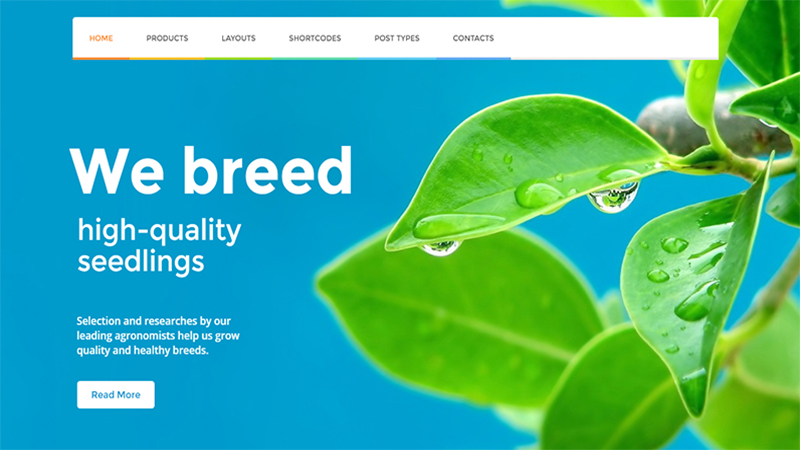 Agrofields is a theme that will work for a blog or a store best. Its design is crafted for listing all types of posts, items, and promotions. With this theme creating healthy food and goods presentations is a simple and fun process. You will find that the theme contains an enormous collection of custom shortcodes. It is handy for displaying different items in different patterns. Of course, Agofields is WooCommerce ready and SEO Optimized. It will be possible to add animated effects to various sections of the site, as well as play with unlimited colors and Google fonts. This is really a feature-rich and functional WordPress theme that can become a solid platform for your agriculture website.
Organic Web Shop – Responsive WooCommerce Theme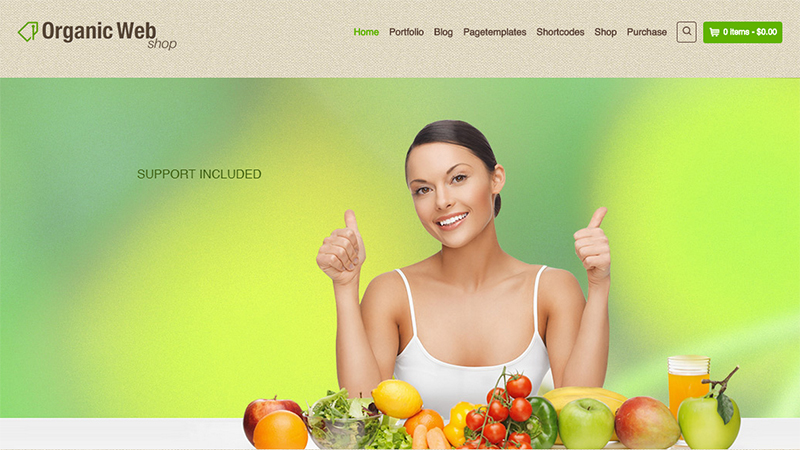 Another example of agriculture & healthy food online store. The design is simple, with nothing extraordinary and excessive. However, the theme is packed with the most useful plugins and other components that allow building a successful shop and blog. Organic Web Shop can easily qualify for even a healthy lifestyle portal where people would find not just your products, but also quality information and news. You will have access to unlimited color options and extensive shortcodes though an itemized theme option panel. It's a pretty good pack for an agriculture website.
Sexy Food – Food & Restaurant WordPress Theme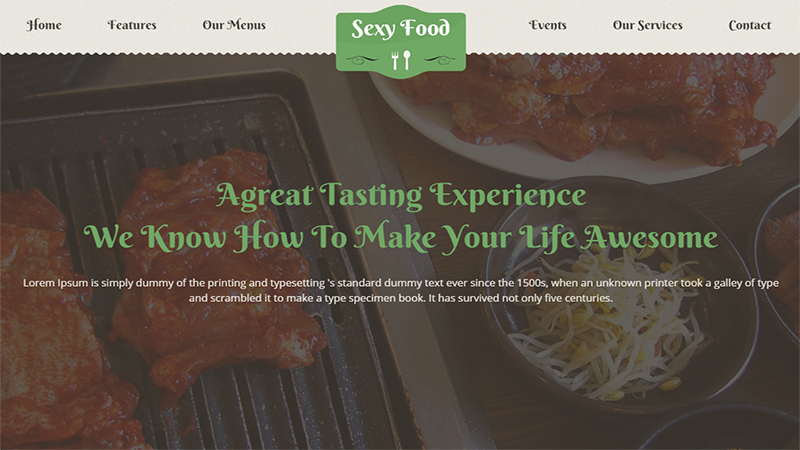 Sexy Food is supposed to be a beacon for food lovers. It is not exactly an agriculture WordPress theme; however, there is something about its design that made me want to include it this collection. It gives this home food, farm and tavern warm vibe that makes you like it immediately. Except, maybe, its name. The theme will not just be good for a restaurant website. It can be easily transformed into any type of Food Industry organizations, including healthy/vegetarian/farm products and food. The only type that you won't be able to try is eCommerce site. Sexy food does not support WooCommerce plugin. But you will be able to create and invite your customers to events and let them make reservations of any kind.
Exotico – Responsive WordPress Theme
This is a nice colorful theme that is designed to become a store for selling fruits, vegetables, exotic products and everything that has to do with healthy lifestyle. The structure is simple, with nothing extravagant. But there are quite a few elements that make the theme flexible. For example, Exotico is SEO optimized and Translation ready to help you run your business smoothly. You get access to numerous widgets and shortcodes for you to be creative and try playing with different layouts styles. Also it will be possible to customize fonts (colors and sizes) via admin panel.
Agriculture Company WordPress Theme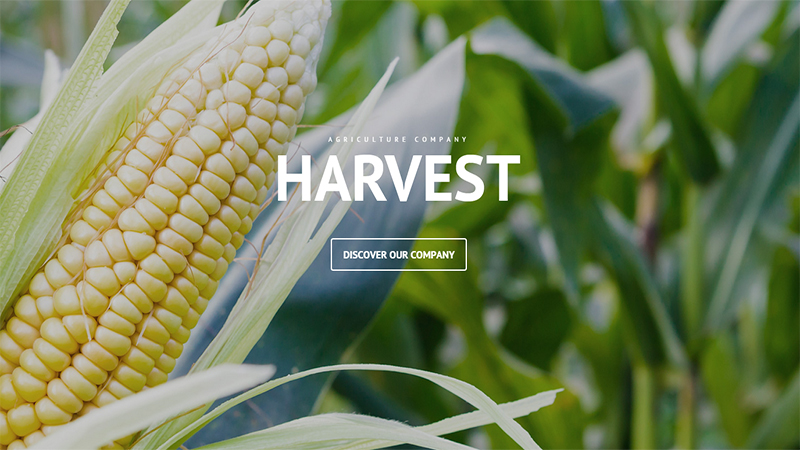 This is a beautiful professional theme for agriculture companies' websites. It was designed based on business websites requirements with additional ability of creating galleries. Speaking of Gallery, there you will find multiple formats for displaying images and description (slideshow, video, image and standard gallery format). Available is On-line Chat to improve visitors' experience, and the theme is Translation ready as well.
Crop Farming WordPress Theme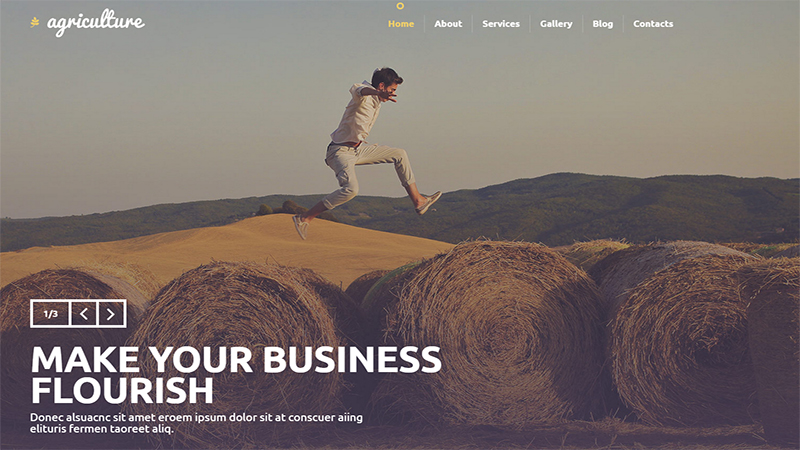 If you are running a farm and are in agriculture business, this theme might be a good option for your website. I say "good", not "great", because the design is a bit overwhelming for such a simple and wonderful thing as farming business. The theme is beautiful and modern though, and is totally suitable for business, but maybe for a different kind. Crop Farming resembles the previous theme. However, here we have Parallax effect, not just Lazy Load. There is no WooCommerce support unfortunately, so creating a store might be an issue.
Agriculture WordPress Theme
Now, this is a pretty good WordPress theme for agriculture business websites. There are almost all the necessary components that you need for an outstanding site. I would still add Shop, as it is essential for agriculture business to sell the products in any way it's possible. Anyway, the theme is handy for listing all kinds of information. You can tell the story of the company/farm, introduce your staff, present the projects and inform your visitors about the latest news.
Agriculture Business WordPress Theme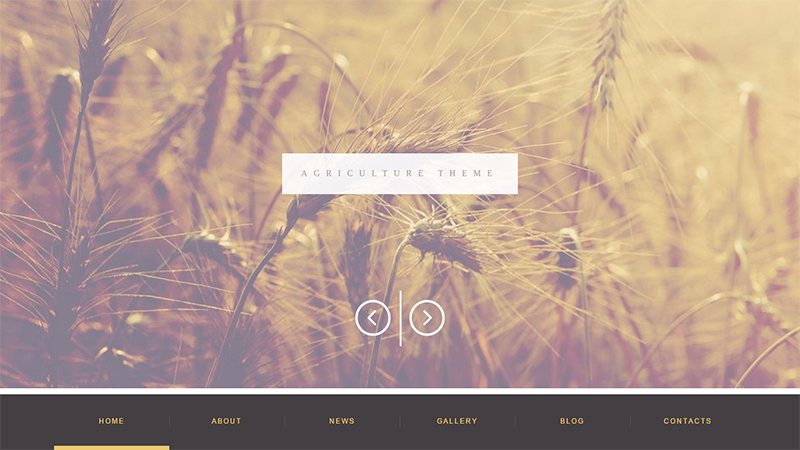 This is a sophisticated and minimalist theme that will help you bring your agriculture business website to a new level. You will be able to compose beautiful galleries, inform your clients about recent news and write an awesome blog. The theme is great for presentations, promotions and advertising. It is Translation ready, with good Admin Panel and several types of layouts and styles. Additionally it's SEO ready to help you handle the marketing side of your business.
Agriculture – All-in-One WooCommerce WordPress Theme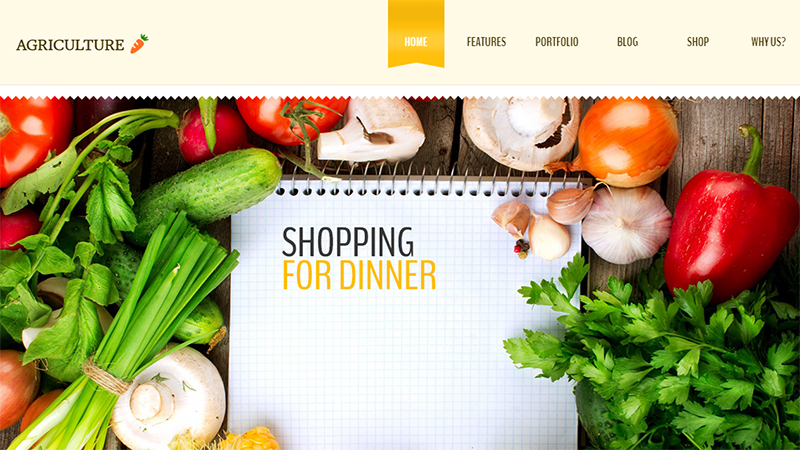 This bright and colorful theme is a fantastic tool for building a successful agriculture website that can be used for eCommerse purposes too. The design is simple, functional and can be adjusted to your individual needs. With the help of WYSIWYG Content Composer you can easily drag&drop pieces of content around pages, as well as edit them and insert various elements with just one click. All-in-One is SEO ready, equipped with multiple shortcodes and widgets.
Organic Market – Friendly WooCommerce WordPress Theme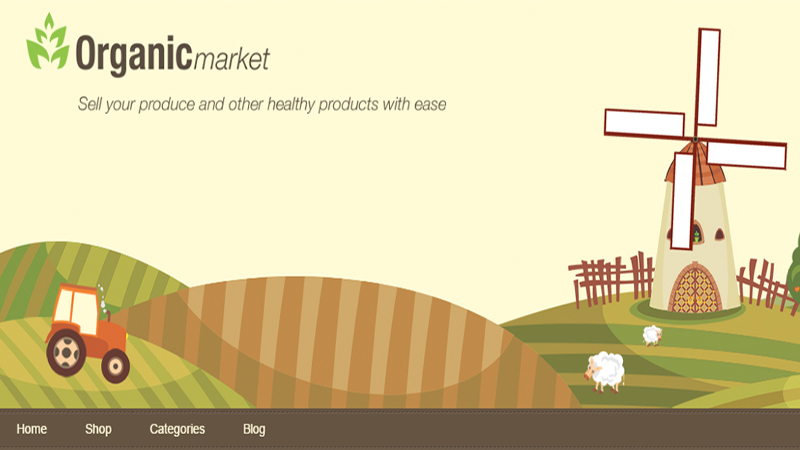 Organic Market is a great eCommerce theme to help you sell fruits, vegetables and other products that have to do with farming and agriculture. The design is simple with a couple of fun animation effects and interesting graphics. You will also be able to have a nice Blog and divide all items into categories. There are quite a few features that make the theme customizations-friendly. It is possible to change backgrounds, colors and menu types. Due to the wide range of shortcodes you can manage sliders, featured items, showcasing and simply make the theme more personalized and beautiful!
Organic Food – Responsive WordPress Theme
Organic Food is a feature-rich and modern WordPress theme for all types of agriculture websites. It does, however, throw a bit too much at you when you first view the demo. It seems that there are too many elements and different effects for one page. But in this way you can emphasize certain pieces of content if you choose them carefully. The theme comes with multiple layouts for Home page and handy sections for your future website. You will be able to build a beautiful Shop for selling organic food and healthy products, as well as promote your business and lifestyle.