What is the probability that a person visiting your store will visit it again? Nil – So how can you expect anyone to use your website/blog again? Thus, you have to strive hard to grab the eyes of that customer so that it becomes a daily need to visit your website.
Create the feeling of personalization which is done through lead generation. There are tons of digital tools for lead generation but today I will tell you the best!
This article is specially written for WordPress users. WordPress is not only a blogging tool but a powerful website builder and a potent content management system.
Almost 32.3% websites are powered by WordPress. So, let's peak in to the endless list of WordPress plugins for lead generation and shortlist the top performers.
Visual Effects & Animation Kit for Elementor
Consider using the Visual Effects and Animation Kit plugin as an all-inclusive collection of striking effects that will make your site look more remarkable. The plugin seamlessly integrates into any Elementor-based website. You can take advantage of working with intuitive Elementor widgets to customize the visual effects in the drag-and-drop mode.
The plugin includes 6 modules – namely mouse helpers, image hover effects, image mask, dynamic background, background text, background scrolling text, and background slideshows.
All of them will be activated by default once you install the plugin on your site.
Pricing: The plugin is available for $19 only!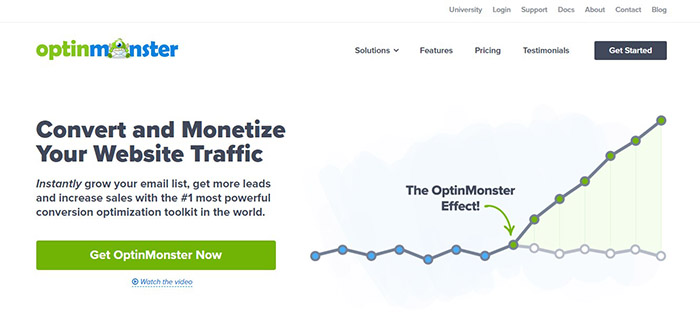 It starts by creating a visually stunning offer advertisement for your website. Use either pre-designed templates or blank canvas, customize everything on your own without using a single line of code.
Using the exclusive feature of behaviour automation, send personalized messages to your customers and that too at the right time. With in-built analytical tools, you can analyse the traffic through charts and graphs.
Various other features like Exit-Intent Technology, Onsite Retargeting, Onsite Follow-up Campaigns and Cookie retargeting are like a cherry on the cake.  
Pricing: The basic plan starts from $19/month, the Plus plan from $39/month and the Pro Plan at $59/month. All these plans include page level targeting, content locking, success messages, UTM targeting etc.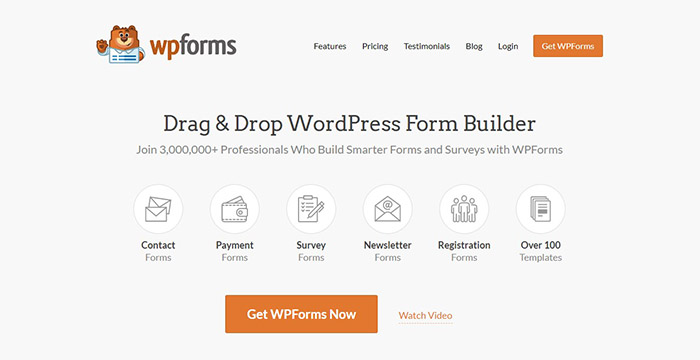 Using WordPress is itself a tough task and a skill to be learnt.
WPForms creates contact forms, online surveys, donation forms, order forms, registration forms etc within a few minutes. Even if you don't have enough time to use the tools to create those forms, WPForms has pre-designed templates that can be personalized easily.
It can easily integrate with all email marketing services like MailChimp, Zoho, and collect payments too! With the help of an email signup checkbox, you can add the contact number of the person to your list.
Pricing: Disintegrated into three plans – Elite ($299.50/year), the Pro ($199.50/year) and the Plus ($99.50/year). It all includes client management, form landing pages, campaign monitor and integration with PayPal, Stripe, Zapier etc.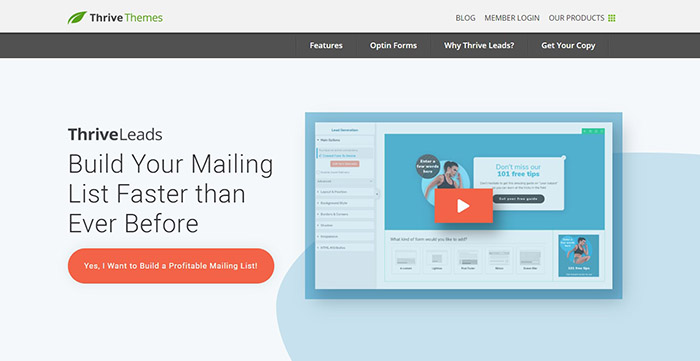 Popping up of opt-in form anytime can be like a shot fired in the air regardless of direction. It is like a ship without a rudder.
Thus, its quite essential to show the correct opt-in form that matches the category of content a visitor is reading. Thrive Leads helps design such forms for specific categories and tags. The unique feature is the Auto-Pilot mode i.e. A/B testing feature.
With different form types, triggers, content designs and offers, the optimization is put on Auto-Pilot mode.
Thrive Leads automatically monitors the working and output of various variations and hide the failing ones. Choose your own time frame and compare the performance of different forms used by you or at the combined growth of your list.
Get the cumulative conversion report, lead referral report, lead tracking report, content marketing report and conversion rate report.
Pricing: For getting 15 licenses – pay $147, for 5 licenses – pay $97 and for one license – pay $67. You can also become a Thrive Member by paying $19/month under which you will get 25 licenses.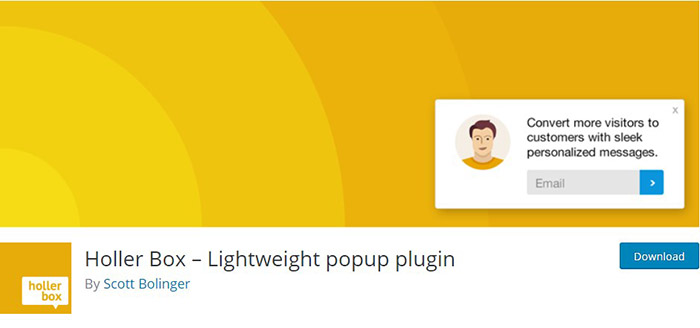 It is specially preferred for e-commerce business. Some of the unique conversion features include capturing chat email especially those fake live chats. Give a proof of recent sale to your customer with a customized pop-up. Select the place of the website where you want the popup to show so that visitors don't get annoyed.
Pricing: The Sale Notification Popups plan starts at $79/year while the Pro plan is available at $99/year. With this, you will get one-year premium support and 5 sites.

Rather than analysing from the reports and graphs about the low conversion rate, isn't it a good way to directly talk to the customer?
Adding a live chat functionality can help you solve the problems of your customers quickly and satisfy them too! This will surely increate the conversion rates and tell you about the changes required I n your WordPress blog/website.
Pricing: The Starter pack is available at $16/month, the Team plan at $33/month and business plan at $50/month.  For Enterprise, you can contact them directly to meet your personal needs and requirements.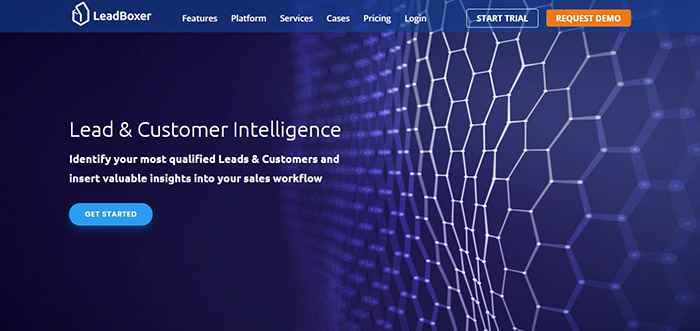 Track each and every action of the visitor – The clicks, views, downloads, and other touch points and then improve the website accordingly. Keep an eye on your lead by knowing about the pages they viewed, links they clicked and emails they opened. Through IP addresses and form fields, find out whether its an organization or an individual visiting your website. Identify leads on the basis of industry, location size, domain and social profile.
One can also filter on the basis of URLs, exit links, UTM tags and a referrer. Get real time data and notifications on specific leads/customers visiting your website and save all this data in the CSV/PDF format.
Pricing: The Basic plan starts at 195 euros/month under which you will get unlimited leads/contacts, segments, Leadscore, 50,000 events, standard integrations, technical support and 10 users/email clients. The Premium pack starts at 495 euros/month which includes all the basic features plus 25 users, 250,000 events, cross-domain tracking and custom dashboarding.
So, these were the top winners that were selected from a list of thousands of WordPress Plugins for lead generation.
Gone are the days of cold email marketing and cold calling. Today is the era of digital marketing and generation prospects using such online tools.
Using WordPress with above WordPress plugins for lead generation will shoot up the traffic on your website and help you rectify your mistakes in the marketing so that you can carve out a robust marketing strategy.
The option of live chat is the most unique feature and need of the hour. Sometimes its difficult to know about our follies through data.
Thus, speaking directly to the customers and solving their doubts becomes a necessary task.
Always be open for feedback and suggestions. Pricing also plays a major role while subscribing for a plugin. It must have all the basic features especially designing the forms.
All these things will help you grow your business eventually!