Submenu Layouts are a special type of Layouts that enables you to create mega menus, or any kind of complex menus on your website. Here is example:

Basically, by creating a submenu Layout, you create content for one of your menu items. Generally, it is achieved by installing additional plugins. You can avoid it with this great feature and add images or create columns for your menu. You can build a layout with WPBakery page builder or Elementor editor, depending on which plugin is bundled with the theme. 
As a rule, availability of this layout type depends on ThemeREX framework used in the theme. 
In detail, creating a submenu Layout consists of 3 steps:
1. Creating a new Layout by clicking
Layouts > Add New
, and selecting
Type –
Submenu
in the Item Options panel.

2. Adding content you want the submenu to contain.
3. Going to
Appearance > Menus
, and choosing the menu item that needs to contain the Layout. Next step is to open the menu item, and in the "
Layout of submenu (optional)" field, choose the created submenu Layout.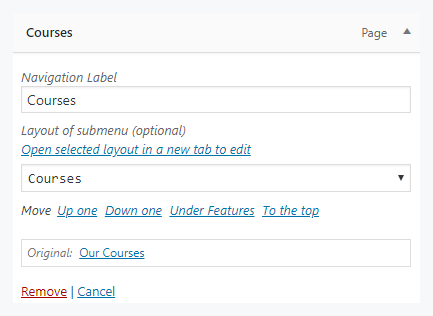 In conclusion, the submenu Layout may contain different types of content, even other Layouts. You may also check our video tutorial for detailed instructions on customizing layouts.