Standing out as an e-commerce brand is no easy feat, especially in today's cut-throat business world. This puts a lot of pressure on e-commerce brands to up their SEO game to stay ahead of the curve. If you have just launched your online store and want your products to get listed on Google, you should list your products directly with Google Shopping through a Google Merchant account. It will help you to improve your products e-commerce search hence improving your conversions and sales. So, don't waste any minute and take a closer look at e-commerce search tips that we are eager to share with you!
For those who are not familiar with the term Google Shopping, it is a perfect advertising solution for e-commerce brands that wish to increase their product reach to span across a wider audience. It allows users to search for their desired products, compare prices, read product attributes and make a purchase from a retailer website directly. From established brands to small online retailers, more and more businesses are capitalizing on Google Shopping.
Getting your products listed on Google Shopping can be a tad tricky and technical process, and you need to create a well-optimized strategy to increase your conversion rate. To boost your e-commerce store and make your products appear more conspicuous to users. Here are a few proven and result-oriented Google shopping tips that will definitely get you the desired results.
Let's dive into them.
Optimizing Your Data Feed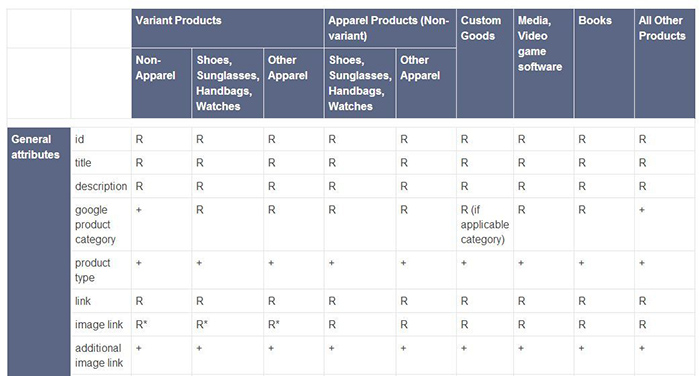 Once you have created your Google Merchant account, the time is ripe for dedicating your resources for optimizing your data feed. When it comes to adding products to your Google Merchant account, you are required to submit a product ID, title, description, category, type, link, availability, price, and sale price among other details. It is encouraged to also understand the additional elements of your listing so that the customer makes an informed purchase decision.
Have a look at this video which will help you upload your product data in the right format.
Make sure to provide relevant details in order to list your products with Google Shopping and to improve your e-commerce search ranking. Keep in mind that Google Shopping sends prospective customers to your e-commerce website, make sure you list products that are available at your site.
Important Data Feed Attributes
It is a unique code that is used to identify your products like a digital barcode. Don't change it, once created, doing so will relist your product and reset your quality score. Your product ID will help you keep track of your inventory.
The ideal title character limit is 150 characters. Add relevant, concise and accurate product titles. Avoid lengthy titles and keyword stuffing. The right title helps Google algorithm decide to display your ad and persuade customers to click on it.
You are allowed to submit up to 5,000 characters, but Google shows a predisposition for descriptions falling in between 500 to 1000 characters. Provide relevant information such as technical attributes and specific features of your products so that it makes it easier for Google to find your product when a user searches for specific features, colors, and shapes.  
It is the primary image that you choose for your listing that customers see first if they click through to your page. Akin to the product title and description, a high-quality image can play a key role in getting your ads clicked.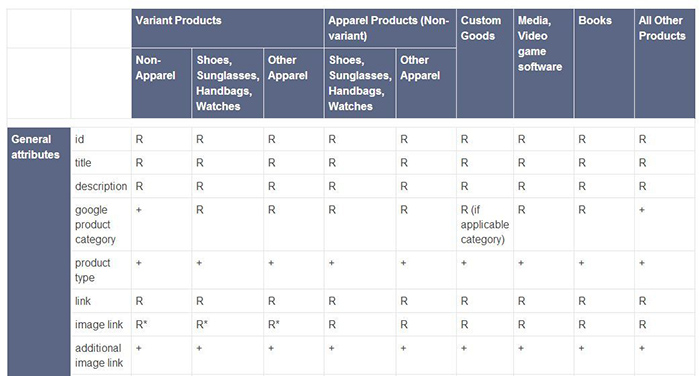 Additional Required Information
You are also required to provide the following information:
Product type

Product category

Sales price and dates

Additional product images, loyalty points

Cost of production

Energy efficiency class

Availability of your products
Providing complete details to the data feed can help you better target your prospective customers and persuade them by creating special promotions.
Optimizing Your Product Images
Believe it or not, optimizing your product images for Google Shopping is the most proven technique that can do wonders for your business. If you want your products to rank high on Google Shopping, make sure that every product you are submitting comes with a stellar product image. The recommended size for images is 800 pixels in height and length, however, Google has different minimum requirements for specific categories. Your product images play a key role in the listing since optimizing your product images according to Google guidelines can eventually improve your chances of getting featured.
Add Special Offers to Boost Sales
When you promote products that are also sold by other merchants, it will be shown as part of a price comparison with other advertising accounts. You can add a promotion in the form of the sale price, free shipping or discount code to make your product stand out among your competitors. Your promotion offer will display as a gift tag icon next to your listing which will surely persuade users to click on the product.

Comparing Your Product Prices
When it comes to Google Shopping, you should give more importance to the pricing strategy. Being an e-commerce marketer, you need to compare your product prices with your competitors. Google prefers to display cheaper products, so make sure that your products are slightly cheaper than your competitors. This will perk up your chances of getting more impressions and clicks.
Dynamic pricing is emerging as a way for e-commerce companies to remain competitive and increase their revenue. Dynamic pricing is a technique whereby prices can fluctuate in accordance with supply and demand. This allows companies to better adjust their prices based on customer input, giving them the ability to keep up with fluctuations in the marketplace and maximize sales. Dynamic pricing stands out from other marketing strategies because it offers businesses the opportunity to optimize across multiple dimensions at once, such as promotions, bundle discounts, and personalized offers. By using dynamic pricing, businesses can achieve higher profits while maintaining customer loyalty.
To Conclude it All
Advertising your products with Google Shopping can dramatically increase the click-through rates and professional web design agencies are aware of the fact. However, Google Shopping can be really challenging for many e-commerce brands, since getting on-page one of the shopping pages is an arduous undertaking. Optimizing your product image, title and description according to Google's guidelines and your customers' needs will make it easier for Google to display your product on the top which will surely help improve your conversion rate.