Qwery is the one-stop WordPress Theme for any kind of modern site. WordPress, with Qwery you will do it in a couple of clicks. So, look no further! Since today you will only use this theme for all your future web projects. And here is why.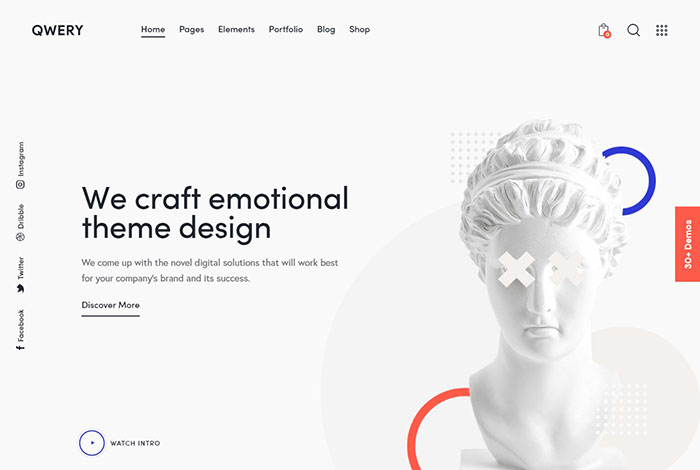 Qwery contains premade skins and demos for any kind of modern site. When you install the theme you can choose the design that fits your future project the most.
Some of the premade demos are business, corporate, beauty, hotel, spa, sports, barbershop, church, music, lawyer, architect, medical, roofing, flooring, and many many other industries.
Above all, the theme author guarantees a new demo each month. So you will get at least 1 new demo every month even after the purchase.
Another important thing to mention is that each demo is unique and comes with its own set of features required for a specific industry.
For example, a Dentist's demo comes with an advanced online booking system.

Jewelry Store demo is supplied with the custom WooCommerce widgets to display products.

And the Roofing Company demo comes with outstanding interactive portfolio layouts.

Now let's review some of Qwery's key features.
1. Design
We all know that there are plenty of other multi-purpose WordPress themes on the market, like Avada, OceanWP, Astra, etc. Each of them has its pros and cons, but when it comes to design quality Qwery is far ahead of all others.
First of all, Qwery is a super fresh WordPress Theme. It has been released in 2021 and it features a modern web design focused on providing the best user experience.
Second of all, the theme is extremely flexible in terms of customization. 
For example, you can use the classic WordPress customizer:


And/or Theme's built-in setup wizard:

As you can see, not only can you choose the suitable skin from the huge set of Qwery's demos, but you can also customize even the smallest details.
2. Elementor
Since we've already mentioned Elementor and the theme customization, let's say a few more words about it.
Qwery is equipped with the Elementor page builder for free. Whatever you may hear, so far it is unconditionally the number one WordPress page editor in the world.
The coolest thing about Elementor is visual editing. You can actually see what you are changing in real-time.

Moreover, in combination with the Qwery theme, it becomes a real site builder because you can edit everything including the site's header, footer, page content, posts, and sidebars.

3. Elements & Visual Effects
Qwery contains an extensive set of premade ready-to-use elements. You can find them under the "Elements" menu.

So, if you want to add any specific element to your pages like button, slider, counter, progress bar, tab, testimonial or anything else Qwery offers a large number of options for each element.
For example, if you open the set or ready-to-use buttons you will see all kinds of styles, colors, sizes, and visual effects that come with them:


Also, there are 3 more points that deserve special attention. These are Portfolio, Blog, and WooCommerce Shop.
We've decided to create all possible styles, visual effects, and special layouts for these 3 important parts of the theme. Just take a look at the number of elements for your future blog:



The theme's demo shows you a variety of different layouts, designs, and visual effects for your portfolio, blog, and online store.
All you need to do is to pick those options that work for your project the most.
3. Advanced Booking
Online booking is a convenient way to manage your appointments and interact with your site visitors.
If you are a lawyer, dentist, or if you run a gym, beauty salon, or a hospital you definitely need to have an online booking feature on your site.
Qwery comes with 2 powerful booking plugins of your choice: Booked Appointments (Booking Calendar) and LatePoint Booking.
Booked Appointments allows you to create a booking calendar, where the customer can choose the date and available time slots.

Once the appointment is scheduled it shows up on your backend calendar:

You can then approve, disapprove or edit the appointment with your client.
Another booking plugin that comes with the Qwery is the LatePoint Booking. It is a powerful, convenient, and well-designed online booking feature. Here you can create your services, working days and hours, time slots, employees, and required data from the customer.

It also has both: frontend (for clients) and backend interface (for site administrator).

The good news about BOTH booking plugins is that they both have addons for online payments. So, not only your client can book the appointment online, but also pay for it right away.
4. Events management
Most modern businesses run some kind of events from time to time. These can be some conferences, training, courses, festivals, competitions, fairs, etc.
We equipped Qwery with a good-looking and easy-to-use Events management functionality.
It allows to create and customize Events:

Also, it allows to create Events Calendars:

Alternatively, you can show your previous and future events in a list view mode:

Your events will have a custom and professional look. Plus, you will have a convenient tool to schedule and manage them.
5. Online Store
We have already briefly mentioned that the theme is 100% compatible with the WooCommerce plugin. It means that you can create any kind of online store.
Here is an example of a clean simple store.

And here is another sample of a barbershop store.


And here is the example of a single product page.

As you can see Qwery comes with various designs of online stores. Each design was crafted for a specific niche. Therefore, if your site needs an online store you can easily enable it with Qwery.
6. Mouse Helper
Mouse helper is a small thing that makes a difference.
If you open any Qwery demo you will notice that there is always a satellite element flying next to your mouse cursor. On different parts of your page, it may turn into the dot, slider, or scroll object.

Since the theme is also equipped the functionality of the interactive link the mouse helper can turn into the featured image.

How cool is that?
Mouse helper is a part of the ThemeREX addons plugin (we are the official authors of this amazing plugin). The settings are pretty intuitive and easy to use.
You can choose the mouse helper's image for different instances, set visibility, reaction speed, etc.

And if you want to simply disable it you can do it at any time.
So, What Do You Get When You Buy QWERY?
When you purchase the Qwery WordPress Theme you are getting the following things.
Main theme files.

Child theme files.

Set of plugins that do not require any additional payments for using them.

ThemeREX Addons plugin (our invention that will help to customize your site). 

Detailed

documentation

.

30+ Premade demos.

1000+ ready-to-use elements and visual effects.

All the new skins and demos will be created in the future.

Lifetime updates for the theme and plugins.

Half of the year Technical Support where you can get professional assistance. It can be prolonged for a longer period.
These are some of the important things you get for just $59.
Qwery is a well-designed and fully functional Elementor-based WordPress Theme. It features dozens of ready-to-use demos and thousands of premade elements and visual effects.
The theme is equipped with extremely useful functionality, like online store, portfolio, galleries, booking, events management, and more.
We are 100% sure that with Qwery you can build any kind of website with ease. Go ahead and try it today.