Meet ProStart, our brand new WordPress theme for creative studios, startups, digital product agencies, mobile app development companies, and all kinds of corporate websites. ProStart is a great choice for all companies that value effective and elegant design that can make an impact on their visitors.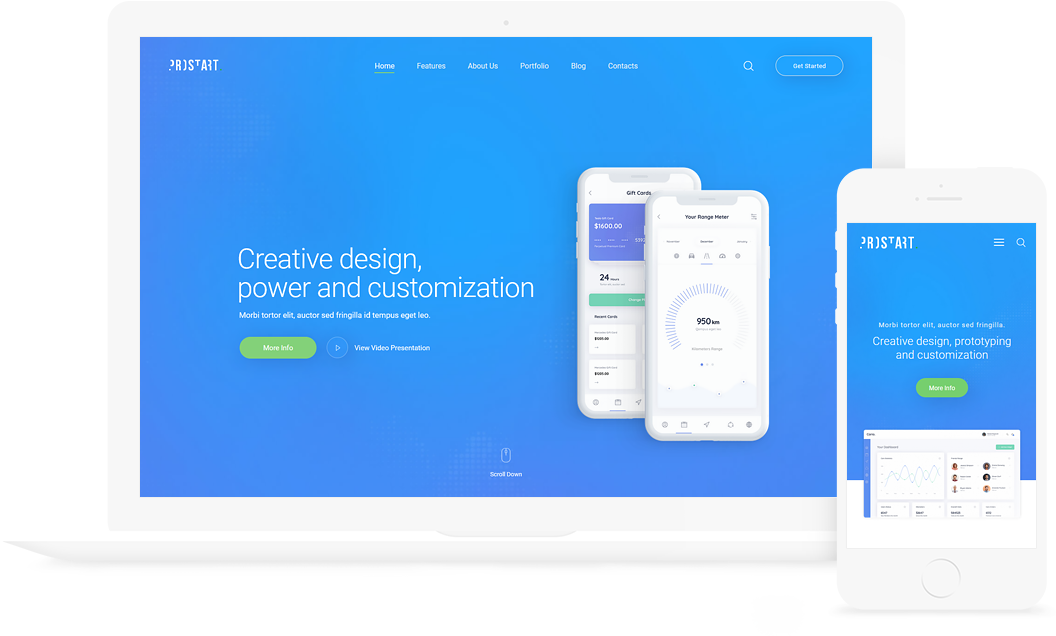 The theme may be especially useful for businesses that provide digital services or create digital products. It includes a large number of popular features you can find helpful, such as client testimonials, team members section, image gallery, slider, and many other shortcodes and bundled plugins that make your content more engaging and fun to browse. ProStart ensures effective and smooth experience for your mobile users as well, thanks to fully responsive design, thoroughly tested on multiple devices.
In this article, we're going to cover several important aspects of ProStart that can be useful for creating a robust and feature-rich website.
Slider Revolution

If you want to create a beautiful slideshow with interactive animations for your above-the-fold section, Slider Revolution would be the best tool for this purpose.
Being the most popular plugin on ThemeForest and the go-to slider solution for WordPress, Slider Revolution would enable you to unleash your creativity and create a truly stunning presentation of your product or service. The slider comes bundled with ProStart, which means you get the latest copy of the plugin for free.
Services
Displaying services in a form of blocks with descriptive icons and short summaries became a popular and effective way of introducing your visitors to the purpose of your business or distinctive features your product.

Fortunately, ProStart includes a flexible service shortcode that lets you output your services in various styles and layouts. The shortcode can be easily inserted into different parts of your website thanks to WPBackery Page Builder. Each service can also lead to its respective page with detailed information.
Team Members
Thanks to our team members custom post type, you can easily showcase information about your crew, and include such details as job title, description, and links to social media accounts.

Displaying information about your team is often a great way of increasing the credibility of your company. By showing your "human face" to visitors, you help them relate to you more and stop being just another digital firm.
Testimonials
Before purchasing something, it's natural to search for opinions of others who've already bought and tested the product or service you're planning to acquire. So why not showing them the reviews of your customers straight on your website?

Thanks to our testimonials shortcode, you can easily display testimonials of your trusted and influential clients that can persuade more hesitant customers whether or not they should make a purchase. The shortcode supports several layout types and allows you to specify the person's name, position, as well as add their picture.
Pricing Table

Another useful shortcode worth mentioning is a pricing table. With its help, you can easily showcase your pricing options to clients in a clean and easy to understand format. Adjust the shortcode settings and include such details as price, the name of the plan, subtitle, list of features, etc.
Image Gallery with Essential Grid

Create beautiful portfolio and image gallery sections for your website with the help of Essential Grid plugin. The showcase featured images of your posts in various styles, such as grid, masonry, and cobbles. Essential Grid is a flexible plugin that takes the presentation of your content to the next level.
WPBackery Page Builder

Formerly known as Visual Composer, WPBackery page builder is a solid and proven tool for creating and customizing infinite combinations of page layouts for your website. With a flexible system of shortcodes, you can add various types of content into different areas of your page, as well as make your content interactive and fully responsive.
The plugin includes frontend and backend modes of content editing, which makes it a great tool for both new and experienced WordPress users.
Header & Footer Builder
Although WPBakery is a great page builder, sometimes it's not enough for a more detailed website customization. If you want to edit more than just content of your pages, but adjust your header and footer layouts, that's where Header & Footer Builder comes into play.

Based on the interface of WPBackery, Header & Footer Builder brings the same level of flexibility of the renowned page builder to your header and footer elements. Create as many header and footer variations as you want, and have a full control not only over your content area but the entire website.
Blog

A WordPress theme wouldn't be a real WordPress theme without the blog functionality. With ProStart you can easily start publishing content as soon as you set up your website. Select from various styles of blog pages, types of pagination, and metadata elements.
The blog settings are located in the WordPress Customizer, which makes it fun to play around with the setting combinations and view the results in real time.
Contact Info & Google Maps

ProStart includes a ready-made contact page where you can display your details such as physical address, email, and phone number. The theme is also integrated with the Google maps, which makes it possible for you to output a Google map with your location.
---
Conclusion
ProStart is a high-quality theme for creative agencies, startups, mobile development companies, and corporate businesses that need a visually pleasing and feature-rich solution for their website.
If you're looking for a modern and elegant design, ProStart would definitely be a great choice for your website. From the functionality standpoint, the theme is extended with a number of premium plugins, among which are WPBakery Page Builder, Slider Revolution, and Essential Grid. ProStart looks great on mobile and tablet screen resolutions thanks to the fully responsive design.
Start building your website today with
ProStart
.