The most attractive non-profit WordPress themes are easy to use and match the best web design practices boxes. The good thing is that there is no need to search high and low around the web to find it. Mission is best for non-profits. This premium WP template will make creating your cause's website easier.
By picking up Mission, you can be confident that you have everything you might need to design and implement a standout charity website. You are likely not a coding expert, which is nothing to worry about. So why go the extra mile and create a site that requires extensive tech expertise when Mission can ease things?
Investing in a premium WordPress theme like Mission is smart. It gives you the power to control and manage your web page without overspending on design and maintenance. Whatever your cause, Mission – Church and religion multipurpose WordPress theme will fit your unique needs.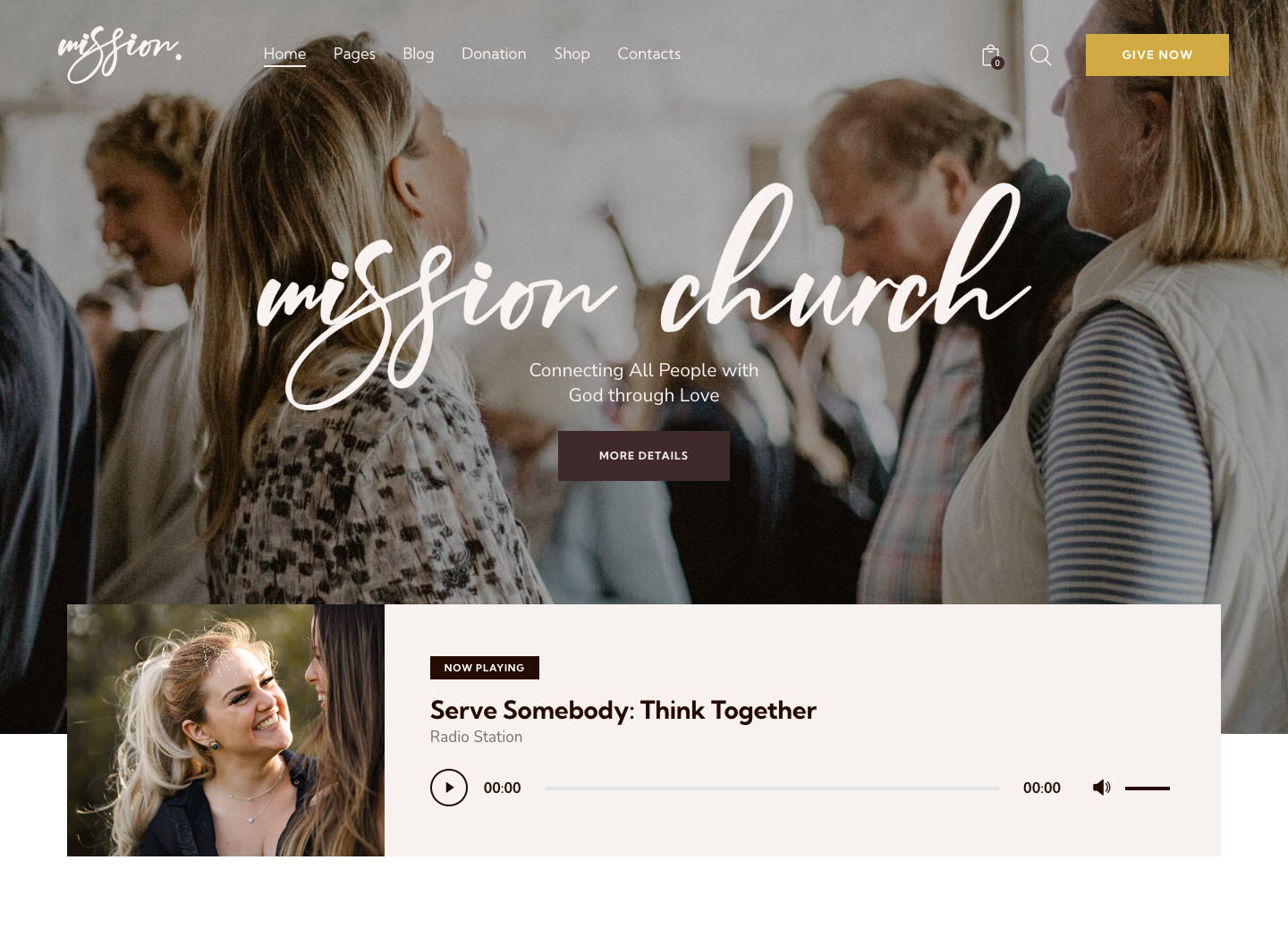 Many charities and NGOs are vying for funding and media attention. And a website is one of the most cost-effective tools for distinguishing your community from the crowd. Mission has a fully responsive layout as one of the key benefits. For users, your site looks the same way they expect it to see. For you, that means more interactions and organic traffic leads. 
If you are looking to boost customer inquiries, Mission can help dominate search engine results over the long term. That is possible since it follows the best SEO rules and practices.
Mission has clear navigation so that your visitors enjoy the browsing. They go around your site where you want them to go. Your visitors come to your charity website with a goal, and clear navigation will direct them to certain pages.

So, if you work in a charity, how is your website performing? If your design is not convincing a user to click to learn for more, you need to act. Mission has several pre-designed homepage styles so you can get your compelling charity website up and running hassle-free. Start with the main demo or pick any other layout; the result is beautiful.
It depends on your passion, so it is better to check all options until you find your favorite one. There are multiple design elements you can mix and match to get the best design solution that works for you. And the good thing is that Mission is optimized for fast page speed load. The AMP technology ensures that your layouts load almost immediately, giving the best user experience.
Another standout feature of Mission is the use of Elementor. That is one of the most recommended tools for crafting pages for anyone. Both beginners and experienced users will find it easy to use. And what can be better than getting control over page layouts yourself?
You will enjoy the easy drag and drop functionality of Elementor. Undo or redo what you have created until you are proud of the result. However, it is easy to go high with Elementor since it has almost no limit.
Give-Donations Functionality
A charity website should be effective so that you can earn donations and raise funds online. The Give is simple and lightweight, just what you need to ensure a seamless donation process for anyone who lands on your site.
Once you activate it, poke around its basic settings. So, you have five main tabs with pretty straightforward options. Now, create the donation form you like. In general, it should be good enough for most basic donation campaigns. Also, it works with multiple payment gateways.

Not all email pop-ups are made equal. And the Newsletter Popups plugin proves that. It is a powerful and flexible tool for creating lightbox popups to attract more attention to your causes.
You have complete control over when and how the popups are displayed to your visitors. Customizing boxes to how you like to target specific audiences won't be a problem. Another way, you can use a pre-built layout and later customize it to your taste.

WooCommerce is a free tool that benefits nonprofit websites. You, too, can make the most of WordPress and WooCommerce for your nonprofit.
Educating your audience about your missions is great but not enough. With endless flexibility and full control, you get an easy way to raise funds. And not only that. It is a way to sell merchandise, host and run events, accept donations, set up email automation, and so much more.

Whether you are hosting fundraising events virtually on in person, The Events Calendar makes it easy to check them. That is how your workshops will look on your web page.
Think about how to make it convenient for users to check them. You can create different pricing packages, or add labels like special, early-bird pricing, etc.
It is important to keep your calendar up to date. Keep visitors informed about the upcoming event beforehand. You are a public organization so pay attention to details.


Elegro Crypto Payment Support

Adding cryptocurrency payment for your charity business is a great way to spread the word about your cause. Also, it is a way to boost your mission and profits. Mission allows you an easy way to get more opportunities to raise funds. So, why not open up your community to people worldwide?
Want another quick win? In comparison to banks, it works 24/7. So, the process can happen days and night. Who doesn't want to receive payments without waiting any moment?
So, what is the good thing about Mission? It is a nice choice for almost every single nonprofit. It has a clean, well-organized layout, making it easier to match it to your business needs.
The best way to build trust with your donors is to ensure your site is data-safe. Besides, a secure website protects you and your donors' information. To do it right, take advantage of the GDPR Compliance plugin.
Forget not to add beautiful and high-quality photos as they can create the biggest impact on your NGO website. Get inspired and take action, Mission is simple to use, even without web design experience.
Other premium plugins that work with Mission are MailChimp, Contact Form 7, and Revolution Slider. The AMP-ready pages are also a big benefit. Give Mission a shot to see how simple it is to use, even without web design experience.