[Today we're excited to introduce Aldo, 100% Gutenberg WordPress theme that enables you to experience the advantages of new WordPress publishing experience at its fullest. As you probably know, the latest version of WordPress 5.0 has integrated the Gutenberg page builder in its core, which completely changes the way you publish content in WordPress.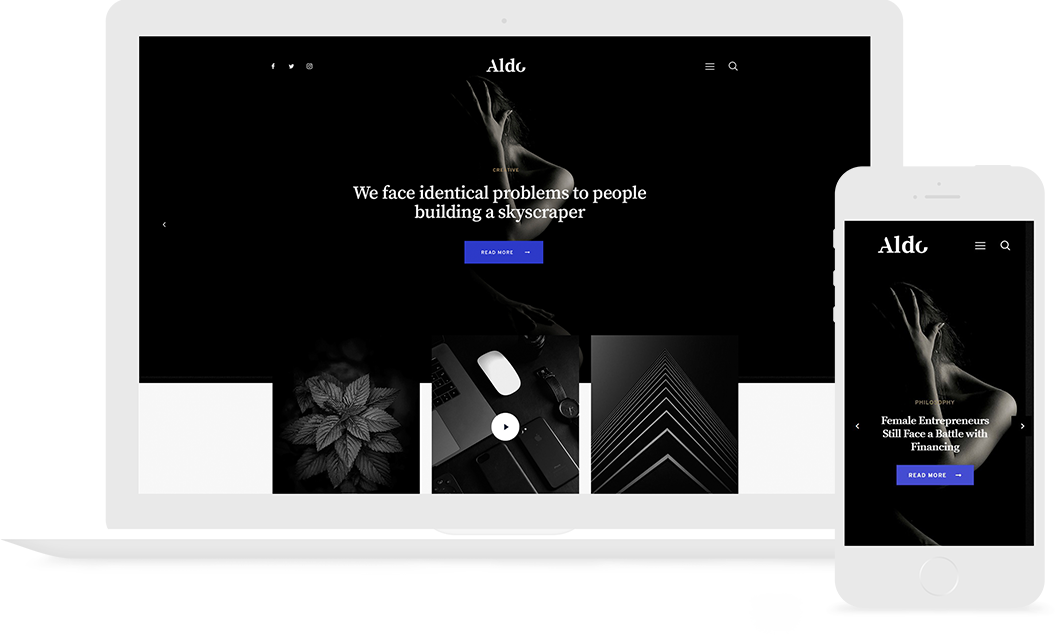 Gutenberg brings a completely new editing experience for WordPress users. reorganizing the WordPress interface and making it minimalist and more in line with the current trends.
What's more important, WordPress embraces new technologies, adding into its core modification of JavaScript React library. This allows you to interact with your content and see exactly how it looks like on the front end without continuous page refreshes.
Aldo is one of the first themes that fully embraces Gutenberg. We've made it compatible with the newest WordPress editor and integrated a collection of blocks, a Gutenberg-specific set of elements. They can help you customize your pages and add various types of content to your website. Just like shortcodes, but better. Let's examine Aldo in detail, and see what awesome features it prepares for us!
100% Ready Gutenberg WordPress Theme

As mentioned earlier, Also is fully Gutenberg compatible and lets you create content using the modern editor easily. We've made sure that your content looks nice both on the frontend and backend of your admin panel, eliminating any inconsistencies between the two views.

As you can see from the GIF image above, Gutenberg lets you interact with your content on the go. You can select blocks, change their settings, and even convert one type of block into another with a single click. Thanks to its minimalist and clutter-free interface, you can finally focus on your content and eliminate any distractions you might have had previously.
Multiple Blog Layouts

As with any other blogging WordPress theme, we've made sure that you have a decent variety of layouts to present your content nicely. You can choose from several pre-built homepages, customize them, or create layouts from scratch using our exclusive Gutenberg blocks.

The layouts are powered by Blogger, our extremely flexible Gutenberg block made specifically for blog layouts. You can place it in different places on your website and customize for outputting the desired set of posts with the preferred layout.

You can customize each layout, selecting desired widget areas, sidebars, header and footer. Present your content the way that best suits your website easily.
Exclusive Gutenberg Blocks

We've included more than 30 unique Gutenberg blocks in Aldo to make it easy for you to create beautiful pages and layouts. The blocks incorporate various types of content, including widgets and layout elements for creating a header and footers.

You can add our custom blocks the same way you add the default Gutenberg blocks. Each one has a set of parameters in the right-hand side panel, where you can customize the block settings.

Header & Footer Blocks

There's is a special group of blocks created specifically for building header and footer layouts. With Aldo, you can have great control over your header and footer areas, which is far from any default WordPress theme has to offer. Besides customizing header and footer, you can also assign a different layout to an individual page.  
4 Single Post Styles

Aldo incorporates several styles for single posts, giving you yet another way to tailor your blog appearance. Whether you choose to use fullscreen or boxed featured images, sidebar or no sidebar, the decision is up to you.
Using fullscreen images is a much better option if your images are of high quality. Also, the reading experience without sidebar is more clutter-free, however with sidebar, you can add various offers and place banner ads.
Conclusion
Aldo is a beautiful, modern and minimalist 100% ready Gutenberg WordPress theme that is a great solution for any modern blogger and content creator. The theme is fully compatible with the Gutenberg editor, making sure you can experience all the benefits of the new way of publishing in WordPress.
Aldo features several modern layouts that enable you to present your content nicely across a wide range of screen resolutions and browsers. Also, the theme is GDPR ready, making it easy for you to adhere to GDPR regulations. Moreover, thanks to header and footer blocks, you can construct your header and footer layouts yourself without coding knowledge. Create a stunning blog with Aldo today!
For more awesome goodies, feel free to check out our collection of premium WordPress themes.