Meet Meals & Wheels – classy food truck and fast food delivery WordPress theme, which we've recently added to our portfolio of beautiful WordPress themes. The theme would be a great choice for any kinds of fast food cafes, restaurants, food delivery services, food trucks, food stands, street foods, etc.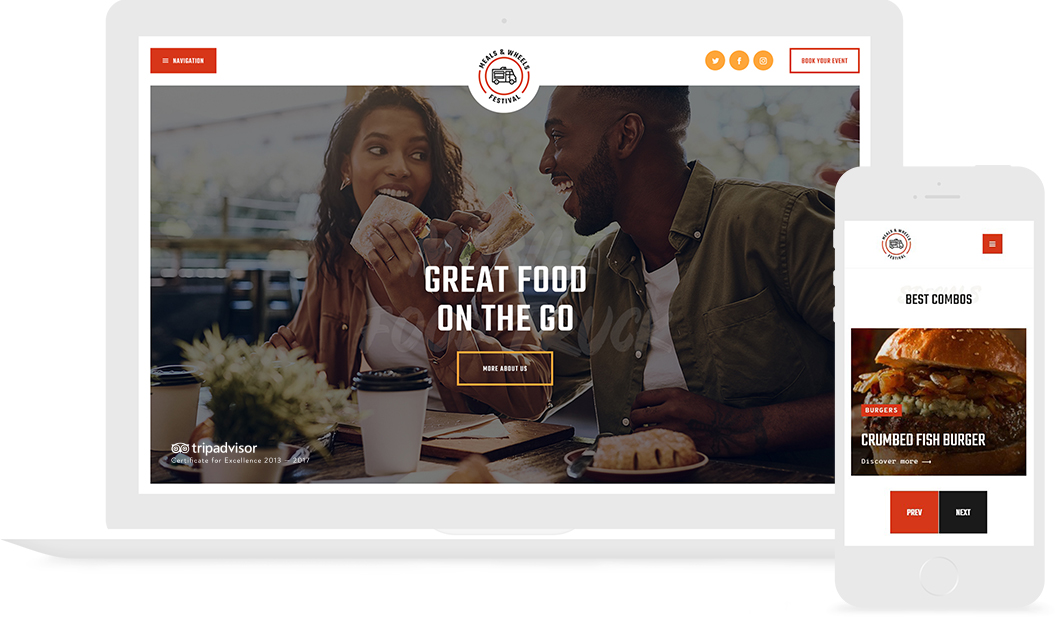 The theme includes an intuitive and fast demo content installer, which helps you replicate our demo installation and smooth out the process of substituting the content. Also, Meals & Wheels is fully optimized for mobile devices, so you can rest assured your website looks great for desktop and mobile visitors alike. Let's see which other awesome features the theme provides you with.
Elementor Page Builder Support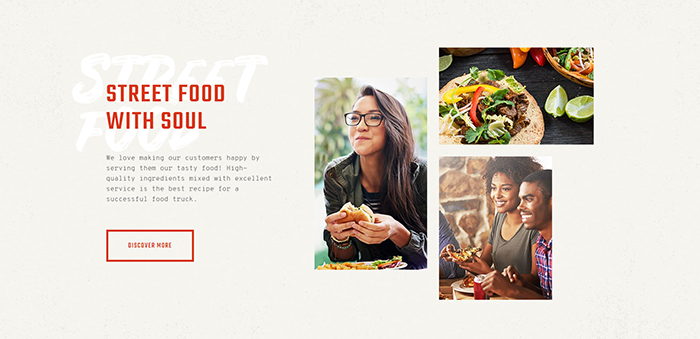 If you haven't heard of Elementor already, believe us, it is worth checking out. If you have heard about it then you know why we're so excited about it. During the last two years, it completely revolutionized the page building experience for WordPress, bringing content creation and editing experience to a new level.
With our theme fully supporting Elementor, you can take advantage of everything Elementor is known for. That includes visual editing, lots of versatile elements and blocks, page templates, and more. We've taken it even further and included our own collection of elements and widgets that enhance the theme considerably.
Header & Footer Builder for Fast Food Delivery WordPress Theme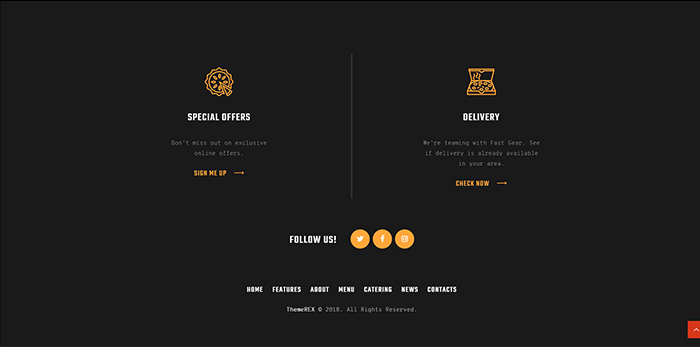 Customizing header and footer areas is an important component of any website customization. That's why it's essential to have a full control over the way you construct your header and footer. Meals & Wheels includes an essential addition to the Elementor page builder, which is Header & Footer Builder. It enables you to create and customize an unlimited number of header and footer layouts for your website.
What's more, you can assign different kinds of layouts to different pages for your site. That is possible thanks to advanced inheritance system implemented in the theme. For example, you can assign a certain header layout for your whole website, but override it for individual pages in their settings panel.
Dishes & Menus Showcase

Any food truck and fast food delivery website plays a large emphasis on its dishes and menu. Therefore, we've made it possible to choose from a variety of ways to display and showcase dishes on your site.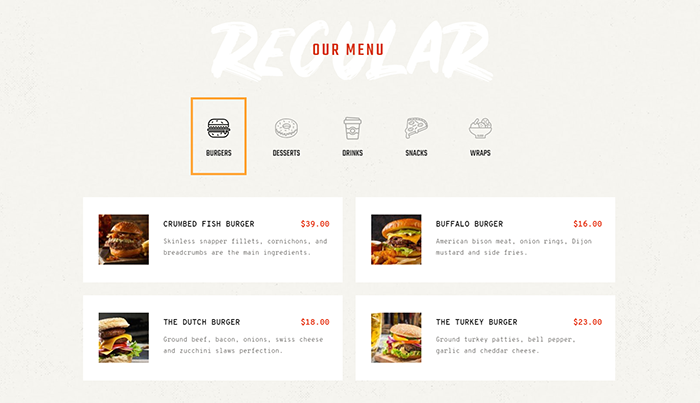 Each product you add in your admin panel can have a price, image, title, and description. You can add food ingredients and nutrition value to each meal in the item description. You can also divide food into categories, subcategories, allowing your visitors to filter menu based on their preference.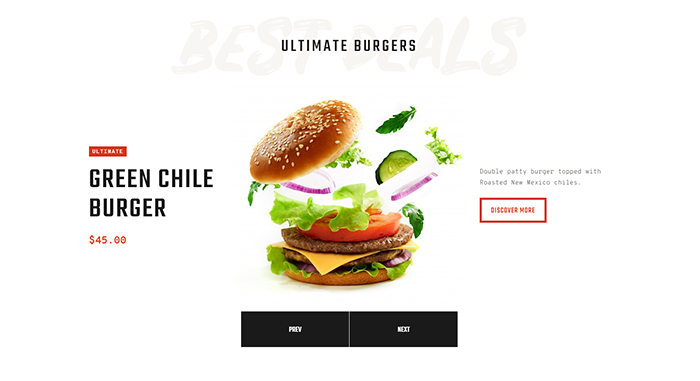 It's also possible to showcase individual dishes separately from other products. This can be especially useful if you want to bring more attention to a certain product, for example by giving a discount or special offer.
Pre-built Pages for Various Purposes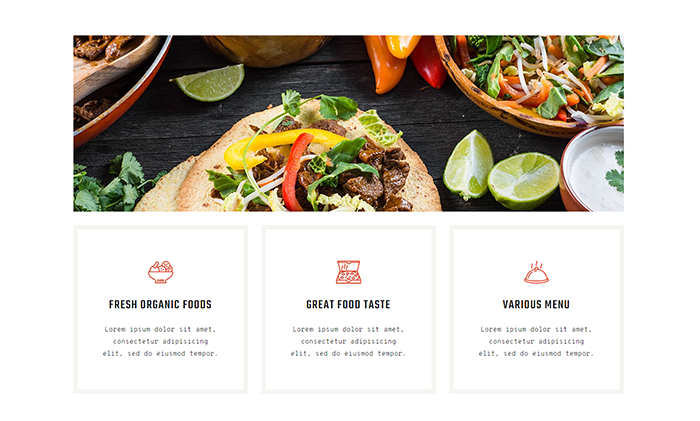 In addition to the amazing and versatile collection of elements, Meals & Wheels includes several pre-built pages that you can use for different purposes. You can use or reuse existing blocks, add your own content, or use these pages as the foundation for something new and unique.
The pre-built pages can be especially useful for displaying such information as contacts, address, phone number, details about your company, team members, and more. Ready made pages save you time and serve as a great foundation for further website customization.
Making Enticing Hero Areas with Slider Revolution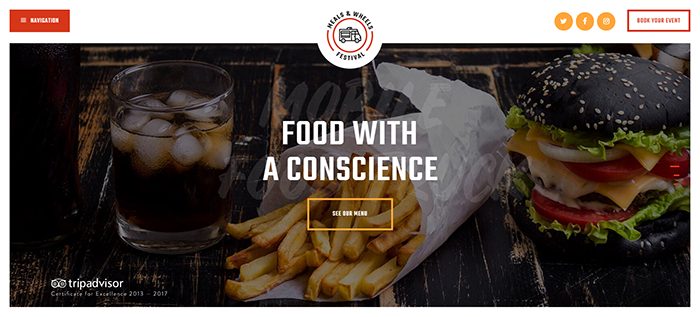 Meals & Wheels includes such popular slider plugin for WordPress as Slider Revolution. This tool helps you not only add awesome slides to your website (which is great), but most importantly, create beautiful hero areas, so popular nowadays. By adding a beautiful hero section with a strong call to action on your website, you can make your site look trendy and hip with no effort at all.
Fast Food Truck Locations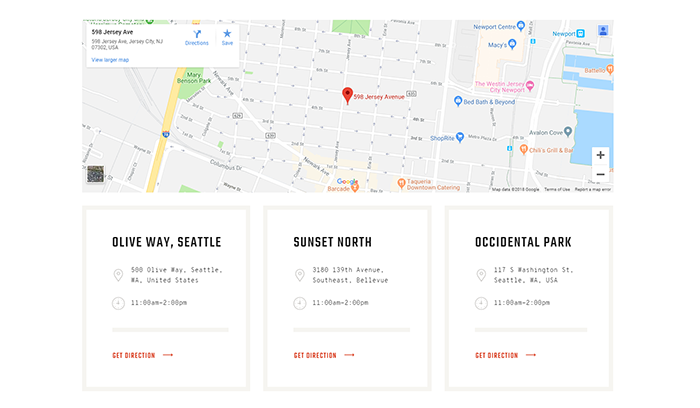 If you own a food truck business, chances are you have more than one food truck location in your city. We've considered this scenario and included a specific layout where you can display multiple food truck locations so that your visitors can find you more easily.
Customizable Blog Layouts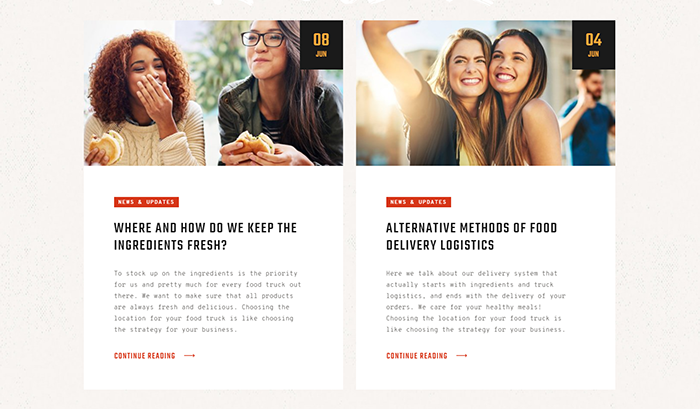 Last but not least is of course blogging. Often neglected by small businesses, it's something that can make it or break it when it comes to your search visibility. If you want to increase your organic search traffic, blogging is definitely something you should consider.
We've added several awesome and easy to read blog layouts, which can make your stories easy to read and scan through. Our blog layouts also look nice on mobile, so when mobile traffic comes in, you'll be fully prepared.
Final Words
Meals & Wheels Food Truck and Fast Food Delivery WordPress Theme is a great solution for street food businesses and restaurants who want a robust and beautiful website. The theme is designed to make your dishes look amazing and appetizing, provide clear info about your business, and be accessible and desktop and mobile devices alike.
The theme includes such helpful plugins as Elementor, Slider Revolution, Essential Grid, Contact Form 7, and several others. Thanks to our enhanced collection of elements and set of pre-built pages, you can customize layouts and display information about your business with ease. Create an awesome food truck and food delivery service website with Meals & Wheels!