Keyword Research Hacks for Successful Ranking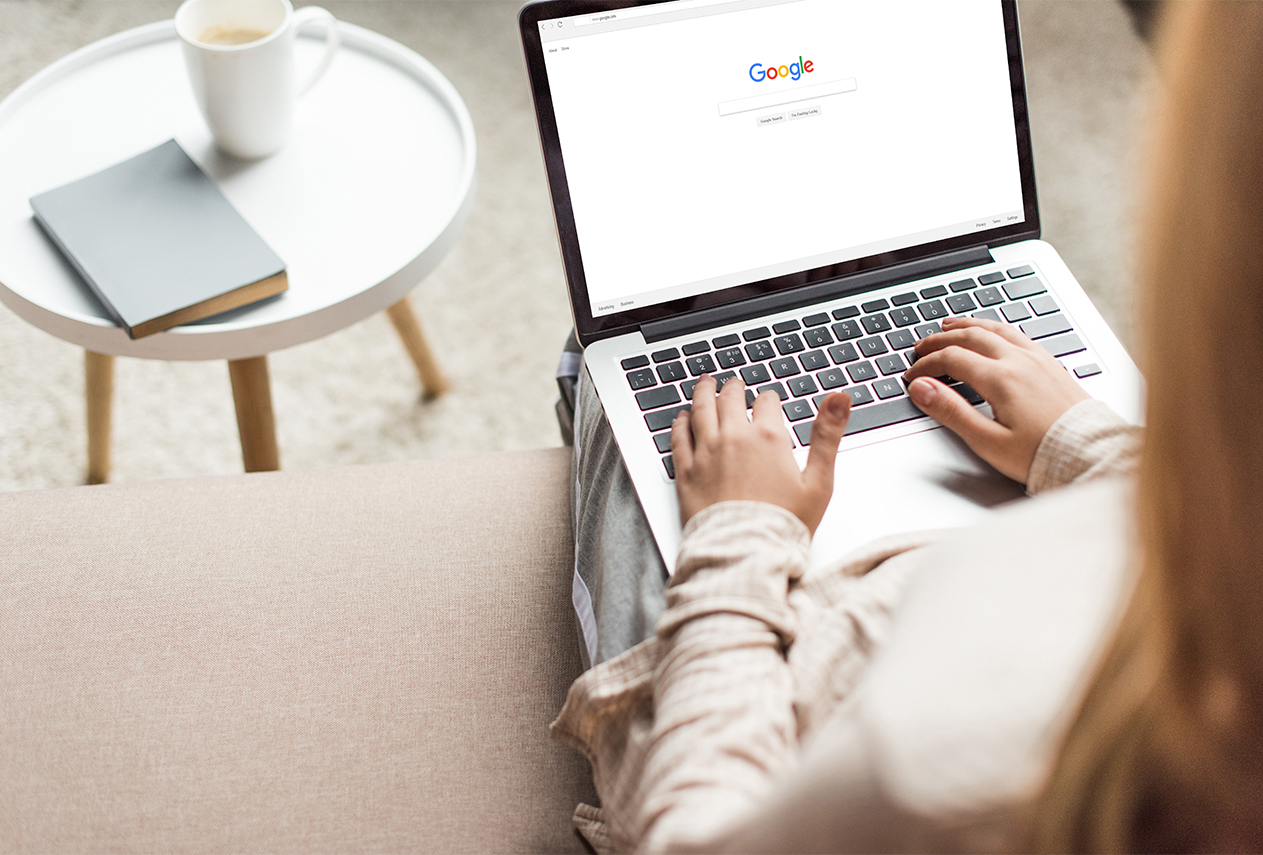 The keywords you target can make or break your digital marketing campaigns — that's a fact! Content marketing, pay-per-click advertising, social media — your success in these marketing methods hinges on whether or not your marketing materials are shown to the right people, something that is predicated upon your choice of keyword research strategy.
However, it's worth mentioning that out of all the branches of digital marketing, none of them is more keyword-dependent than search engine optimization or SEO itself.
Remember, SEO has plenty of moving parts that require a proper keyword strategy to be effective. Link building, for instance, requires you to develop keyword-optimized content as well as use keyword-optimized anchor texts. You also need to work on your keyword placements when it comes to your on-page content in order to improve your niche relevance and rank worthiness in the eyes of search engines.
The only problem is, most keywords that garner thousands upon thousands of users are already saturated with competitors. This makes it drastically harder to rank for them in search engine results, especially if you're a small brand without a dedicated SEO team.
Doing so means going up against bigger brands with deeper pockets. Whatever you have in your SEO arsenal, be it guest posting, on-page optimizations, or social media marketing, they can do better and with much more volume.
Unless, of course, if you outmaneuver them by handpicking long-tail keywords that target a narrower audience.
What are Long-Tail Keywords?
In a nutshell, long-tail keywords are simply keywords that contain three or more terms.
For example, if "carpet cleaning" is considered as a seed keyword, then "carpet cleaning services Ohio" is a good example of a long-tail keyword variation.
The term "long-tail" is actually derived from the search demand curve, which illustrates the traffic that goes to certain keyword types based on their length.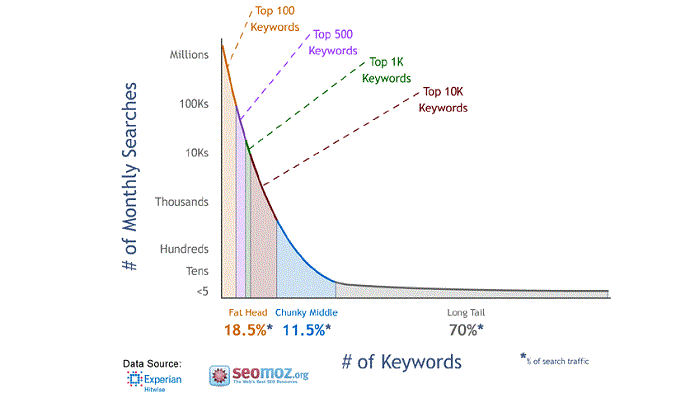 Keywords that contain only one term are regarded as fat head keywords, while those with two terms are called chunky middle keywords. While both keyword types have a significantly higher traffic potential than long-tail keywords, take note that most, if not all, of them, aren't well-targeted — not to mention they're incredibly competitive.
A fathead keyword like "game," for example, yields nearly 9 billion search results on Google.


Looks intimidating, right? You will also notice that the results are a jumbled mess of pages from niches like sports, web-based games, mobile games, and so on. Without focus, it'll be extremely difficult to pull in quality leads who are more likely to convert into subscribers or paying customers. And that's where long-tail keywords step in.
The Benefits of Long-Tail Keywords
In relation to the example above, let's try to expand our fat head keyword into something more specific. While the keyword "game" yielded a vast number of results, the keyword "free strategy mobile games" painted a very different picture.


It's not rocketing science: the longer the keyword, the less competitive it is. More importantly, it allows you to target users with transactional intent, meaning they conducted the query while being in the mood to take action. Still not convinced that you need to target long-tail keywords in your SEO strategy? Perhaps the following statistics will change your mind:
The average conversion rate for long-tail keywords is 36% — more than double the conversion rate of the top 10% landing pages, which sits at

11.45%

.

Long-tail keywords get

56%

more organic click-throughs.

Since long-tail keywords reflect how real users search the internet, they convert

2.5x more frequently

.
Looking for Long-Tail Keywords
Now that we got the benefits of long-tail keywords out of the way, it's time to divulge a strategy to help you find them. Despite their value in an SEO campaign, long-tail keywords are actually fairly easy to find. There are dozens of free tools out there that can help you expand a head keyword idea into hundreds of long-tail keyword suggestions.
Ubersuggest, for example, lets you do this without even requiring you to create an account. Just head over to their site, type in a seed keyword, adjust the region, and click "Look Up."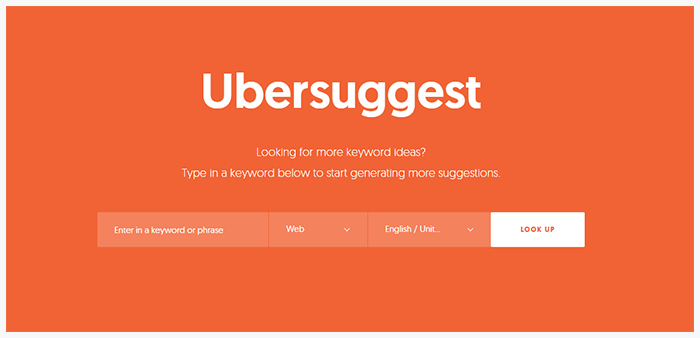 The tool will then proceed to generate hundreds of long-tail keyword variations for the head term you entered.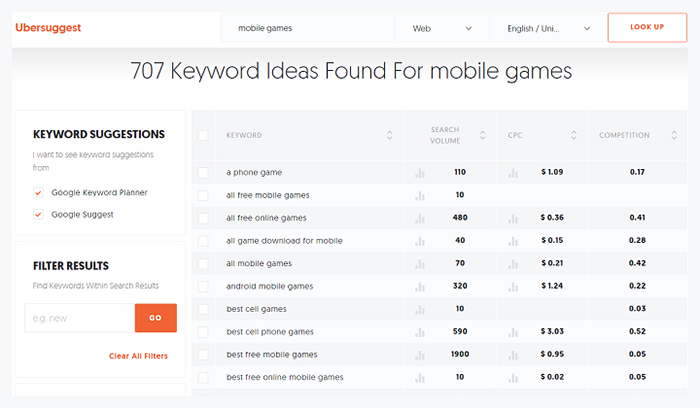 Here are three things you need to remember when using Ubersuggest to find long-tail keyword ideas:
Find keywords with a competitiveness rating of 0.4 or less.

These are keywords in the low-medium competition range — perfect if you want fast results or is simply underfunded.
Create filters to find keywords with transactional terms.

Using the "Filter Results" feature below, you can immediately scrape keywords with commercial keywords that make sense for your brand, such as "for hire," "for sale," "services," and so on.
Check the competition by searching with the keywords you're interested in.

Doing so will enable you to determine the type of content that ranks well for that keyword.
Making the Most Out of Long-Tail Keywords
As amazing as long-tail keywords are, you still need to implement the right strategies in order to maximize your results. The big elephant in the room would be your strategy when weaving these keywords into your on-page content. Be sure they appear in the right places, particularly in the:
Page/Post Title

Headers

Image Alt Tags

Main Body

URL Slug

Meta Description
The good news is, most long-tail keywords translate fairly well into actual content topics since they represent what users type in search engines. Just remember that it's perfectly acceptable to optimize for multiple long-tail keywords on one page, compensating well for the lower volume of traffic as compared with head keywords.
Finally, don't forget about the importance of performance when it comes to your website's rank worthiness and profit potential.
Website speed, in particular, plays a pivotal role in both aspects. Not only is it a known ranking factor, it also directly affects your website's bounce rate and conversion rate.
Some of the known strategies for this includes utilizing lossless compression for your images, reducing latency by using CDNs, upgrading to a more capable host, and minifying your code with tools like MinifyCode.com.
Conclusion
Long-tail keywords are the lifeblood of an SEO strategy in the modern digital marketing climate. They help you avoid going toe-to-toe with the biggest brands, achieve higher rankings faster, and attract quality traffic that will unlock in more conversions. With the post above, it's only a matter of time before you can develop a full-on SEO strategy with guaranteed results. Cheers!
For the Updates
Exploring ideas at the intersection of design, code, and technology. Subscribe to our newsletter and always be aware of all the latest updates.