Some technical SEO issues lose their relevance with time. They either become insignificant, or process automation inside a website almost entirely removes the risk of their appearance. Unfortunately, broken links are still thorns in sides of many webmasters and SEOs.
1. What Are Broken Links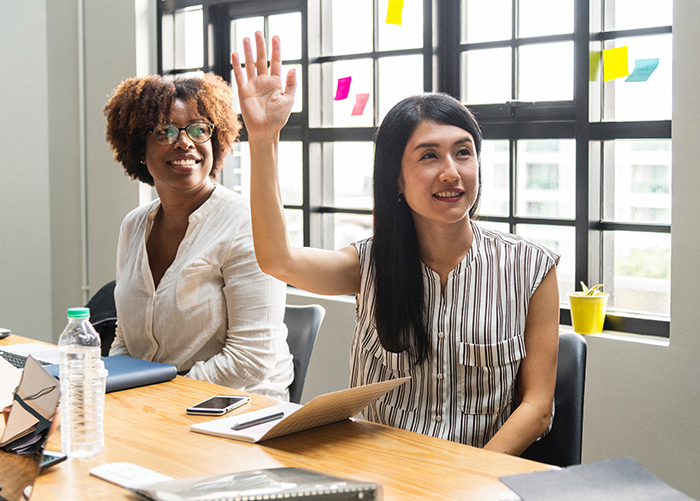 For the beginning let's define what do we mean by a broken link. Broken links or dead links are links that lead to unavailable pages, as well as the ones returning 4xx and higher HTTP status codes.
1.1. Sources of Broken Links and Reasons Why They Appear
The appearance of dead links can be caused by the wrong configuration of your CMS or just mistakes made by a webmaster. 
Broken links appear in the following cases:
Link address was written incorrectly.

Page was permanently removed but some links still lead to it without redirecting.

The webmaster didn't set correct 301 redirects after moving the website to a new domain or protocol.

System error causes situation when working page has 404 server response code instead of 200 OK.

There was a glitch in automatic data updating from an external source.
1.2. How Broken Links Can Hurt Your Website Optimization
Broken links are a negative factor both for SEO and user experience. There are several main reasons:
They make a bad impression of your site.




Once users get to the 404 error page, they are likely to leave a website and never come back. It will increase the bounce rate which can lead to Google's unpleasant conclusions. They, in turn, will influence the website ranking in organic search.

They make the search robots' work difficult.




If a search robot finds too many broken links, it can negatively affect a site's crawl budget and position in SERP.

They don't let link juice flow normally.




Broken links affect link juice distribution inside of your website When you have them, you lose all the link equity referred to links with 4xx server response code.
2. How to Find Broken Links on Your Website

The main problem caused by broken links is that they are constantly appearing. And you can prevent it only partially. Considering this fact you need to check your website on broken links regularly. But if you have a website with thousands of pages it will take a lot of time and energy.
There are several techniques you can use to check for broken links. They differ by speed and user-friendliness:
To figure out which tool you should use in a given situation we'll explain how each of them works.
2.1. Google Search Console
In the old GSC interface, you can go to the 'Crawl' → 'Crawl errors' tab to get an information about all errors and pages with 404 server response code.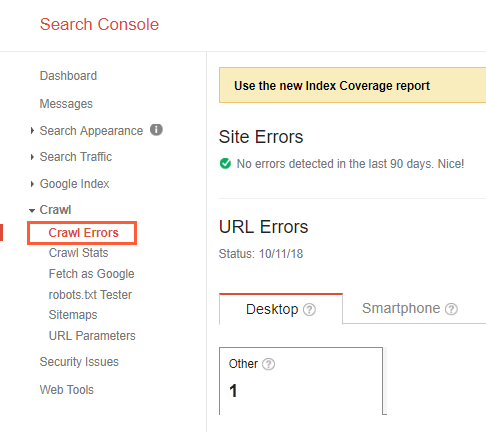 If you are already using a new version of Google Webmasters panel, you need to open  'Index' → 'Coverage' and choose 'Errors' filter to see a list of all problematic links including 404 pages.
The only inconvenient thing is that you will see all the links that lead to your website including backlinks from other websites. The list is updated after every robot's visit, so you cannot monitor all technical problems in a real-time mode.

2.2. Broken Link Checker
A free version of Online Broken Link Checker allows you to crawl a website to find broken links in online mode. You just have to enter your URL, fill security code box and push the big orange button.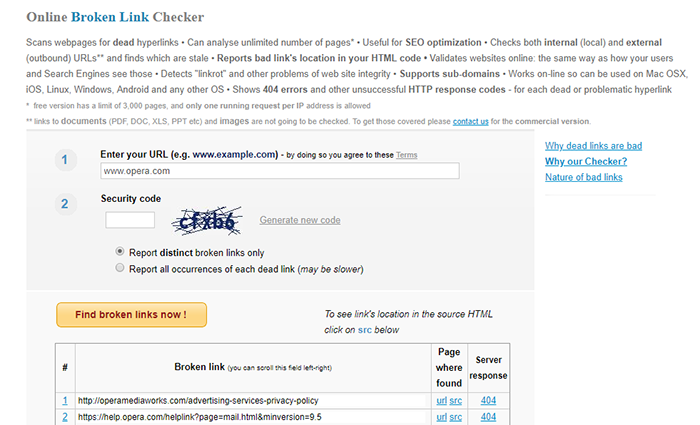 This service has several strong points including its flexibility, simplicity and no need to install any desktop software. At the same time, there are several weaknesses:
3000 URL per session limit

inability to find broken images or broken links to any non-HTML content,

a relatively low crawling speed that is especially significant during the work with large websites
This service is the perfect choice for a quick review of small websites without tons of different non-HTML content.
2.3. Netpeak Spider
With Netpeak Spider you can crawl an unlimited number of web pages and get a relevant report about all technical optimization errors including broken links, broken images and broken redirects (redirect to unavailable URLs or URLs with 4xx or higher status code). Also, you can limit the crawling area as you want. For example, you can crawl only one specific category where the risk of broken links is higher than anywhere else within your website.
To find broken links with Netpeak Spider you need to:
Launch Netpeak Spider.

Enter your website address in 'Initial URL' field and press 'Start'. If you need to crawl only some specific pages, you can choose one of the basic modes of adding URLs ('List of URLs' button in the main menu), turn on 'Crawl only in directory' option ('Settings' → 'General') or set crawling rules ('Settings' → 'Rules').

After crawling is finished, open 'Reports' → 'Issues' tab on a sidebar and click on 'Broken links' if this issue was detected.
Then you'll see an additional tab with a list of links with 4хх or higher status code.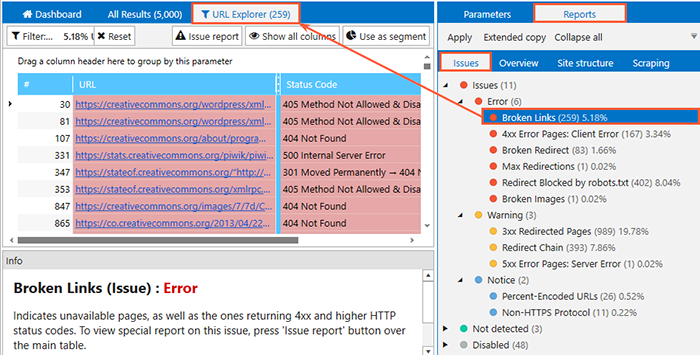 To find a source of a broken link, right-click on it and select 'Incoming links'.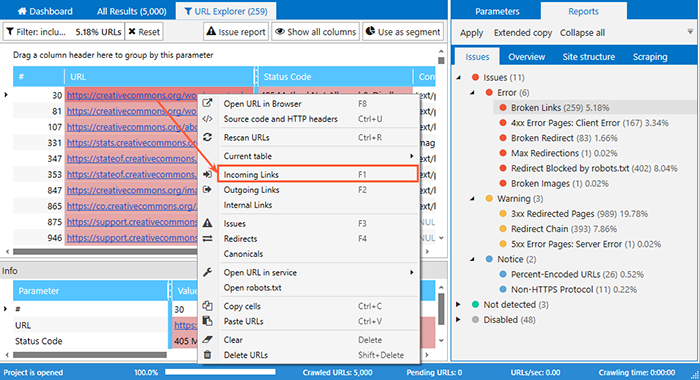 After the list of links opens, click on the 'Export' button in the upper left corner of the window. Save received data in .xlsx or .csv file

Also, you can use a special 'Broken links' report that can be found in the corresponding menu.
This solution will be suitable for sites with any CMS and any possible number of pages: standard Netpeak Software license has no limits or you can use the 14-day free trial (also with no limits).
2.4. Special Plugins for CMS
There are many available free and paid plugins for broken links check that you can use with your website CMS. For example, if you use WordPress CMS, you can install Broken Link Checker. It has one major advantage: you can choose the time and set many parameters for automatic links check.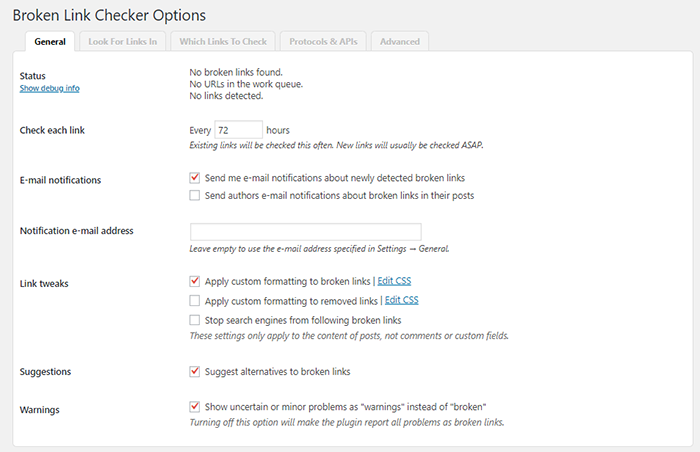 This tool will be very useful for owners of small WordPress websites who are very sensitive about keeping order inside the website 🙂
3. How to Fix Broken Links
Depending on the extent of the problem you can use several different methods, from the simplest to the most technically complicated. We'll describe a few scenarios you can follow to fix broken links within your website.
3.1. Manual Removing
If you have less than a hundred links that appeared at one time after some maintenance work, you can remove them manually. We recommend to use the following algorithm for manual removing:
Check if link address is written correctly and fix it if it's possible (and if you know how to do it).

If the linked page doesn't exist anymore, you can find another relevant page and change the current link.

If you didn't succeed with fixing or changing the link, just remove it.
3.2. Setting up Redirects
If broken links became a constant problem and you can't change the situation because of some regular updating or changes, we recommend to use redirection. It can be:

301 redirect to the relevant page with a similar content that can solve user's problem.

301 redirect to a parental category of the lost page (you need to be careful with this method because of the risk of

404 SOFT

error).

Refresh redirect from custom 404 error page that can inform a user that the desired page is absent and redirect to a relevant category.
3.3. Creating Custom 404 Error Page
Setting up redirects seems to be too complicated and time-consuming technique? Well, there is one more method to reduce the bounce rate and motivate a user to continue his journey through the website. We talk about creating a custom 404 error page that will:
entertain website visitors

show different ways of moving within a website

offer interesting and useful relevant content
In fact, it will not fix existing broken links, but you can improve usability and keep visitors on your website.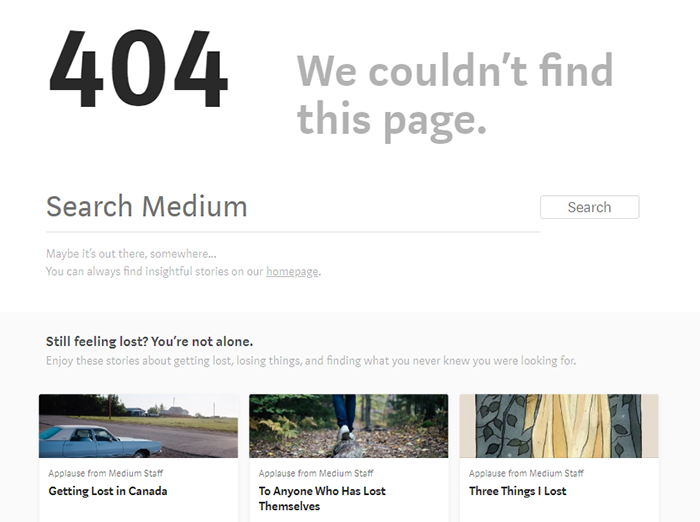 In a Nutshell
Broken links are one of the critical technical issues affecting website SEO and its future promotion in organic SERP. You can monitor broken links with Google Search Console, special online services, plugins, and crawlers like Netpeak Spider.
You can solve the broken links problem in several ways:
Change or remove links manually

Set redirects

Create a custom 404 error page to keep users on a website
How do you fix broken links on your website? Share your experience in the comments below: maybe you know some great methods that we must add to our article.