Starting a modern transportation business requires a thick skin. Depending on your level of interest, you have plenty of WordPress themes on the table. However, today we encourage you to give Global Logistics a shot to illustrate how far you can get with it. 
Generally, you get everything you might need or even more with the theme. One thing is sure; this premium WP template will be the helping hand you need. If you're looking for a solution that comes ready-made out-of-the-box, that's it. 
Your transport business might provide various services and specialize in several activities. Global Logistics is the solution that helps get you started on the right foot. Once you get it, half of a battle is done. The other half is to use it to your advantage. You get access to ready-made page layouts, premium plugins, and working contact forms that ease your workflow.
For the purpose of this review, let's go down the list of benefits of Global Logistics and skip the guesswork.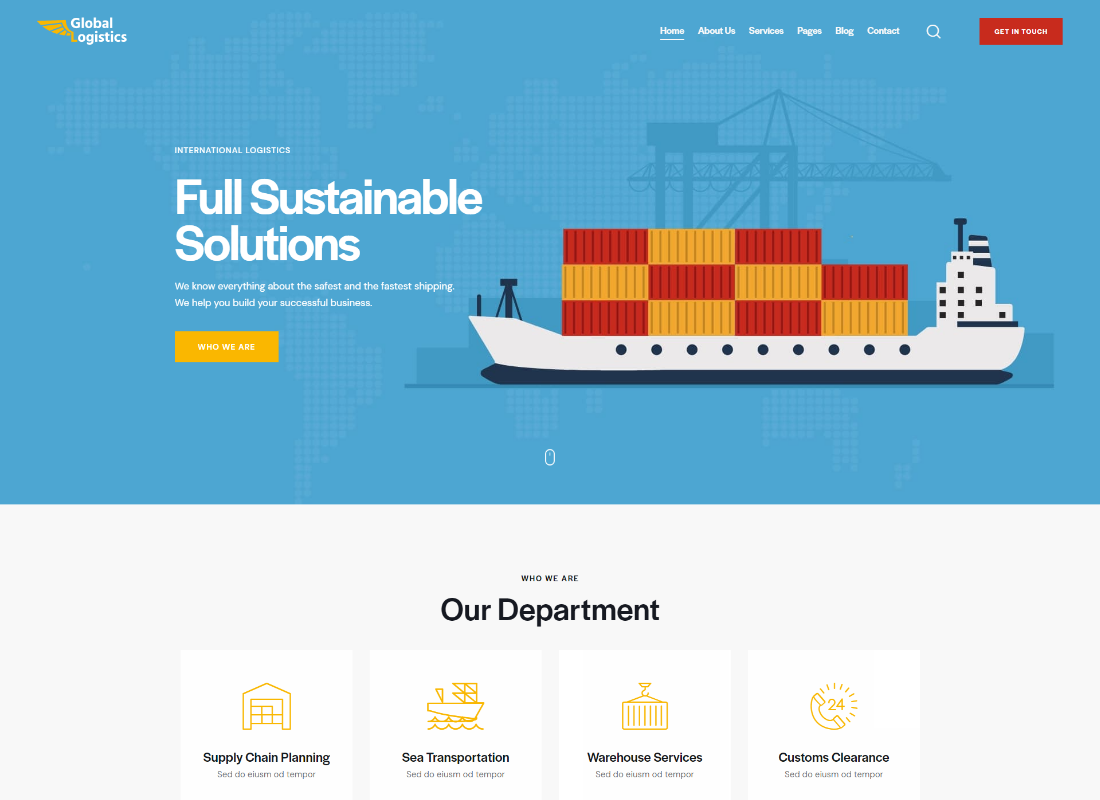 Global Logistics is a modern WP template that includes some key features for starting an effective business website. When you do it yourself, it is important to ensure that all the key elements are at your fingertips. Otherwise, your website won't work the way you like it.
Use it for logistics or shipping companies, warehousing firms, or package delivery agencies. Whatever it is, present your business from the most flattering angles. Based on your interest and expertise, play around with the theme with ease and worry, not about tricky issues.
 Its fully responsive design lets your website look the same on any smart device. That means that a user, even on the smallest screen size, will enjoy your website and find it useful. Also, you are more likely to reach out to new audiences on mobile devices. 
Keeping your site rankings at the top is not an easy feat, and the best built-in SEO features are a huge help. And sure, a fresh and relevant to your users' blog adds points to your rankings too.
Personalization can be challenging unless the powerful page builder bundles in the package. This time Elementor comes as the major page builder. So, as one of the most recommended tools on the market, it won't let you empty-handed. Let your creative juices flow with no legwork on your end. Stuck with something you don't know? Explore the detailed documentation we provide. You will find almost every step described in detail. 

The template currently features three beautiful homepage layouts you can use as a starting point for your main logistics page. Check the benefits of each option and see which one fits you best. Whatever style you end up with, it is easy to edit and modify yourself. 
Clean and well-organized, they come with a focus on your rigid packaging products or services. Also, add your customer reviews or testimonials to build trust with new audiences. Once they land on your site by chance, that will work as social proof that they are more likely to listen and follow.

With the homepage styles, you get several pre-built inner page designs too. Thus, you can showcase your logistics products or services, introduce your expert team, give answers to the frequently asked questions, and tell a story behind your brand. Not enough? Create as many new ones as you wish. 
The good thing is that you can modify the overall look of those pages how you like them. Whether it is color, typography, or background, experiment until you are happy with the result.

The choice for blog layouts is also not a shiny one. If you are unsure about its design, explore your options ready-made. You can always change its look by choosing another style. Or play around with its post formats, settings, and options to make it look right the way you like it.

Your transport website needs to generate sign-ups and grow the list. And running an effective marketing campaign is one of the surefire ways for that task. Customize your popup boxes to a greater extent so that a visitor will want to take action.
Try various styles to find the right one that works for you. Adjust it like any other page layout of your site. No extra skills or efforts are included.

It is also important to take care of your header and footer areas. With the powerful layout builder, customization will be easier than you think. Some styles are included, but you are free to create new ones from scratch. 
There are many more great and powerful features jam-packed for you. 
Premium plugins like GDPR Compliance ensure your business transport website matches best security practices. Next, it is easy to translate your content to any language you might need and reach out to new markets worldwide. 
Take the time to explore the benefits of Global Logistics. Chances are you won't look further.