Summer is not exactly the time to think about school, for students, anyway. For teachers this is a perfect timing to work on the program, do some planning and promote the education establishment or themselves as private tutors. For promotional purposes, as always, a good user-friendly website works best.
2015 has brought some new trends and ideas for WordPress developers to create a separate group of themes that would help building amazing websites for various educational purposes, teachers, education centers etc. One of the main goals of designing such themes was to change the stereotype about education sites, and prove that they can and should be fun, engaging and creative. In the collection below we are focusing on the most recent themes that are going to help you get the vision of the perfect site for your projects and hopefully become a tool for building such.
Education Center – Training Courses WordPress Theme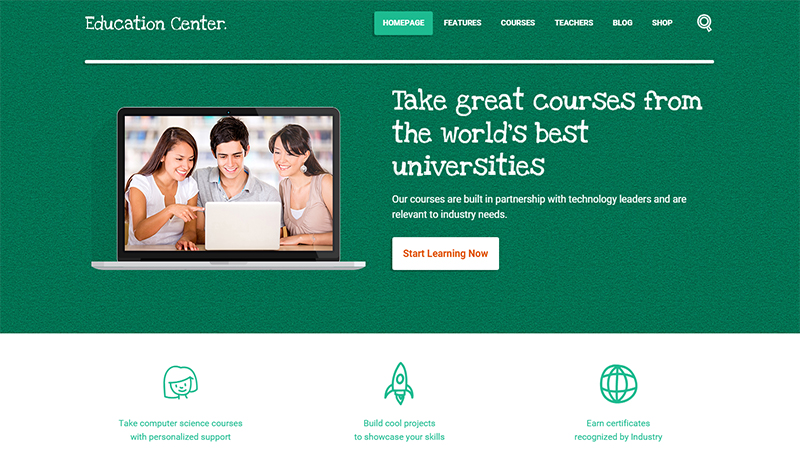 This theme is a great example of a professional Education WordPress theme that is not just full of useful features, but has an appealing and engaging design. Education Center has a structure that allows displaying all sorts of information in a quick effective way. For instance, there is a separate section dedicated to Courses. Here you can list all courses and lessons available to the applicants, as well as description, prices and images. Then there is a block where you can introduce the staff (teachers) to the world either as a team or individually. All this and more is possible due to the wide range of custom elements: custom theme option panel, rating&review mechanism, powerful sets of widgets and shortcodes. Moreover, you will be able to choose among multiple layout styles with interesting animation effects.
Skillfully – a Learning Management System Theme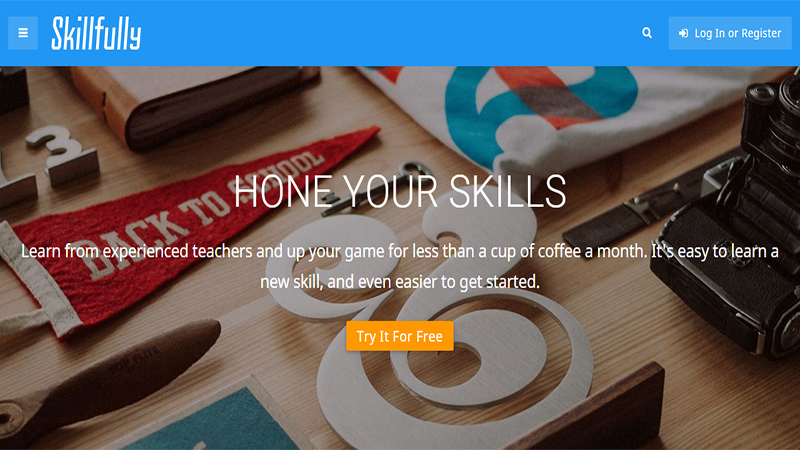 Skillfully is a theme for those who prefer their site look modest, informative, with nothing extra on the screen. The minimalist design allows concentrating on the blocks of information with no distraction popping out here and there. For some this concept might seem boring, or too plain, but let's not forget that minimalism is a big trend this year. Plus the theme comes as an online computer science/web design eLearning Marketplace as default, so the graphics are corresponding. However, Skillfully has several page templates that are good for customization. Additionally it supports WooCommerce to see how it works as courses/lessons selling method, and Events Calendar Pro to effectively arrange appointments.
Driveme – Driving Class School WordPress Theme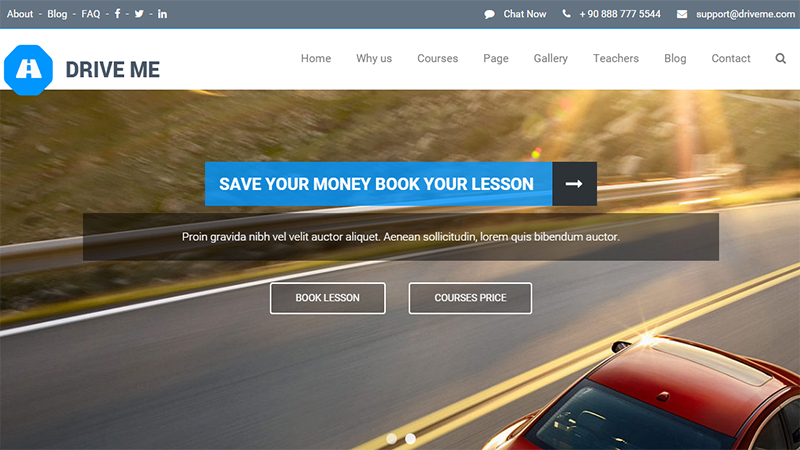 Don't worry, this nice theme can suit any other education website if you are willing to spend some time customizing it a bit. Driveme is basically a classic business WordPress theme that was adjusted to education websites needs. There are a couple of features that make it easier to advertise your services and list classes with description and prices. There is an option for composing beautiful Galleries and publishing Blog posts. Another great feature is active Booking form for courses that improves the communication aspect of your teaching business a lot. Also, the developers have included a custom plugin that supports offline, Stripe and PayPal payments. And, of course, there are multiple layouts for Home page, Gallery and Blog.
LMS Press – Learning Management System WordPress Theme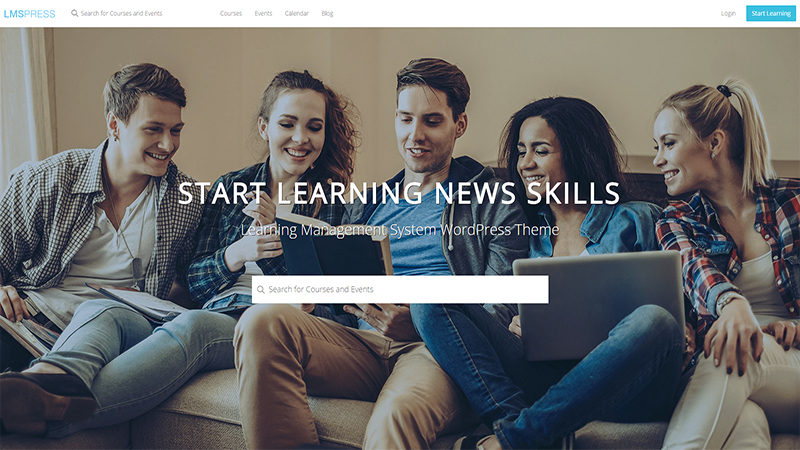 LMS Press is another portal for online studying. If you are planning on launching this type of project, then this theme will definitely help you in many aspects of the business. Not only does the theme look nice, it is equipped with some useful elements that make it multifunctional. Yes, it does not have as many of those as some of the previous, more business style, examples. But it is brings creativity to your site, makes it eye-catching and user-friendly. There is a separate section dedicated to Events and a Calendar. This makes the process of following and attending the events easier and effective. Additionally, it supports WooCommerce to purchase courses online.
Milagro – Learning and Courses WordPress Theme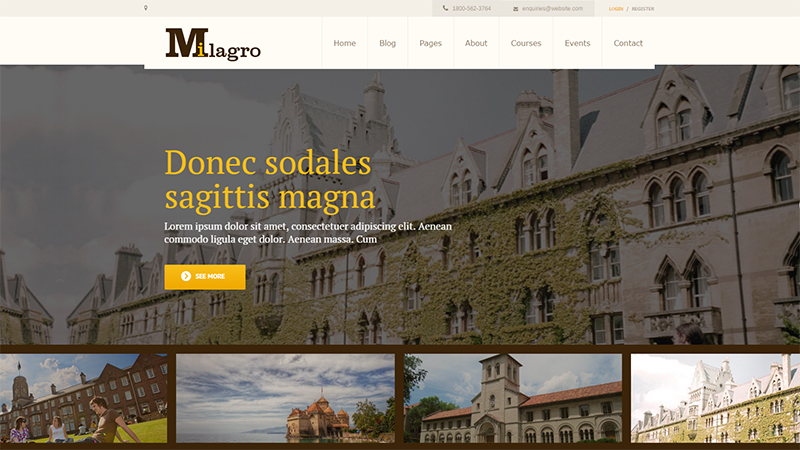 Okay, this theme has covered pretty much every possible variant of your education website. First of all, Milagro is good for College, University, Education Center and private tutoring or online courses. The design is pretty common, ordinary, but the multipurpose structure and functionality are impressive. We'll start with multiple layouts and styles for the most interesting pages, such as Blog, Home and Gallery. Then there are separate pages for promoting Members, Academics, Departments and, of course, Courses. The theme supports WooCommerce and PayPal payment system, and is absolutely Translation ready. And the list of the features goes on and on, so, instead of reading it all check out the demo.
Varsita – Learning Management System WordPress Theme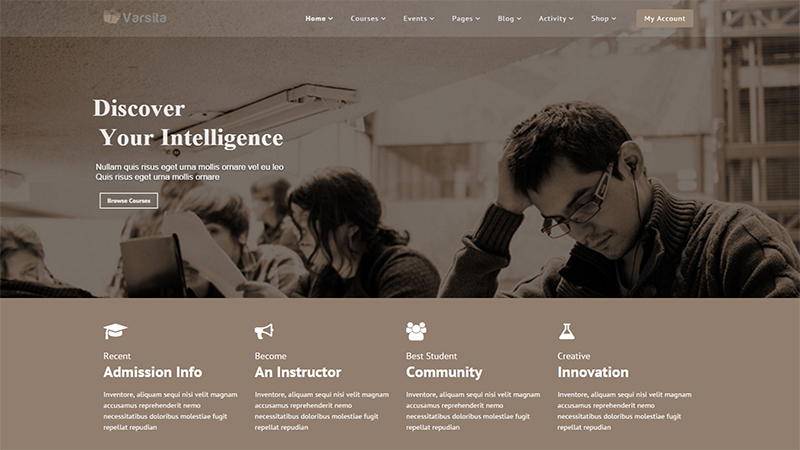 Varsita is a bit more modern theme that comes in two demo versions – eLearning and School & University. Both versions come with many different styles and layouts, and are practically identical. One of the main benefits of the theme is the availability of the custom Learning Management System plugin for implementing all kinds of eLearning features to the website. There is also the Event Management plugin that is handy for events operating. Varsita is also useful for creating Portfolios, where you can promote members of your team, services and accomplishments.
Language School Responsive WordPress Theme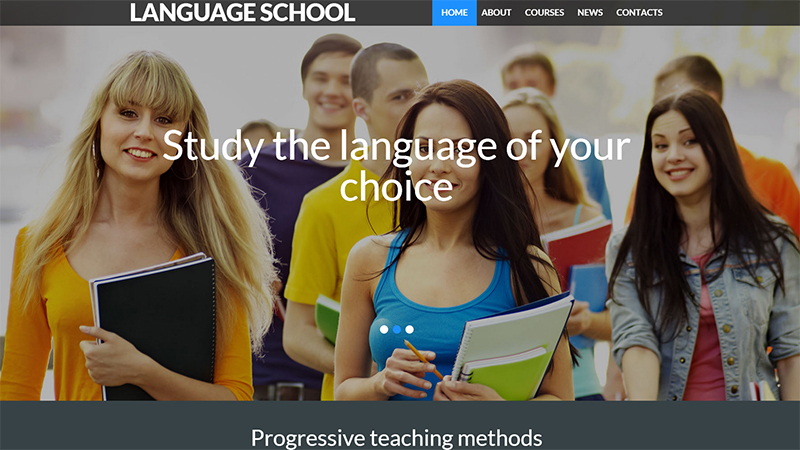 Language School is another nice and modern WordPress Education theme, with simple and user-friendly navigation and design. The theme was created for language schools, but since it is fully editable, you can transform it to a website for any other courses, schools, centers etc. It has a powerful News section and several types of Courses layouts. Another pleasant feature is that it's SEO ready. This means that it will be even more beneficial for promoting your organization.
Education Help WordPress Theme
This is a wonderful theme with simple yet quite engaging design for your education center, school or college. There is a bunch of useful elements and features that will help you create a trustworthy website. Despite the fact that it strongly resembles the previous theme, Education Help is still quite a stand out with its Lazy Load and Parallax effects. There are no large sliders though, but it only adds a more professional/business touch to the overall impression. The theme is ideal for creating portfolios and having an education Blog or promoting services.
Education News WordPress Theme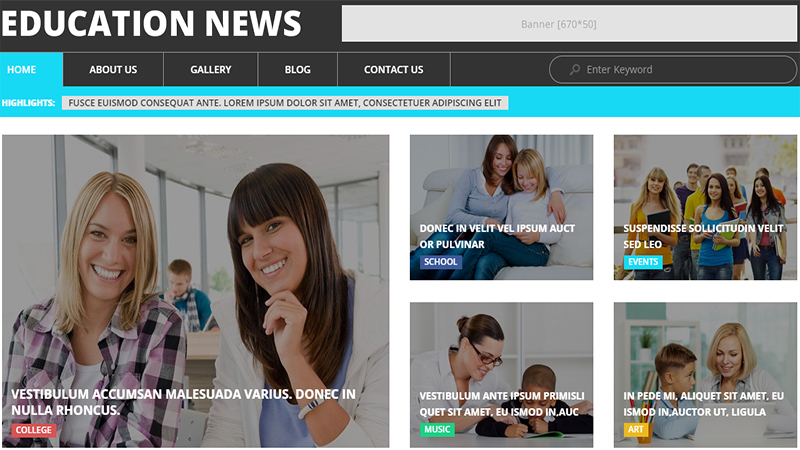 Running an education center or a school is a very responsible and sometimes hectic task. The same is the same can be referred to an education newspaper or news portal where you also have to think about how to present the information and how, probably, get more people involved in different educational activities. To help you create the most amazing and powerful education news website Education News WordPress theme was designed. First of all, it is SEO ready, which makes it easier for search engine operations. Its layout is designed to help you achieve the welcome news blog/magazine style results with minimum effort. The theme is customizable, supports WPML plugin and is fully responsive.
University Education WordPress Theme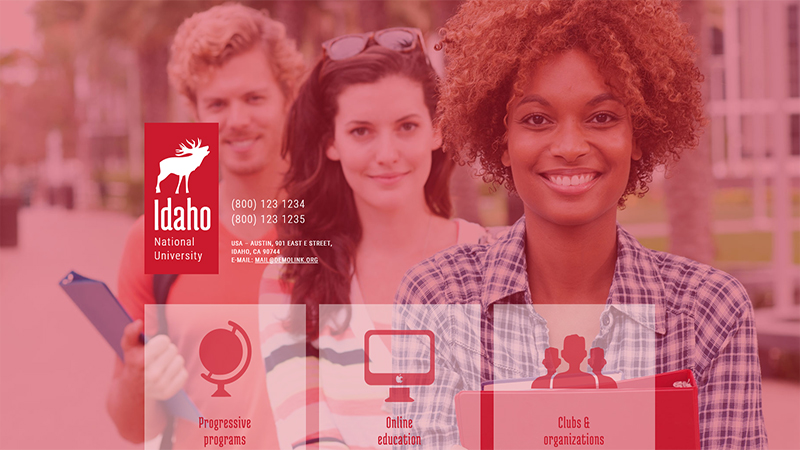 This is a classic education theme that was designed for bigger centers and schools. University Education is modern, fully responsive and highly customizable. It comes with handy Admin Panel, WPML plugin and is well documented. As pretty much all of the themes above, this one is SEO ready, and can become a secure platform for great portfolios, blogs and other types of sites.