Hey guys! Halloween is here. How are you going to celebrate it? We know there are many dull beggars saying that spooky costumes, horror stories, "trick or treat", and stuff like this makes only kids happy. It's our strong belief that they are mistaken. They say: "Growing old is mandatory but growing up is optional". We have to do the work, pay taxes, bring up kids, take care of the cat and dog but this is not the reason to become a bore. However noone will refuse taking a look at free Halloween designs!
We never miss a single chance to party and Halloween is one of my favorite holidays. Would you like to know what we do on All Hallows' Eve? We will tell you, moreover that I have already started to put the spells on everything around me 🙂 Just kidding, meaning we just always start to get ready for the celebration beforehand.
At first, we turn our house into a creepy place with handmade ghosts, spiders, spiderweb, bats, Jack-o'-lanterns, broomsticks, ravens, tombs, coffins, skulls, zombies, witches, lots of candles, the list goes on. Then we think about our damn Halloween costumes and craft them. We also make up a delicious but filthy-looking menu, choose the horror movies we would like to watch, select horror stories we would like to read, pick out the dreadful music playlists for the party and brainstorm its scenario. We absolutely love this holiday anticipation and all these preparations.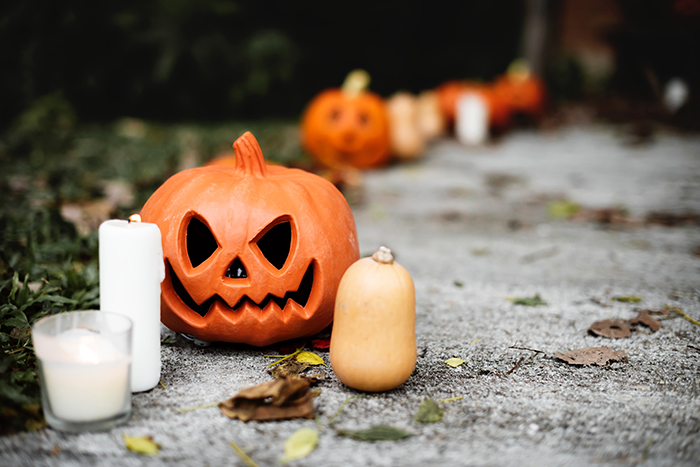 The only problem that everyone faces every year is lack of time. We are sure you have the same issue. As a rule, web designers have a heap of work to do before the holiday. This time the projects are special. We try to "scare everybody to the bones", make the holiday funny and memorable for people. But don't you think that geeks like me and you also deserve to go crazy and blow off some steam?
ThemeREX team took care of it. Guess what will you find right under this introduction? Meet free Halloween designs for your shocking designs. They will free your hands, save your time and money. So, you can also go to the party! Do you already know what costume will you wear? Ok, let's think about your plans for Halloween after you browse the icons, flyers, stickers, elements, fonts, illustrations, backgrounds, banners, and whatnot compiled in our collection.
Have a spine-chilling browsing!
Icons
Free 20 Halloween Vector Line Icons by
Ess Kay

Free PSD of Halloween Elements and Icons by
Sana Imran

Free Halloween Icons by Sooodesign

90 Free Flat Halloween Icons 2014 (Ai) by
Ess Kay

100+ Free Halloween Icons (PNG + SVG) by
Jane Cross

Free – Halloween Icons by
AomAm


Halloween Free Icon Set by
Miguel Payà


Free PSD Halloween Death App Icon by
Junoteam LLC, CO

Flyers
Flyer templates can be one of the greatest ways to invite the spooky spirit into your life. Below we have a number of different templates that you can work from, however, in many situations you are best served to design your own flyer, especially with something creative like this. For example, you can use an online flyer creation tool to design your Halloween fundraiser flyer.
Free Halloween Flyer Template by
Mounir Salhi

Halloween Free PSD Flyer Template by 
Olga Styleflyers

Night Halloween – Free Flyer PSD Template + Facebook Co by
Elegant Flyer

PSD Mockups
Free Jack-O'-Lantern PSD Mockup for Halloween by
Bryan Longoria

Vector Illustrations
10+ Cursed free Halloween vectors by
Jane Cross

Free Vector Vintage Halloween Set by
Free-PSD-Templates

Monster Halloween Faces – Free Illustrated Templates by NextDayFlyers NDF and Ben Fellowes


Patterns


Over to you
Seems like it was the last Halloween freebie. We sincerely hope that you liked the collection and downloaded some items that will speed up your workflow. The work is important, but sometimes you just need to forget about it and party like mad. We wish you to have the nightmarish Halloween this year, look into the eyes of your deepest fears and forget about them.
By the way, are you ready to share your biggest web design fears? C'mon, We won't tell anybody 🙂
What is it?
Are you afraid of sharing your stuff on serious forums? Nobody likes being criticized, but such things help us grow, develop, and succeed. What's more, there is also somebody who is just starting up and doesn't know things that seem obvious to you. Help them to start smooth and get +1 to your karma ;).

Are you afraid of the users? I understand that you are on the other side, and the user doesn't need to understand the principles of harmony, web design, coding, and other complicated things. But you design for people, so you'd better ask them to interact with your interface (or whatever you design), to test, tear and wear it. This way you will be able to improve it to perfection.

Are you afraid of copywriting? I advise you to drill these skills as soon as you feel comfortable with your designs. Maybe your first post won't make you famous, but you will write better from time to time and finally learn to effectively communicate what to do next on your site.

Are you afraid of digital marketing? Your design may be beautiful, but will it perform well? It may not work out if you know nothing about digital marketing. Finally, if you dare to learn digital marketing, you will become a designer who makes data-driven decisions in addition to emotional decisions, and see a huge improvement in their effectiveness.  

Do you avoid the terminal like plague? Using Git for version control makes both backing up and iterating versions of websites much easier. Setting it up and learning the lingo is a bit of a learning curve, but after that, it's smooth sailing. You'll really wonder how you ever worked without it.
Do you have any other fear that is not on the list? Drop us a line about it in the comments. Maybe we will try to help you overcome it!