This amazing collection is dedicated to the most popular, powerful, catchy HTML templates in the history of modern web design. If you are new to it, or are out of ideas for your projects, this is where you get a huge dose of inspiration and get to enjoy a beautiful showcasing.
Some of these templates were released a few years ago. Still they are pretty popular, because the authors keep updating them on a regular basis for numerous users to have the best possible experience.
Canvas the Multipurpose HTML Template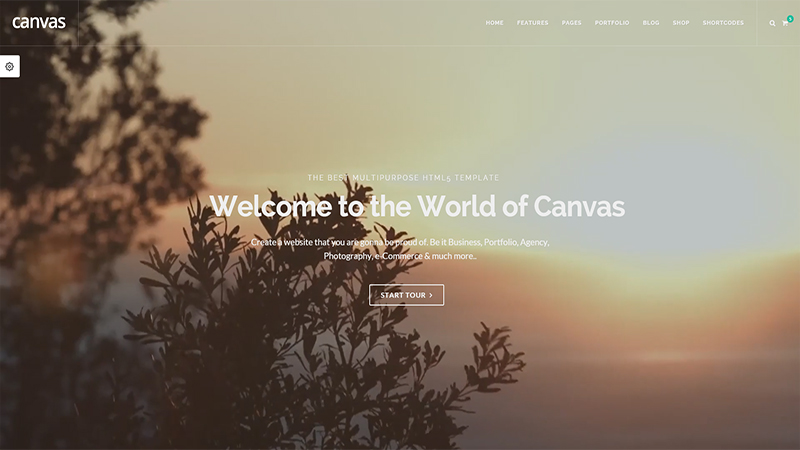 Canvas is definitely one of the most powerful HTML templates out there. Based on Bootstrap, it has so many layouts it will make your head spin. All of them are pretty awesome, each with its own purpose and corresponding features. You will have access to Construction, Corporate, Travel, Creative agency, Portfolio, Blog, Magazine, Wedding, eCommerce and tons of other templates for any website you are planning to launch. Another bonus is that they come as Multi and One page layouts. Plus you will be able to switch from dark to light color scheme! And of course, the number of customization options is out of this universe.
Classter – Multipurpose HTML Template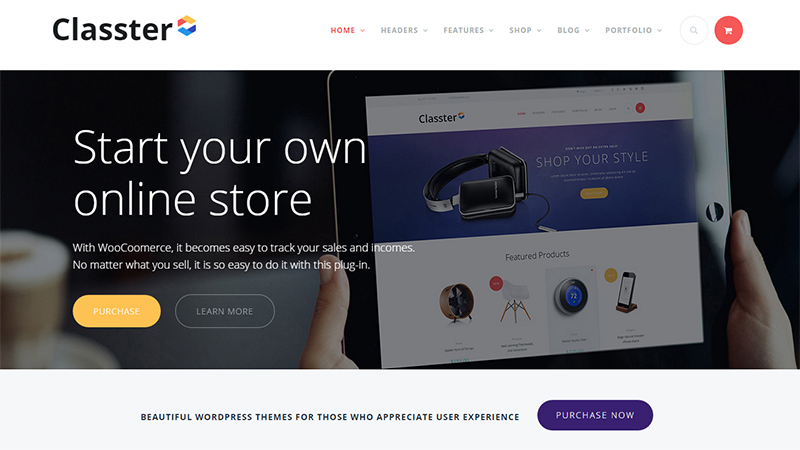 With Classter you can do anything you wish in regards to your website. It can be customized to fit any need and purpose with ease. Check out the numerous layouts and options that are at your disposal! Classter can become a Blog, you wonderful Portfolio, a Corporate website, an E-Store or a Creative Studio site. Being super lightweight and responsive, the template makes it a real pleasure working with it. You get to experiment with various elements, both for business and creative projects, as well as utilize it for building successful eCommerce sites with just a few adjustments.
Foundry – Multipurpose HTML Template
Foundry is a collection of beautiful concept pages for various types of websites, from travelling to corporate, from restaurant to apps&software landing page. Plus there are multiple inner pages. The main feature in this template is the availability of Variant – a page builder that allows building intuitive design in a fast and simple way. The template definitely catches an eye with the modern trendy solutions that guarantee your website a successful future!
Grecko – Multipurpose HTML Template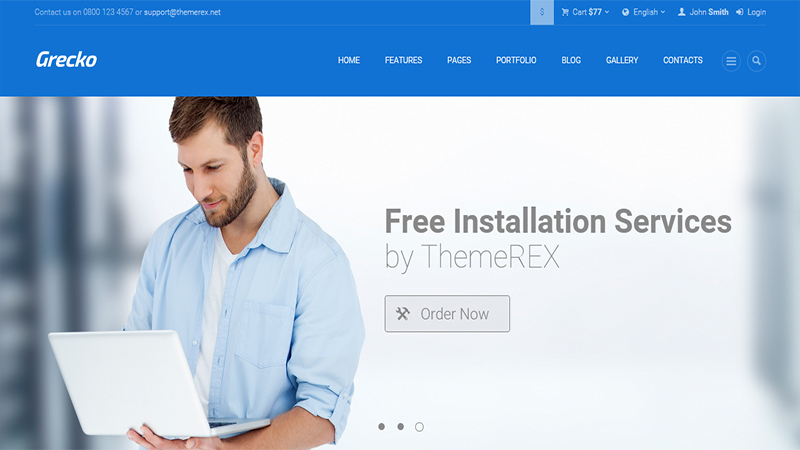 This professional HTML template was designed to help you achieve the most extraordinary results with your business/eCommerce/portfolio website. Don't let the original color scheme and style fool you – the template is highly flexible, and will be able to adjust to any of your customizations. Among the many options, the nicest ones are the changeable header images, sliders and interesting navigation menu styles (2 of them). Do not miss your chance to try Grecko out – you will have the best experience.
Mist – Multipurpose Responsive HML Template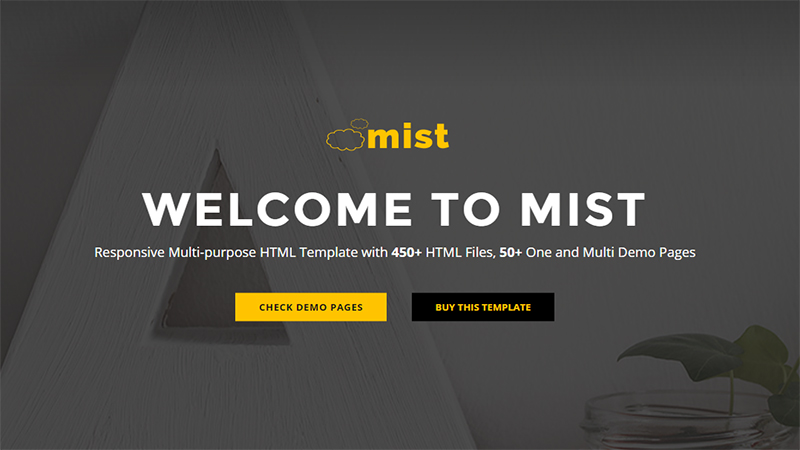 Another example of multipurpose multi-component template. Mist comes with tons of demo pages, wide range of features and an option for One Page sites templates. The layouts are not quite breathtaking, but they are practical, functional and user-friendly. You can dive into the process of building your website right away, without having to do much of customization since there are layouts for any type of site that one might only think of.
Rhythm – Multipurpose One/Multi Page HTML Template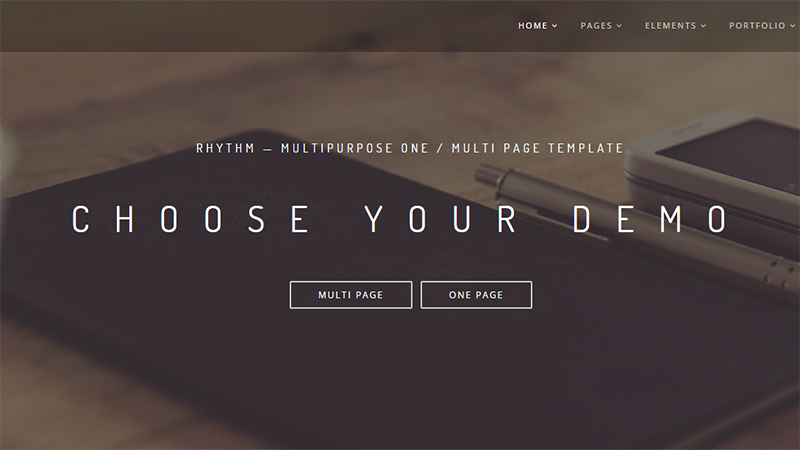 And this is definitely the template that will make you fall in love with it. Being mostly creative websites oriented Rhythm is a true masterpiece. If you are having doubts about whether your site really should be One Page, just check out these amazing layouts and see how well-composed they are. Not only will you be able to create fantastic galleries, blogs and portfolios, but also build excellent e-stores that will be attractive to new customers. There are multiple styles for different elements of templates so you can go ahead and personalize it the way you like it.
Pivot – Multipurpose HTML Template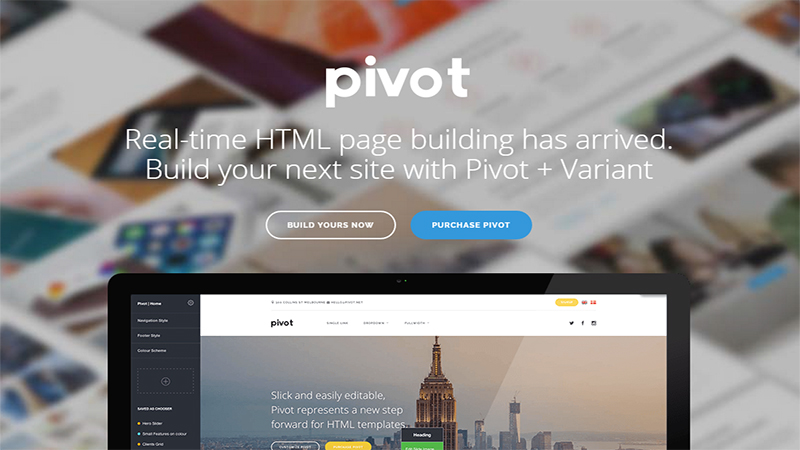 And again we have a template that comes with Variant page builder. Pivot is one of the most popular templates on the market due to its quality design. Check out the nice demos that obviously were designed with great care and devotion. There are fewer of them, which indicates that the authors were concentrated on details – it should not be just about quantity when we talk about popular website templates. Pivot will perfectly suit any business, personal, education or creative agency website.
Braink – Multipurpose One Page/Multi Page HTML Template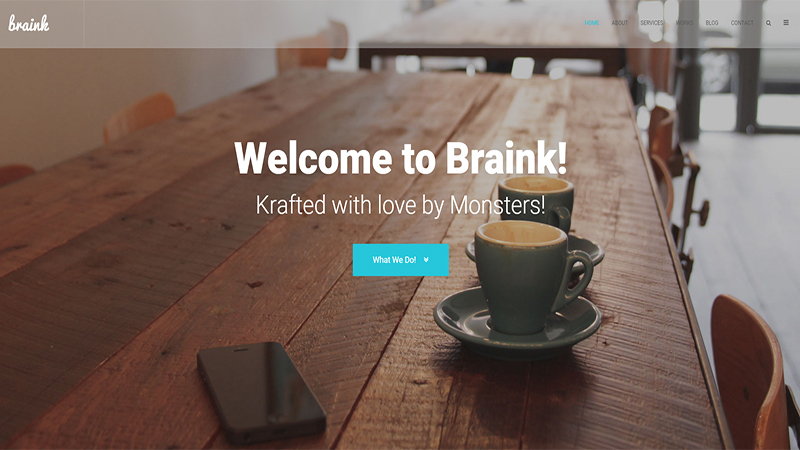 Braink is a fresh template that has received appreciation from many customers. Included are several layouts with intriguing designs and great functionality for creative/design studios/photographers/artists websites. You will have Multi and Pne page demos that scream innovations and trends. Get your projects to a new level. Included is animation on view, Parallax block, counters and charts, high resolution graphics etc.  With Braink building a stand out site is going to be as simple as 1-2-3.
Progressive – Multipurpose Responsive HTML Template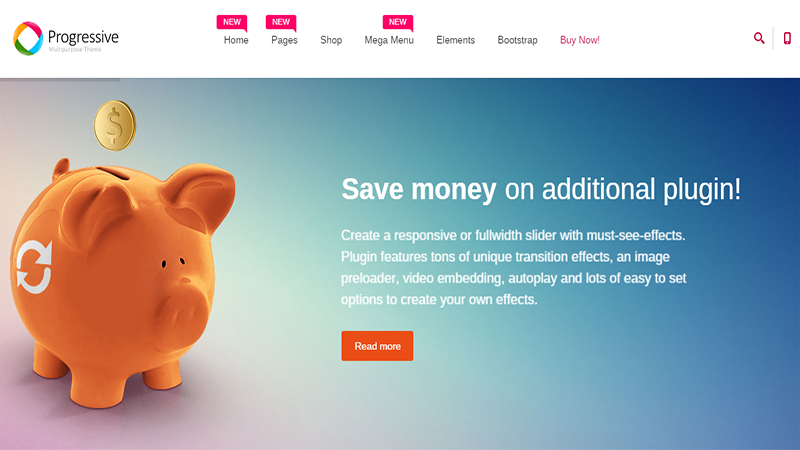 This multipurpose HTML template can become a great platform both for your creative ideas and business website needs. Its flexible structure allows experimenting in any direction your mind and purpose take their course. Its design, however, is aimed to help you emphasize the content rather than just display animated/parallax effects. You will have access to multiple styles and customization options, as well as 200+ interactive elements. Overall, this is a great tool for creating a trustworthy site.
Enar – Responsive Multipurpose HTML Template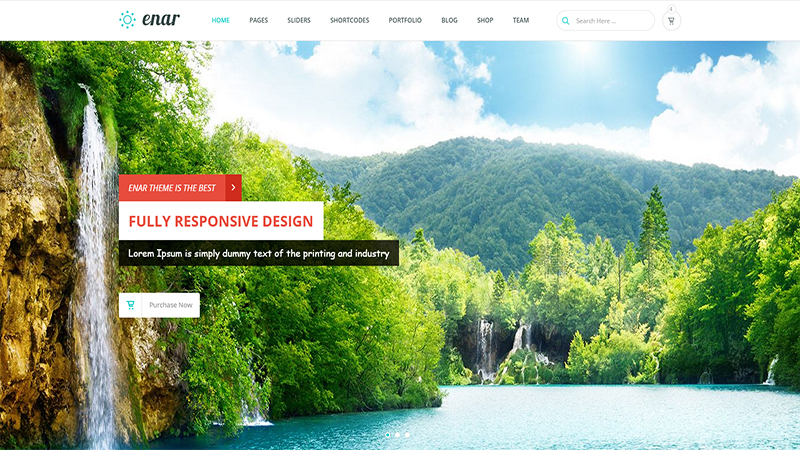 Enar is a great option for those who like it professional, interesting and functional. Highly customizable, the template comes in multiple demos for different types of websites, Multi and One page ones. Customization options are unlimited if you decide to create something original and to make it work the best for your website. Enar is full of various styles, layouts and useful elements. You will be able to apply video backgrounds, animation, create galleries and use multiple charts or tables.
Make – Multipurpose One/Multi Page HTML Template
Make is a template with emphasis on creative approach to building websites. The beautiful design kind of prompts you to be creative and let your imagination do the trick. Make comes with tons of different layouts that can work for any type of site. However, if you run a business or a law firm, you might need to spend some extra time on customization. The template is flexible though, with multiple features, among which you will definitely find the ones that will suit your needs best.
Oshine – Creative Multipurpose HTML Template
This is another example of creative template with lots of nice demos. Oshine was just released recently, but it has gained a lot of attention and appreciation from the users. If you are in fashion, a blogger, and are going to launch an eCommerce or a creative agency website, the template might be a pretty good choice. It will allow composing beautiful portfolios, galleries and experiment with different types of effects. Even a corporate website will find its place among others with this great template.
Hershel – Flexible Multipurpose THML Template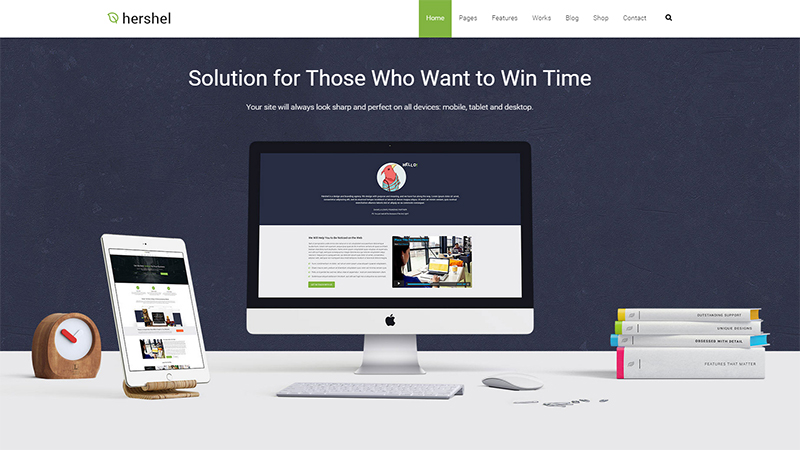 Finally we are looking at a template that is ideal for corporate websites too. Hershel is feature-rich template with minimalist design and tons of layouts. Not only does it work for corporate sites, but also will become a good basis for various blogs, magazines, e-stores and creative sites. The main feature is its flexibility: there are 6 stylish headers with Mega Menu that can be customized easily, replaceable blocks and numerous components to achieve the perfect appearance.
North Col – Multipurpose HTML Template
North Col is nice unusual, maybe futuristic template that was created for creative minds to launch their wonderful projects online with ease. Available are several Multi and One Page demos for different purposes: the best way to go about using the template is to build websites dedicated to creative agencies, interior/architecture showcasing, photography, fashion etc. But (and this is what makes the template even more appealing) the demos are not labeled, so we can go ahead and try them out for all types of sites.
Skyline – Multi-concept One/Multi Page HTML Template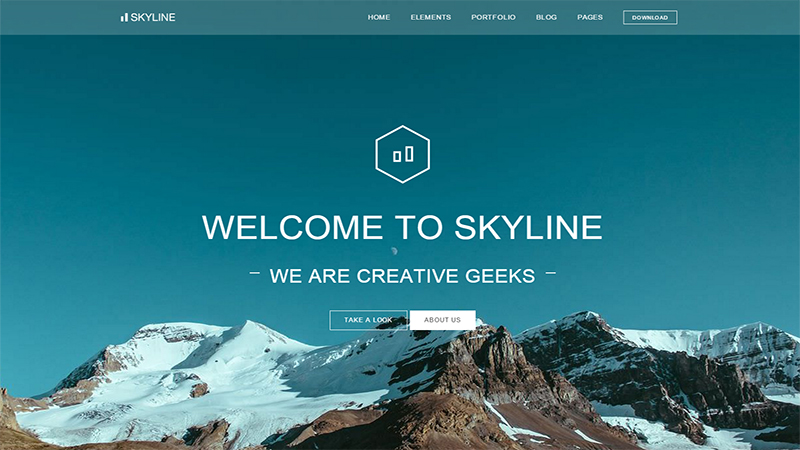 Skyline is a great example of multi-concept template that can be used for pretty much any type of websites, including corporate and personal. The beautiful and simple design is eye-catching; plus it lets you emphasize the content. You can go either with Multi or One page version – they both have equally great functions and design. There are some interesting animated elements, parallax effects and light/dark schemes, as well as different styles for Blog, Portfolio etc.
Namo – Creative Multipurpose HTML Template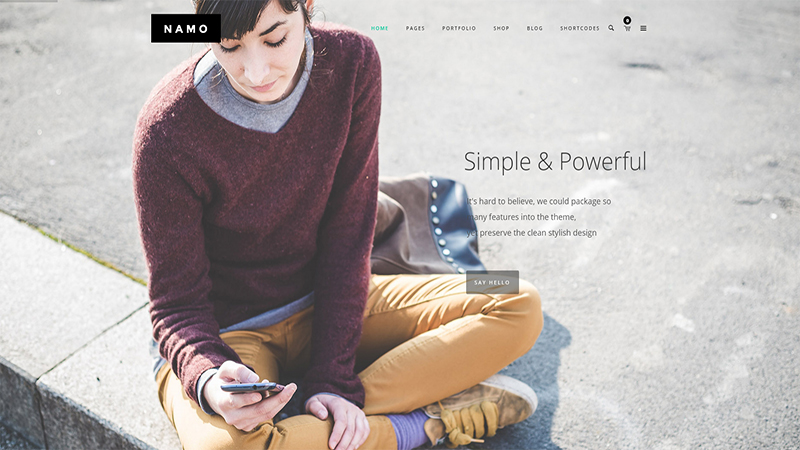 Namo is an HTML template that is not actually as much multipurpose as more a template with variable page layouts and styles for creative websites. You will hardly build a corporate site using this theme, but it will suit any personal, creative or commercial site. The design is really beautiful. It will be so useful for creating galleries and presentations: there are full screen sliders, multiple header styles and many other nice components. Overall, this is a modern, stylish and functional template that you can customize according to the creative ideas for your website.
Trend – Multipurpose HTML Template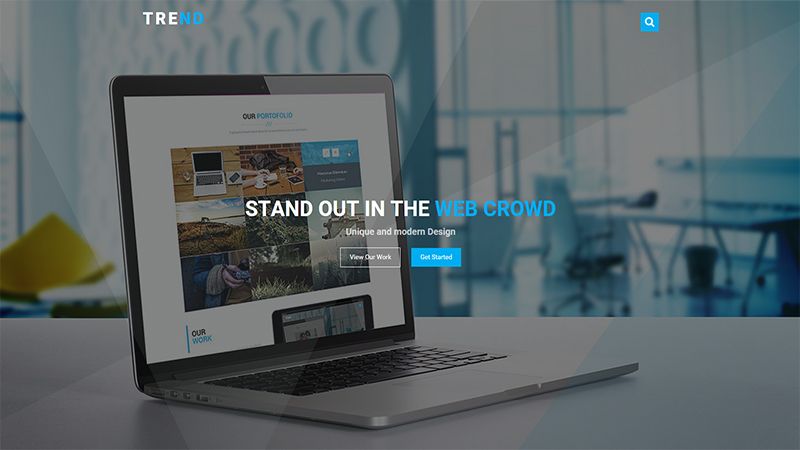 Now, let's get back to templates that are suitable for corporate sites more than others. Trend is a nice HTML template with many useful features. It is high speed optimized, contains animation/parallax effects and can be used for showcasing if you still wish to use it for creative portfolio site (the template is equipped with full screen slider and image background). The design does not necessarily have to be labeled as "business", yet it will be much easier to go ahead start using it for your business site right away.
Pride – Multipurpose HTML Template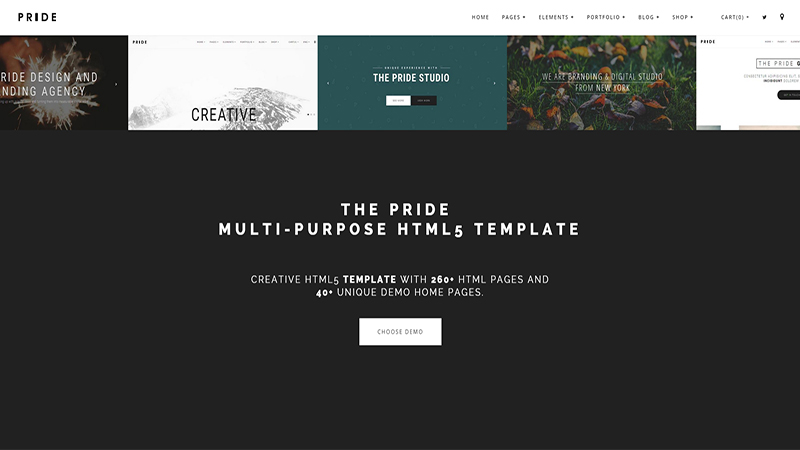 Pride is also a brand new and fresh HTML5 template that was designed to fit into several different website categories, but based on creative concept. It is ultra modern and stylish, and shows us new solutions for business, creative, personal and other types of sites. There are 6 navigation styles, customizable backgrounds/colors, tons of icons, video integration and tons of other features that make it quite awesome. Among numerous layouts you will definitely find what you need and more.
SpecialOne – Multipurpose One/Multi Page HTML Template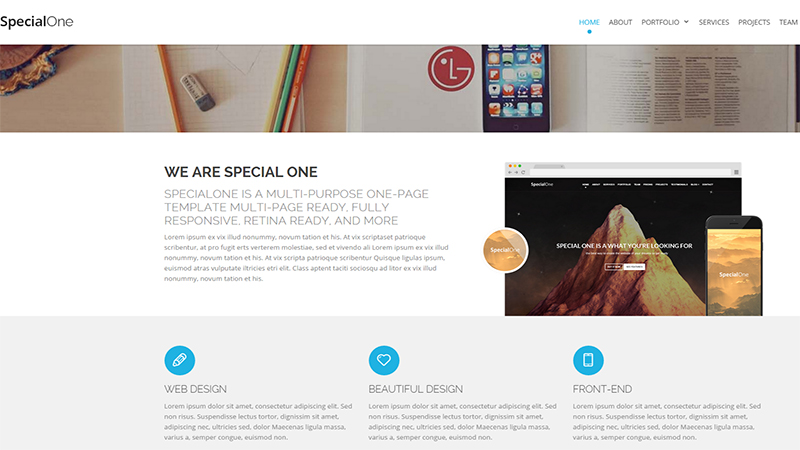 Special One is a nice professional template with a few ready-made skins and bunch of good features. It can be used for a corporate, construction, agency sites, as well as portfolio showcasing and eCommerce purposes. It supports video backgrounds, has light and dark headers and is One&Multi page ready. It will work great for advertising, promoting, setting out content etc. Plus if you are an artist, you can use this template to present your works.
Linstar – Multipurpose Responsive HTML Template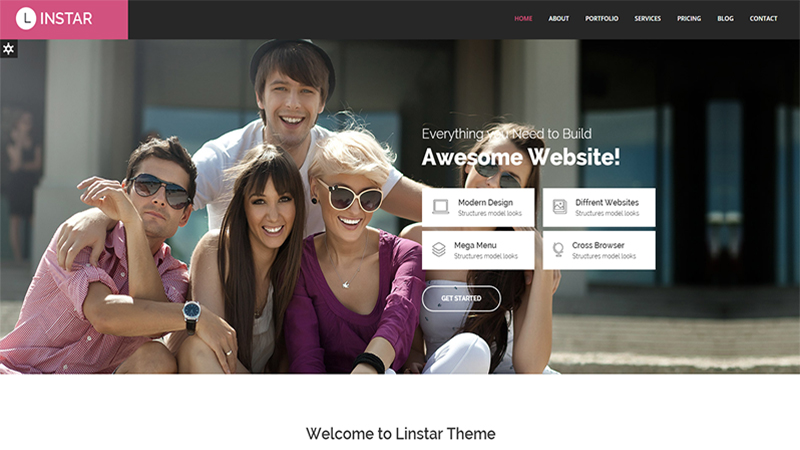 This template counts 30 demos all with different layouts and topics that vary from corporate to medical, from charity to photography. This means that you have a great selection of beautiful pages that seem to be highly flexible and customizable. You also get 30 different header styles, full image gallery, carousel sliders, video backgrounds and many other nice elements. Due t its awesome design the template has found many fans among customers and other designers.