For companies that offer marketing services and Search Engine Optimization having a presentable, trustworthy website is crucial. Clients who seek professional assistance hope to find a professionally build website, because no matter how successful the company is, your website is your online business card. Sometimes it speaks volumes about the level of organization, works presentation and agencies' philosophy.
Today there is a wide range of modern WordPress Themes for different types of business websites. They all are created to help you promote your company, but not all of them are built to fit the SEO and marketing agencies' needs completely. So, how do we know which one would suit the needs of your particular company?
For online marketing purposes web designers experiment with different elements in their themes that are natural for business websites, marketing and SEO agencies in particular. In this collection presented are the most fresh, powerful and modern SEO and Marketing Agency WordPress Themes that will become irreplaceable in the process of promoting your site.
SmartSEO – SEO&Marketing Services WordPress Theme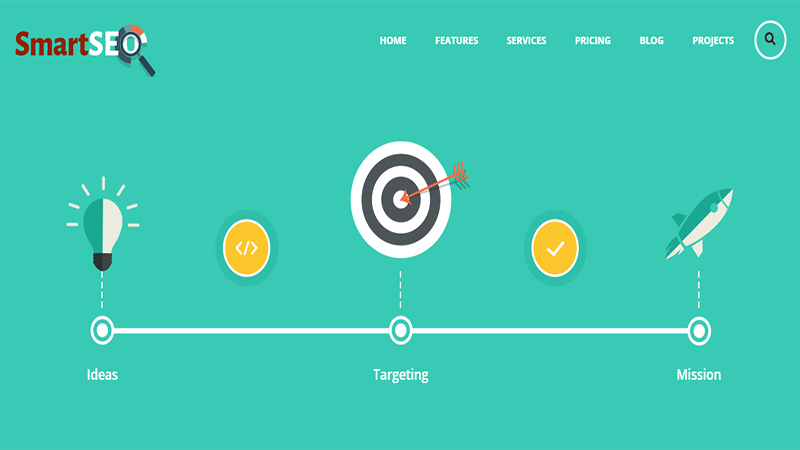 This theme by Axiomthemes is an excellent choice for those who appreciate quality flat design, easy navigation system and rich variety of business-oriented elements. With this theme you will be able to achieve the most amazing results in terms of promoting your company. SmartSEO is SEO friendly, responsive and WooCommerce ready, which means that you will be able to develop your marketing projects using this theme as a reliable and flexible platform.
YES – Advertising & Creative Agency WordPress Theme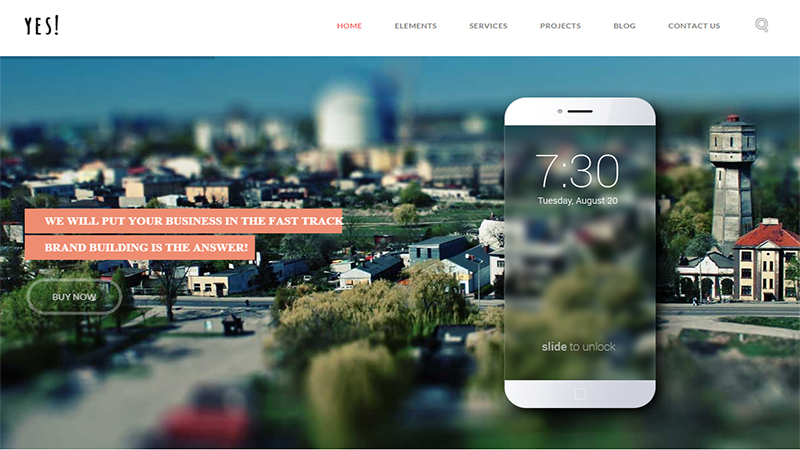 YES is a clean and stylish WordPress theme that is full of awesome components for your Digital Marketing Agency. This theme will make you look at some of your tasks in a new way. YES is perfect for showcasing your projects: available are multiple styles and layouts, custom plugins and shortcodes. Of course it is SEO ready and responsive for fast and effective viewing on any type of screens. Create powerful portfolios, experiment with colors and backgrounds, attract new clients with the unique design – it all is possible with YES!
Marketing – Startup Landing Page Bootstrap WordPress Theme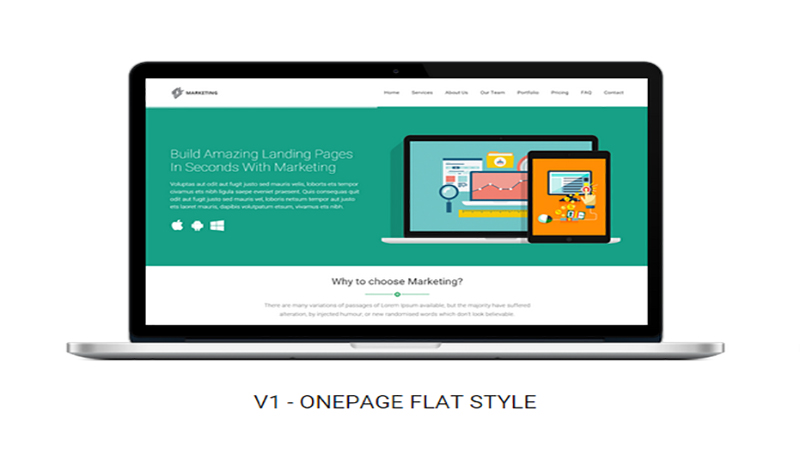 This is Marketing by Whoathemes that has four predefined theme styles each with different design and effects. However, there is a lot of resemblance between the four. This theme was designed with marketing agencies in mind, for sure. Being moderate and minimalist, it covers basic aspects that an agency might want to display on the website. Parallax effect adds a pleasant touch to the design, and availability of multiple custom elements makes it user-friendly.
Slate – Multipurpose One Page WordPress Theme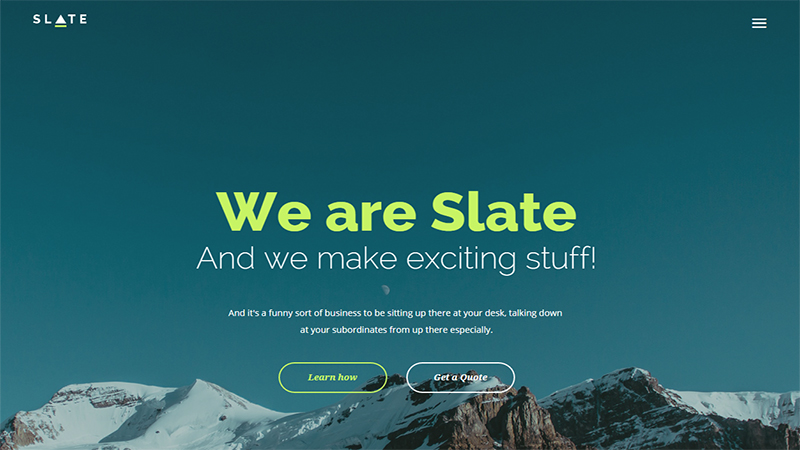 Slate consists of several predefined theme styles for different types of websites. Being a One Page theme, Slate is lightweight, clean and minimalist. It could be a good solution if you like to keep the information to minimum – there will not be much space to showcase your work and create full portfolio. But still the visual appearance of the page is nice, you will be able to upload videos and add multiple images, as well as create charts and pricing tables.
Marketplus Marketing Responsive WordPress Theme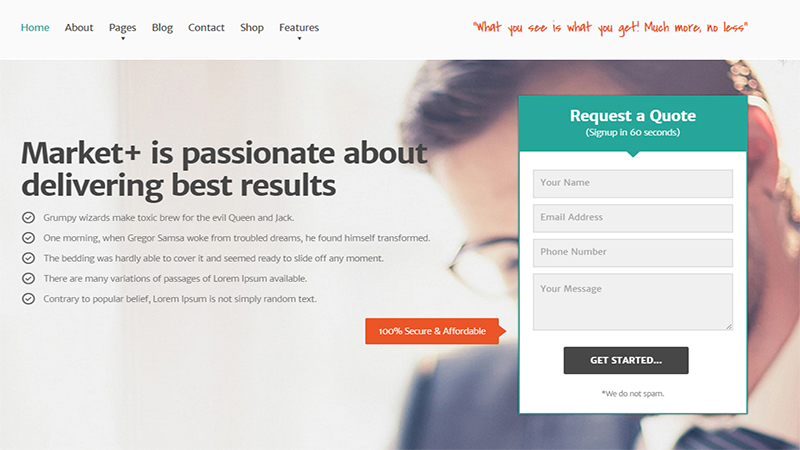 This is a classic, or I would also say, a standard business/marketing WordPress theme for an average website. You will not find any super trendy effects here, but instead you get a pack of well-tried features and elements to build a corporate website.  The authors give you multiple layouts and style options, as well as the ability to create an online store.
Rock Group – Multipurpose Infographic WordPress Theme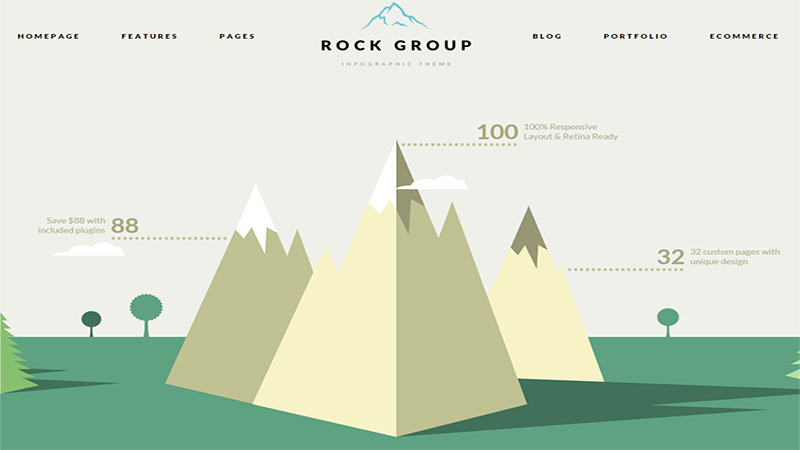 Rock Group Corporate is a unique modern theme that will bring your marketing agency website to a new level. Use the Infographic design to emphasize creative approach that your agency takes while working with the clients. With this theme you can create extraordinary websites to avoid mediocrity and attract more visitors. The wide range of customizable infographic elements will let you experiment with showcasing different data as well as projects. Rock Group is also SEO Ready, and that is an imprescriptible part of a successful website.
Frexy – Responsive Multipurpose WordPress Theme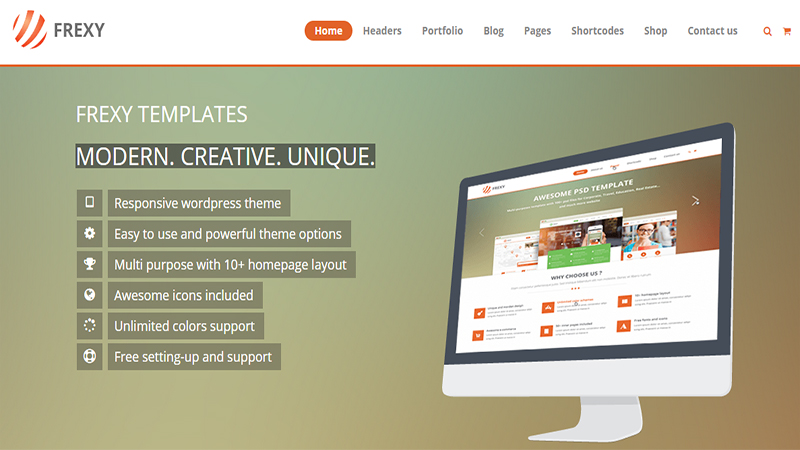 Frexy is another powerful tool for building a solid business website. It has all necessary elements to promote your website and attract new clients to your marketing agency. Frexy allows playing with multiple layouts for Portfolio, Blog and Shop, as well as select color schemes. The theme is SEO friendly, highly customizable and responsive. Additionally there are animated effects and Parallax scrolling that both add fun and action to the use.
Unicon – Design-Driven Multipurpose WordPress Theme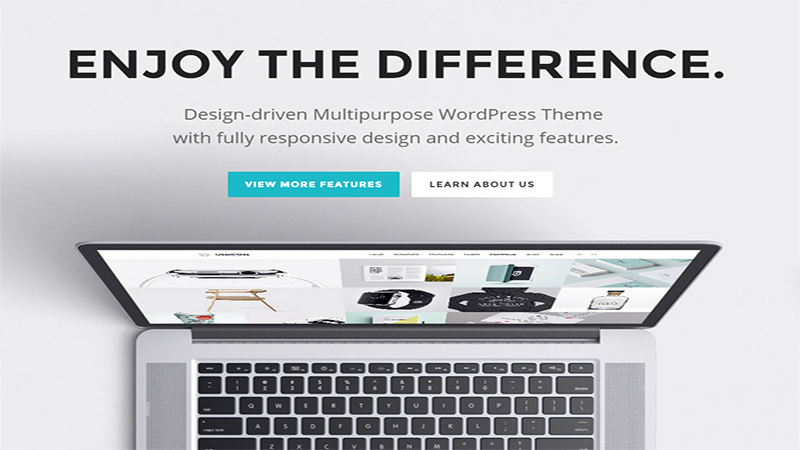 Unicon would be a good solution for a SEO and Marketing Agency website. Its design allows creating interesting yet professional pages, portfolios, blog etc. Being multipurpose, Unicon is easy to customize and let your ideas work through the multiple layouts and styles, as well as custom elements. The theme is also SEO friendly due to the great built-in base.
Tilt – Creative Multipurpose WordPress Theme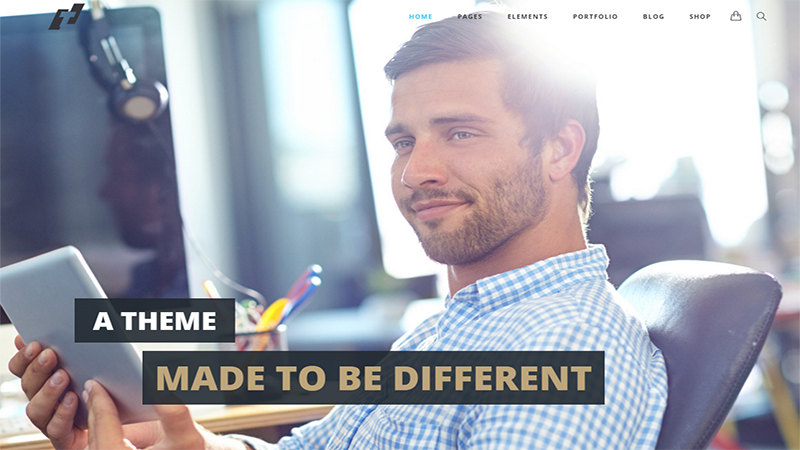 This SEO Friendly theme will work for an agency that prefers to have a sophisticated business touch to their website. With Tilt there will be no clients of yours with a doubt about your company. With this theme comes an entire pack of all the necessary components for a successful website. It is responsive and retina ready, full of awesome layouts and styles.
Marketing Agency Responsive WordPress Theme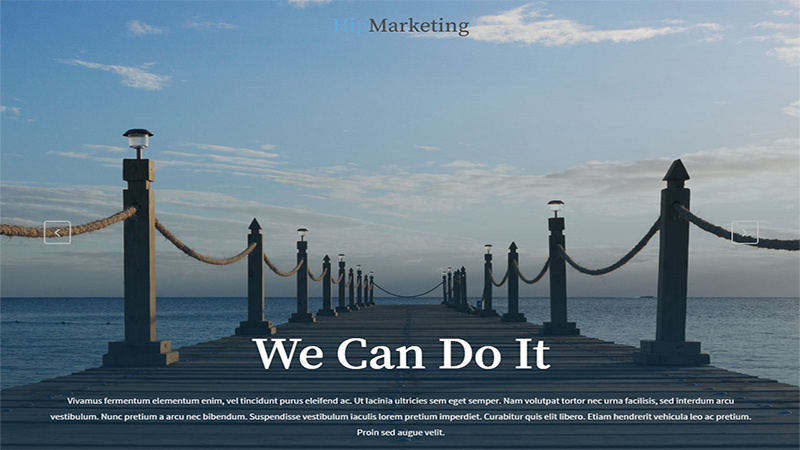 This responsive WordPress theme by Template Monster was designed specifically for these types of agencies. Marketing becomes somewhat less complicated and closer to regular users. Simple and professional, this theme will not surprise you with unusual design or effects. It will give you a bit ambivalent impression: there is a slight discrepancy in styles. The home page is a combination of large elegant slides and smaller ones that resemble flat material design and go right below. Otherwise, it is a decent functional platform for your Marketing Agency.
Business WordPress Theme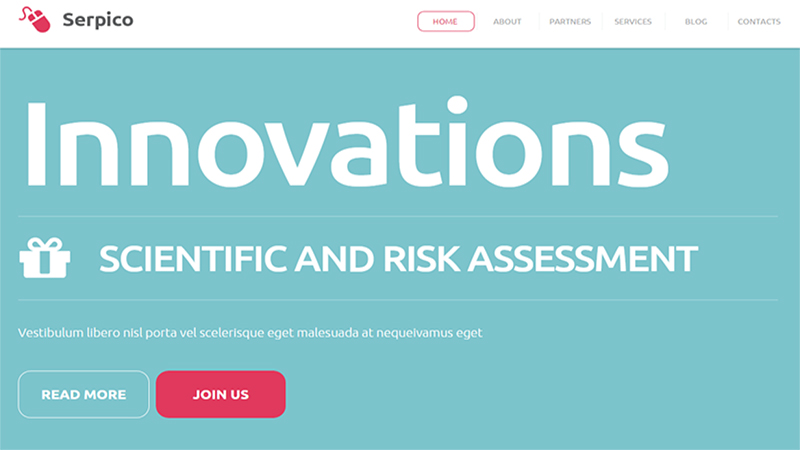 Another business WordPress theme that will work for your marketing business. With this theme you will be able to present your company and services to the audience in a classic way. The authors give you a couple of layout options, subtle hover effects and interesting color scheme. It should be useful for profiling the staff, as well as have a blog. And more importantly, the theme is SEO friendly.
Launchkit Landing Page & Marketing WordPress Theme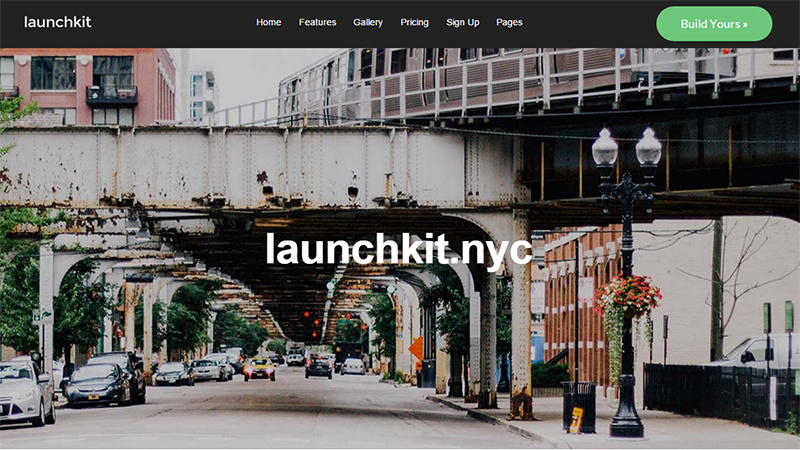 Launchkit is a more informal marketing agency theme for those who would prefer to convert it to something that they could use as their website. It is highly customizable and does not lack any vital elements that you need for your marketing agency website. Modern minimalist design will make it interesting to browse. Also you will find that it is WooCommerse compatible and SEO ready.
Alfat – Super Flat Landing Page WordPress Theme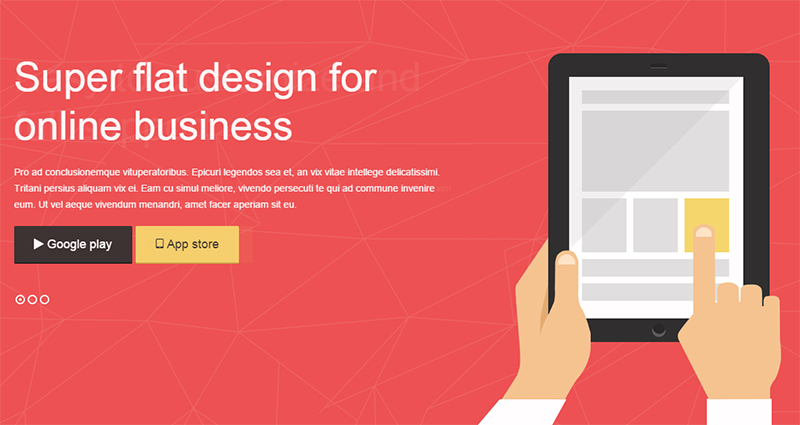 Alfat is a flat landing page theme that you can try and customize to work as your marketing agency website. It is designed in two color schemes, and is fully responsive. You will receive multiple layouts and styles for headers, many flat icons, custom register form etc. Creating Portfolio with this theme is a fun process; it really depends on whether you would like to try this kind of a design.