WPBakery vs Elementor. Which page builder is best for beginner, experienced, and pro users? Pros and cons of Elementor vs WPBakery (Visual Composer) and why since 2019 ThemeREX creates new themes exclusively with Elementor?
We are ThemeREX, Envato Power Elite Author, and in this article, we'd like to share with you our story of migration from WPBakery page builder to Elementor. Being the WordPress theme author for more than 7 years, we'd like to give you our perspective on what's happening in the world of WordPress page builders, and how it's been impacting us as theme developers. So, let's dive into the WPBakery vs Elementor debate.
WordPress page builders have always been a controversial topic for discussion and arguing over which one is better, be it Elementor, WPBakery, Visual Composer, or Beaver Builder, may sometimes resemble a religious debate. In some cases, your choice is dictated by your personal preferences or the specific needs of your project. In other cases, you may stick with a builder you've been working with for several years, and it's much easier to continue working with it rather than learning a new tool.
However, when you're in a position of a theme author, the choice of a proper page builder becomes not a personal preference but a decision that involves many factors. As you can guess from the title of this article, we have faced the page builder dilemma recently and decided to switch from good ol' WPBakery to an alluring and innovative Elementor. If you want to hear the story behind what influenced our decision and how we are planning to move forward then read on.
Why Moving Away from WPBakery?
As you probably know, we've been using WPBakery, which was previously known as Visual Composer, for several years. A large chunk of our portfolio consists of themes built with WPBakery, and at the time it was a supreme and cutting edge solution that was considered a standard among every high-quality WordPress theme.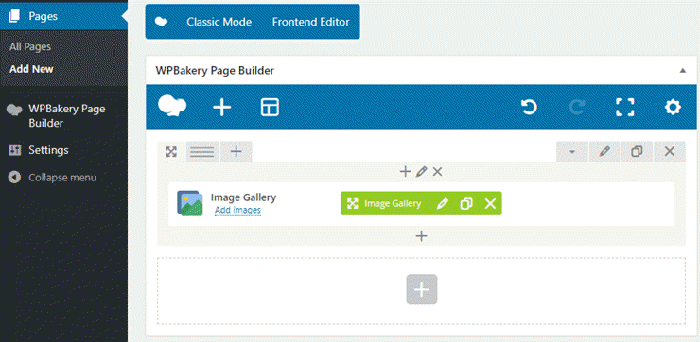 The situation has changed, however. For some reason, WPBakery has switched its course and instead of competing with itself, that is improving what they already had, they decided to abandon CodeCanyon and create a completely new and independent WordPress page builder. Not a bad decision per se, but the execution hasn't turned out to be smooth. To make things even more complex, they named the new builder 'Visual Composer', and the old one became 'WPBakery'. This resulted in confusion among users and has decreased the popularity of the older builder (i.e. WPBakery, previously known as Visual Composer) even more.
By putting all the effort into the new builder and giving less and less attention to the old one, they left theme authors with a choice. Either stick with a builder that doesn't evolve, or search for something new. The alternative wasn't long in coming.
Elementor Taking Internet by Storm
Elementor appeared seemingly out of nowhere and took the Internet by storm. The main thing that drew people in was the capability to create websites visually. Literally, to design websites without touching any code. Elementor appealed to designers who were frustrated with tools available at that time and wanted to eliminate the coding hassle, or at least keep it to a minimum.

Elementor became the first-page builder who put the needs of a designer, as opposed to a developer, front and center. People without any coding knowledge could start actually building websites. Elementor wasn't perfect and had certain limitations, however, the foundation has been laid down properly, and that was the crucial thing for further development of the page builder.

Another critical factor that made the page builder popular is that it was free. It was probably the only builder at the time that gave people a real tool for building websites and was free of charge. The competition at that point were solely premium solutions. If you could find a free builder however, the chances are it was too basic. This was a large pricing punch in competition of WPBakery vs Elementor.

It was not long before Elementor started growing exponentially. The team behind the builder were attentive to user feedback and have been gradually improving the tool. The listening into customer feedback and providing them with what they wanted has also impacted their success.
This was a great time for Elementor to fight for the crown, and we were not the only Power Elite Authors that considered this change. For example, Jupiter has been completely rebuilt with Elementor. They changed their main selling strategy and proclaimed a new moto, 'Customize Everything!', which is in tune with what Elementor is all about.
However, Elementor wasn't the only builder that started gaining in popularity. Competition has caught up and started providing some sound solutions to their users as well.
Elementor Compared to Other WordPress Page Builders. What Gives It an Edge?
Elementor wasn't the only one who introduced the new visual way of building pages. Alongside Elementor there have been other players such as Divi Builder, Beaver Builder, and several other lessers are known but strong competitors. Additionally, some theme authors started creating their own page builder solutions, such as Avada, X Theme, Massive Dynamic, etc.

What separated Elementor from a large majority of builders is that it was independent of any particular theme or theme shop. The majority of builders were a part of a bigger product, providing users with great capabilities of page creation, however, you needed to buy their product first.
This was the case with Divi Builder, for example. At a certain point, it was disrupting the market with its React-based visual editing experience where you could do everything on the front-end. The Divi Builder wasn't a separate entity however and required the ElegantThemes' monthly subscription in order to use it. Not necessarily a deal-breaker, but dedicating yourself to a single theme shop is certainly something to think about before purchase.

Another strong competitor to Elementor is Beaver Builder. It has a WordPress friendly code structure, works fast and helps you build websites visually. The downside, however, is it lacks the flexibility of Elementor and doesn't cater to designers as much as Elementor does.

Another major downside is that Beaver Builder has a somewhat limited free version. It's great for becoming familiar with the page builder and see how it works, but in order to create real-life websites, you would probably need to buy a premium version. With Elementor, however, the free version is more than enough.
Below, we've composed a short comparison table that gives you an overview of the pros and cons of each builder. We've covered the major aspects of each builder and provided you with an approximate rating that ranges on a scale from 1 to 10.
*Please note that these marks come from our personal experience with these Page Builders.
| | | | | |
| --- | --- | --- | --- | --- |
|   | WPBakery | Beaver Builder | Divi Builder | Elementor |
| Price | $46 per license | free, premium from $99 | $89 per year | free |
| Usability | 6 | 7 | 7 | 9 |
| Design options | 5 | 7 | 8 | 10 |
| Content Lock-in | yes | no | yes | no |
| Undo/Redo | no | no | yes | yes |
| Visual Editing | 6 | 8 | 8 | 10 |
| Container element | yes | no | no | no |
| Ease of use | 6 | 9 | 7 | 10 |
| Page templates | yes | yes | yes | yes |
| Responsive design | yes | yes | yes | yes |
| Ready for translation | yes | no | no | yes |
It should be noted that WPBakery comes bundled with the majority of themes for free, ours included. You need to buy a separate license only if you want to receive support from plugin authors directly.
UPDATE: In August 2020 Elementor has issued a major update 3.0 for DOM optimization to improve their performance. Though it caused some troubles on different sites. The Elementor community reported multiple bugs and within couple of weeks the page builder had issued several patches that fixed the issues. This tells a lot about them. First of all, Elementor is ready for experiments and evolving and at the same time they listen to their customers.
The relevance of Elementor in Regards to the Gutenberg Project
In the light of recent changes to the WordPress core, it's natural to think whether Gutenberg would make Elementor irrelevant in the future. Since both of the tools position themselves as page builders, one could see a conflict of interest here. However, it's only in theory. In practice, we can see that the tools complement one another, and each has its own objective.
Although Gutenberg does improves the WordPress publishing experience, it's far from an ideal page builder. It's true, you can publish posts and articles in a modern and clutter free interface, however it severely lacks flexibility. It would be impossible to build a modern and complex website using the means of Gutenberg alone.

Don't get me wrong, though. We are excited about the Gutenberg project and think it's a long-awaited change for the WordPress platform. Taking into the account the upcoming developments of Gutenberg, namely its second and third phases, we think it would make WordPress a much more user-friendly and versatile platform. However, comparing Gutenberg and Elementor would be misleading, since they serve two different purposes.
Gutenberg is aimed at revamping the WordPress platform as a whole, while Elementor wants you to take the most out of this revamped platform and build awesome sites upon it easily. Gutenberg makes for a reliable foundation and Elementor helps you build awesome stuff upon it.

As of today, Elementor successfully integrates with Gutenberg and enables you to choose between the preferred way of building pages. If you're more of a blogger type and need to publish articles online, then of course, it would be easier for you to use Gutenberg. If, however, you want to build business websites that involve complex layouts, Elementor would be the safest bet.
Why ThemeREX Chooses Elementor
Great User Experience
When we first tried out Elementor vs WPBakery, we were hooked immediately. Not only it gave us the capability to edit every single detail of a certain element, but we were also able to do that intuitively, without the need of reading dozens of tutorials and manuals. It just worked. Every setting was in its right place when we wanted to customize an element even further, we were able to find all required settings in the additional settings panel. Wherever a question crossed our mind, we were able to find the answer easily, whether by reading the small description to each setting or by playing around with the builder a bit longer.

Although there can be some issues with the builder, the great thing is that the Elementor's team actively collects feedback and tries to give users what they want. One of such drawbacks was the inability to put two elements one beside the other in a row without using columns. However, the issue has been successfully addressed in the latest 2.5 release with the introduction of inline positioning.
Overall, considering the sheer multitude of settings and options in the builder, Elementor does a wonderful job at keeping everything clean and tidy, so that even a beginner user could orient themselves quickly and start building websites on the spot.
Superb Visual Editing
One of the things that makes Elementor friendly to users is its visual editing. Created for designers in the first place, the builder lets you customize your content and preview the changes in real time.

If we compare visual editing in Elementor vs WPBakery, you can see the difference instantly. First of all, WPBakery is initially a backend editor, which means you don't see how your website looks on the front-end without reloading your page. Second, if we consider the front-end interface of WPBakery, it can be quite messy at times, and in order to see a change, you need to constantly hit the 'Save Settings' button. Not user-friendly at all.
Our Customers Love It!
It's encouraging to see happy customers' comments when we launch yet another theme with Elementor. Our customers love it, so why wouldn't we too?

More and more people start discovering Elementor for themselves and we're happy to provide them with themes that are built upon it. Elementor enables you to create websites twice as faster as earlier, and that's a game changer for many.
It's Free

Elementor is free and available for everyone at WP.org to download. Although they do offer a premium add-on, the free version would be more than enough for most users. Therefore if the price is crucial for the developer there will no question what to choose Elementor or WPBakery (Visual Composer).
Developer Friendly
Elementor is friendly for developers who want to extend the default builder's functionality and add new features. We wanted to give the best to our users that's why we tailored Elementor to our needs and made sure it provides our themes with all necessary features.

Below you can see an overview of what features we've implemented in Elementor that are available in our themes.
How We Improved Elementor In Our Themes
Bespoke Elements
Default elements available in Elementor are awesome, but it's always great to have some more. That's why we've added a whole lot of our own bespoke elements that let you add even more types of content to your site.

The elements give you more freedom in choosing which type of content you want to display on your website. Additionally, they help you display some theme-specific components, such as team members, services, testimonials, etc. In the latest release, we've drastically improved the Blogger element, which gives you tons of options for showcasing your blog posts, as well as other custom post types.
Header & Footer Builder
Elementor is great for creating and customizing pages, however, its free version doesn't do much regarding header and footer areas. Since this is crucial for our customers to be able to customize headers and footers, we've implemented a tool for creating header and footer layouts.

You can create an unlimited number of header and footer areas using the means of Elementor. All the default elements of the builder are available for you to use freely in your layouts. In fact, we've added a specific set of elements designed exclusively for headers and footers. They include such components as menu, logo, shopping cart, text with icon, and many more.
Each theme comes with a pre-built set of header and footer layouts. You can assign headers and footers to different areas of your website, as well as to individual pages.
Custom Layouts
Header & Footer Builder is a part of our custom layouts feature that we've integrated into our themes. It's extremely flexible and enables you to use the layouts for various purposes in your work. For example, besides the more common header and footer layouts, you can create mega menu layouts or blog post layouts.

Mega menu layouts free you up from the need to buy an extra mega menu plugin since you can create complex menus by the means on your theme alone. Blog layouts help you manipulate the way your blog pages are displayed. You can create a certain layout for your blog page, choose which metadata to display, control the position of the article's title, featured image, and so on. By composing one of such blog layouts, you can apply it to the whole blog page, giving it the desired look.
Extra Settings
Beside custom elements and layouts, we've also implemented a number of settings that help you get the most out of our themes. Thus, you can add a parallax effect to elements and configure the way your objects can move while you scroll a page.

Additionally, we've added such settings as sticky rows, which are especially useful for headers and sticky menus, color scheme selection for changing the color palette for a specific block, as well as several other settings.
What Should I Do If My Theme Is Using WPBakery?
If you're using one of our older themes with WPBakery it may sound like you've been out of luck. In reality, it's not that bad, however. Although WPBakery is not as design-focused as Elementor, it does its job well, namely helps you create versatile pages and layouts.
Since we bundle WPBakery with our themes, you don't need to purchase a separate license, and can enjoy all of its premium features for free (except for dedicated support from plugin authors).
The only major difference we can point out between the two builders is the ability to fine-tune the design of individual elements. WPBakery provides you with elements that look in accordance with the theme styles, and there's a little possibility to customize them without using custom CSS. Elementor is more advanced in this regard and gives you more freedom for design customization of individual elements.
The absence of detailed design settings can be compensated by our theme options that enable you to tailor theme typography and colors according to your preference.
Check Some of the Best Elementor WordPress Themes
Vixus | Startup & Mobile App WordPress Landing Page Theme

Vixux is an ultra-modern WordPress theme made for web applications. This is one of the freshest Elementor WordPress themes on the market so buying it you know you get a contemporary design and the best functionality. The theme features One-Click Installation option and professional support which means this theme is great even for beginners. Apart from Elementor, Vixus theme supports lots of other plugins, including Slider Revolution, Essential Grid, MailChimp, TRX Addons, and much more. With Vixus theme, you will create a stylish application without difficulty.
Rhodos – A Colossal Multipurpose WordPress Theme for Business & Portfolio  


Rhodos is a truly colossal theme as it is one of the most multifunctional Elementor WordPress themes you can get. What makes this theme special is the availability of 10 unique niche skins. This theme is a superb web solution for any business of any complexity. The theme design is made with pre-made content blocks which anyone can use since Elementor page builder works on a drag-and-drop basis. It is easy to launch an e-commerce project with Rhodos due to the absolute compatibility with WooCommerce plugin.
Hobo | Digital Nomad Lifestyle Blog WordPress Theme

If you want to redesign your blog without spending much money and time – buy Hobo theme. This theme is made for a blog, however, suits any website because of its fresh and modern ready-made design. Hobo theme comes with pre-built pages including beautiful homepages for your blog. It includes different blog layouts and supports such custom post types as photo, video, gallery, audio, quote, link, sticky, and default. As this theme is made for bloggers it features social media widgets so you can use sharing/like buttons, showcase Instagram feed, etc. 
Avventure | Personal Travel & Lifestyle Blog WordPress Theme

Share your travel adventures with Avventure theme. It is aimed to upgrade your website with alluring design and delightful vibes. This theme includes everything a modern might need. The first thing you get is an Elementor page builder which you can use for the creation of unlimited design options. Also, there are such plugins as The Events Calendar and Essential Grid included which allow you not only show off the content but also keep things in order. You can also raise funds for your blog development using Give-Donations plugin. 
Marcell | 20+ Layouts Multi-Concept Personal Blog & Magazine WordPress Theme  

Welcome to the most multipurpose among all Elementor WordPress themes. Marcell has over 20 layouts for different purposes which any user can customize without touching a line of code. This theme is for those who desire to show off their creativity as its versatile layouts are manageable by means of user-friendly theme options admin panel. There are flexible color options and a bunch of beautiful web fonts included. This theme is made with a valid code since it is made to help you drag more traffic and gain the popularity of your blog.
Artrium | Creative Agency & Web Studio WordPress Theme

Artrium is a stylish theme for a creative agency. As this is one of Elementor WordPress themes you will be able to manage your content without touching a single line of code. Artrium theme has beautiful homepage design and lots of inner pages. This theme features Retina image support and SEO-optimized code so your website looks impeccable on all devices. Plus, there are mobile friendly Swiper and Revolution sliders included so your visitors will definitely enjoy the website navigation.
Ozisti | A Multi-Concept WooCommerce WordPress Theme Augmented Reality Store Ready  

Do you want to impress the audience with a contemporary e-store? Then you need Ozisti theme. This one is integrated with augmented reality technology so you can build remarkable product pages and let visitors explore your products in a 3D environment. This theme offers you to choose from 4 homepage variations and 9 ready-made blog layouts. With this theme, you can manage categories, establish wishlist and compare list. You will get GDPR plugin included so you could work in EU on a legal basis.
Monyxi | Cryptocurrency Trading Business Coach WordPress Theme  

If you are a business coach that wants to go online with his service Monyxi theme is the best match. This theme is made for cryptocurrency and business websites, so you will get lots of ready-made options. Apart from awesome shortcodes and ready-made pages, this theme includes specific plugins, namely LearnPress, bbPress, and Power Charts. Using these tools you will make layouts for online courses, launch forum, and share charts with your visitors. Monyxi has a bright layout which requires minimum time and effort for its customization.
Maxify | Startup & Business Blog WordPress Theme  

Get maximum benefit from your online performance with Maxify theme. This is one of the newest Elementor WordPress themes. It is suitable both, corporate websites and blogs since the theme has a versatile design. It is stuffed with a handy function that will improve user experiences, such as the scroll-to-top button and ultra-fast page load. What is more, this theme is made with clean and valid HTML and CSS code which meets the latest SEO approaches. Maxify theme is the best option for those who need to improve visitors conversion level in no time.
Kargo | Logistics & Transportation WordPress Theme  

We have another modern WordPress theme made for business. This one is dedicated to logistics and transportation services. This theme would fit an international company due to compatibility with WPML plugin. This theme features over 10 premade blog and news layouts so you won't spend lots of your time for customization. Apart from that, Cargo theme is equipped with powerful Quote Calculator, which your clients will find useful. As this theme is made with Elementor page builder, you will easily adjust its design to your liking.
FreightCo | Transportation & Warehousing WordPress Theme  

If you are looking for a modern WP theme that you could customize by yourself FreightCo is just for you. As other Elementor WordPress themes, it is full of premade content blocks which anyone can use without being a professional developer. All you need to launch a stylish responsive website to install this theme by using One-Click Installation option and replace ready-made content with custom one. As FreightCo theme is beginner-friendly, there is a pack of theme documentation included for customers best convenience.
Redy | Marathon & Sports WordPress Theme  

Are you ready to replace your old website design with this fresh and colorful WordPress theme? Redy theme is made for a sports website and works great for sports equipment e-store, sports blog, or sports events announcement. You can change everything about this theme using the Elementor page builder. Apart from that, you can play with a color solution and use various fonts. This theme features a bunch of handy plugins including The Events Calendar, Timetable, and Event Schedule. You won't find a better WordPress theme to announce a marathon and make visitors involved.
OsTende | Theater WordPress Theme  

Any theater lover won't pass by the website made with OsTende theme. This theme has a specific range of functions dedicated to theaters. Such options as online sit picker, web booking, season tickets, tickets purchasing, plays/ shows/ events management, and other theater-related bits and bobs. Apart from Elementor, this theme features TRX Addons which provides you with an opportunity to use a handy header and footer builder and use different post types. You won't meet any difficulties setting this theme up.
Tediss | Play Area & Child Care Center WordPress Theme  

Launching a children-oriented website make sure you look reliable enough for their parents. With Tediss theme, you will build a decent online represent for a kindergarten, nursery, or educational center. Its dazzling alluring design will look immaculate on a tablet or smartphone screen as the theme is completely responsive. It comes with ready-to-use news and blog layouts, social media sharing option, and services gallery and team management. Tediss theme is 100% WordPress 5.0 compatible.
Meals & Wheels | Street Food Festival & Fast Food Delivery WordPress Theme  

Meals & Wheels is a perfect WordPress theme for any restaurant website. You can use it for a food truck as well as for a sophisticated restaurant as this theme is made with Elementor. You will be able to create unlimited designs without paying anything for web design services. Still, there are 3 homepages and tons of inner pages so could save some time and use ready-made solution for the website. Meals & Wheels theme will improve your website with superior functionality.
Nazareth | Church & Religion WordPress Theme  

The authentic look of Nazareth theme would suit any non-profit organization website. Of course, there are lots of customizable WP themes that would work well for a religion website, however, this one has such premade pages as Our Beliefs and Our Preachers. To boot, this theme works with the Give plugin, which allows getting donations through the website. Nazareth theme supports various post types so you can share different content with the audience.
Corredo | Bike Race & Sports Events WordPress Theme  

We've decided to include one more sports theme in the collection of best Elementor WordPress themes as it works for any sports website as well. Using a drag and drop builder you will craft creatively looking pages. What is more, this theme is bundled with Essential Grid, The Events Calendar, Slider Revolution, Instagram Feed, and other noteworthy plugins. Using builder and advanced post options you will make your content look more fascinating.
Lingvico | Language Center & Training Courses WordPress Theme

Not every WordPress theme suits educational websites as there are some specific options for such online project. First of all, any educational theme should be compatible with LearnPress so that there is an option to build a fully-fledged educational system with online courses which you can manage with ease. An online booking system would also come in handy as such tools allow scheduling appointments online. Also, such a theme should be bundled with WooCommerce so you could receive payments for services you provide. Lingvico theme includes all of it and even more.
ShiftCV – Blog \ Resume \ Portfolio \ WordPress  


Create a remarkable online resume with ShiftCV theme. It is an ultra-modern WordPress theme with flexible design and awesome portfolio features. Buying this theme you get 7 one-page CV cards and a beautiful blog layout. Each readymade skin is super versatile as ShiftCV theme is made with Elementor page builder. You will get tons of shortcodes which help you create unlimited layouts. Apart from that this theme features a decent pack of documentation which will guide you through setup and the theme in general.
Justitia | Multiskin Lawyer & Legal Adviser WordPress Theme

Justitia is an elegant WP theme made for a legal adviser.  It has attractive business-oriented pages with flexible design. This theme has superb navigation provided by interactive Ajax search, classic/pop-up, and scroll-to-top button. Justitia theme is responsive and Retina-ready so it works for all screens sizes. The theme features a handy Header and Footer customizer. Justitia is easy to install and manage. As this theme supports Elementor page builder plugin the website customization won't take longer than a few days.
Vihara | Ashram Buddhist Temple WordPress Theme  

If you need a spiritual theme with a vibrant design you might find Vihara theme relevant. This theme comes full of ready-made inner pages, such as Programs, Timetable, Leadership, and more. As other Elementor WordPress themes, it requires no frontend skills. Vihara theme is compatible with dozens of premium WP plugins, including TRX Add-ons, Events Calendar, Timetable and Events Schedule, MailChimp, Give-Donations, Instagram Feed, etc. There are some straightforward instructions on how to work with this theme so you won't get confused.
Hanani | Jewish Community & Synagogue WordPress Theme  

Hanani theme is a perfect choice for religion website. This theme is made with Jewish tradition in mind which means you can use it for a synagogue without an additional adjustment. Hanani theme is compatible with LearnPress so you can establish classes and events. Apart from that, it features the Give plugin which allows raising funds for your Jewish community development. You can change color, typography, and modify every aspect of this theme in accordance with your needs.
Pinevale | Addiction Recovery and Rehabilitation Center WordPress Theme  

Do you want to launch an addiction recovery website that would look professional and reliable? Then you need Pinevale theme. It has a perfect design and a wide range of functions dedicated to rehabilitation services. There are strong testimonials, handy contact forms, and even live chat support included. Also, Pinevale theme features tons of premade content blocks which you can use by means of Elementor page builder. You can use 750 customizer option and create a unique website your visitors will enjoy to use.