If you run an eCommerce shop, your primary goal should be to drive the right kind of traffic to your website and convert them into paying customers. The problem is, so many people get wrapped up in the hype of external pay-per-click advertising (which has its place and is very effective) but forget the power that website optimization offers. If you're looking for better ways to get "Buy Now" button clicks, keep reading.
We have 3 tips for improving your CTA button's click-through rate so you can generate more money than ever before. 
1. Publish Killer Content
Blogging is the number one way to drive high-quality traffic to your eCommerce shop if you do it right. Unfortunately, many online shop owners (even the experienced ones) don't understand the positive effect SEO can have on their eCommerce shop.
By consistently publishing killer content on your website, you do the following:
Improve SEO
Blogging on a regular basis means Google has more to index and rank your website for. That means your shop ends up in more relevant search results, more people see your site, and perhaps more click on your site to see what you have to offer.
Use a free online tool such as Ubersuggest to ramp up your keyword research.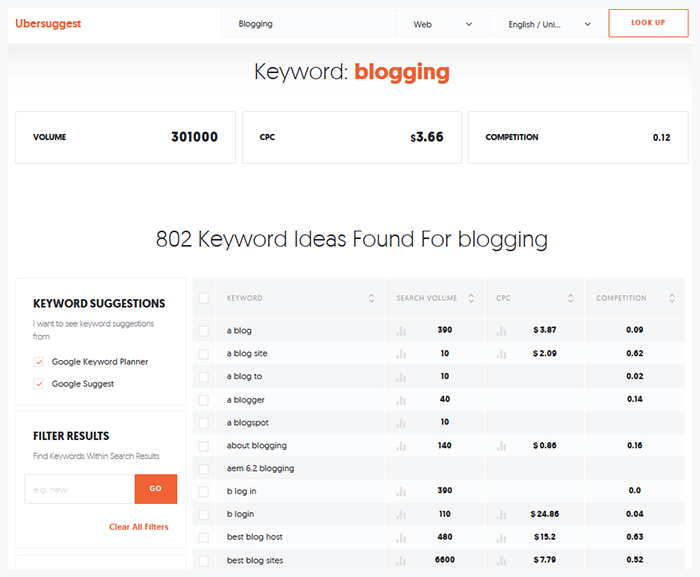 After all, if you target the right audience in search results with your keywords, the likelihood of people buying once on your site naturally increases.
Inform Customers
It's not enough to drive traffic to your site. If you want to gain "Buy Now" button clicks, you have to convince them that there's a good reason why they visited your site in the first place.
A good content marketing strategy will include blog content that informs and educates your loyal and potential customers about the products and services you have available so they'll want to buy now.
Broaden Your Audience
An ongoing goal that all online shop owners have is to grow their business. The only way this will happen is if you concentrate on retaining current customers, and of course, increasing brand awareness to a new audience base. By writing high-quality content that readers want to share with others, you can expand your brand's reach, encourage more people to come to your site, and get more "Buy Now" button clicks. If you want to know how many site visitors you'll need coming to your site to meet your earnings goal, check out this traffic calculator to see how your site's traffic is tied to sales.
Also, if you're interested in learning how to improve your blogging skills, you might want to check out the simple (and free!) online editing tool Hemingway Editor.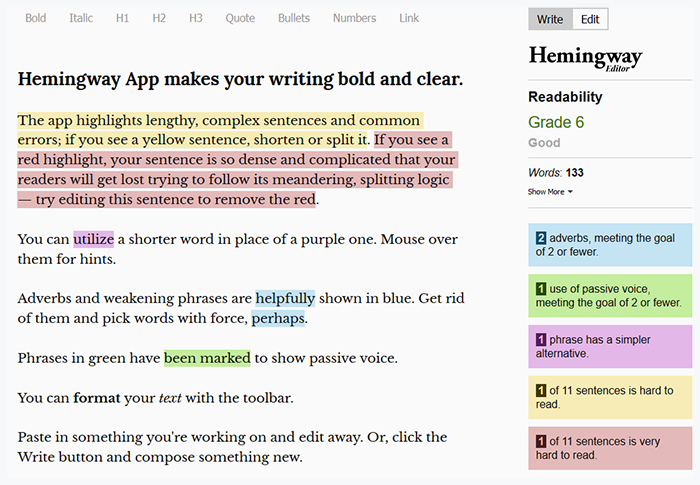 This tool will help you improve your writing skills, so your content resonates with a broader audience. It will also help make your content more understandable and hopefully more convincing when it comes to encouraging people to buy.
2. Add Social Proof
85% of people trust online reviews as much as personal recommendations. If this doesn't convince you to add positive testimonials and reviews on your website, I don't know what will. Using social proof on your website is a surefire way to get people to conform to the actions of those before them.
In other words, good social proof convinces new customers to buy like loyal customers have in the past. In addition to adding testimonials and reviews to your website, here are some great ideas of other types of social proof you can easily add to your site: 
Show real-time stats of customers buying your products and services

Add a celebrity endorsement using what you sell

Write an in-depth and highly authoritative case study

Include trust seals to foster trust and boost sales

Include a social share counter, especially on blog posts

Display "Best Sellers" to get people to buy those specific products

Recommend similar products

Add a "Customer Showcase" section to show real people using your products and services
There's a reason big-name companies like Amazon, eBay, and Groupon use social proof to encourage sales. Because it works.
3. A/B Test Everything
You might think that your website is optimized for the buying experience, only to find out that customers actually prefer a red "Buy Now" button over a green one; think about that when you're craving for "Buy Now" button clicks. In fact, this is what exactly what happened when Performable ran an A/B test on their "Get Started Now" call to action button. The red button outperformed the green by 21%!
Be more creative with the call-to-action to increase response rates. Try using a QR code (which can be made using a QR code generator) to see if the conversions improve.
The only way you'll be able to tell what's working on your website, and what's causing customers to abandon your online shop, is to split test elements on your eCommerce site to see what users prefer.
You can split test many elements on your website to boost conversions and sales:
Headlines – on your homepage,

landing pages

, and blog posts

Call to action buttons – color, copy, placement, and size

Images – size, type, and placement

Format – navigation menus, form placement, and above the fold content

Mobile site – the length of pages, displays, and navigation items
There are plenty of useful tools you can use to A/B test your eCommerce site to make sure you're securing as many sales as possible. Let's take a look.
Not only does this plugin offer an easy way for you to connect your WordPress site to Google Analytics, it also connects to the free Google Optimize tool so you can conduct hassle-free split testing.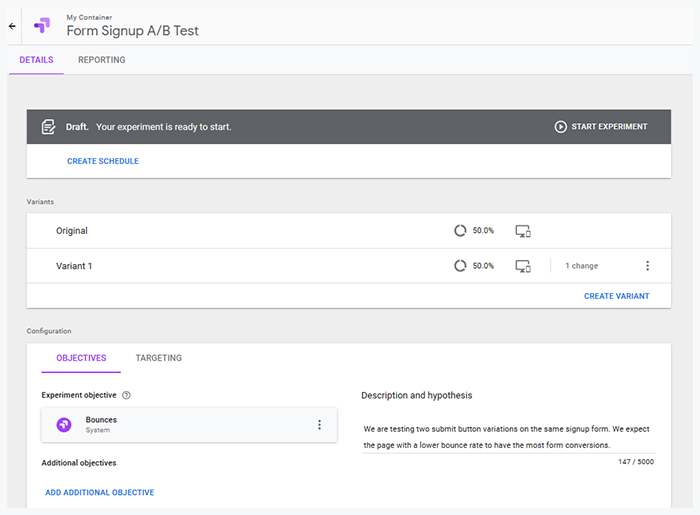 Run simple A/B tests, multivariate tests, and even URL redirect tests by creating experiments, changing the variant you're testing, and running the test. 
Simple Page Tester is a free A/B testing plugin that makes running tests easy and provides analytics for measuring the success of your tests.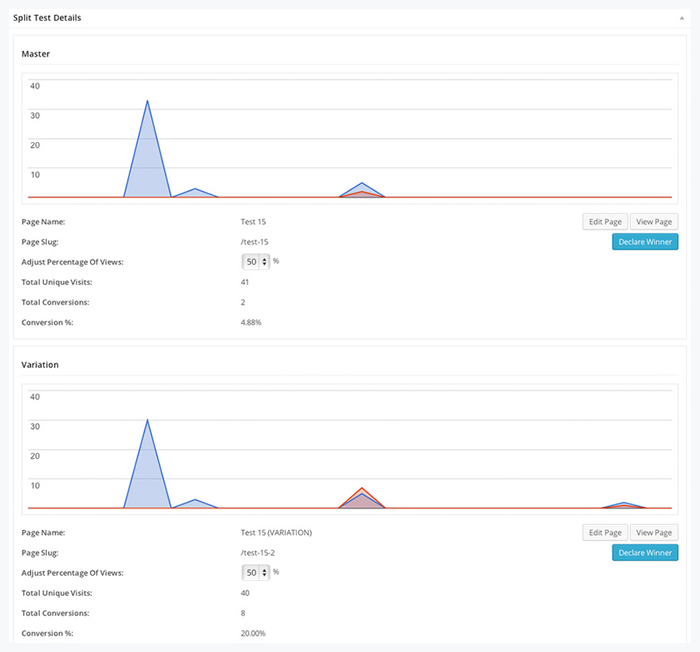 Not to mention, it comes with a built-in caching solution, so your site's caching, speed, and performance are never sacrificed.
If you want to run A/B tests on your calls to action buttons, monitor and track conversions, and increase sales, this free plugin is the solution for you.


Create beautiful CTA buttons on your site using the pre-made templates, make changes using the built-in Visual Editor, and even clone existing ones to make testing of variations super simple.
Other helpful A/B testing tools and plugins include:
Title Experiments:

Test your titles to see which kind your site visitors like the most so you can offer more of what they want, and less of what they don't.

Marketing Optimizer:

A/B test everything from CTAs, layouts, headlines, landing pages, buttons, and more. Also, track the conversions you want, such as email signups, form submissions, etc.

Hotjar:

Not only can you split test site elements, but you can also visualize site visitor behavior, accept user feedback, and recruit site visitors to test new variations.
In the end, using the right A/B testing tool will give you the insight needed to optimize your "Buy Now" buttons and receive more "Buy Now" button clicks
You'll also have the chance to optimize the rest of your eCommerce shop so you can generate more sales and grow your business.
Final Thoughts
Getting people to turn from site visitor into customer takes a lot more than merely getting them to visit your website. However, with the right resources and a plan of action, you can optimize your website, as well as capitalize on your advertising strategies, to turn more people into loyal customers than ever before. 
So, take a look at the above-mentioned tips and start creating an eCommerce shop that is designed to convert. Trust us, your bottom line will thank you!