There are many organizations out there that work to serve children's needs like educational centers, nurseries, babysitting agencies etc. The list is endless, really. And since we live in the era of the Internet, all information that your clients/students get is from there. Having a nice user-friendly website can help you share your work with the world, as well as attract visitors and promote your services.
With a good platform you can build a bridge between your organization and the parents who seek professional assistance with their little ones. A trustworthy website will let parents know that their kids are safe with you and your qualified employees, that the services and goods that they get are simply the best. It is not just about going for the site of your dream, it is about working towards the kids' dreams and needs. A professional WordPress Theme can help you build a website that will engage both children and parents into the process of learning about you and your studio/school/charity program etc.
For a better understanding of how we, web designers, see a Children website this is a collection of the best modern WordPress themes that you should consider for using to create your own Kids Portal.
Kindergarten – Children WordPress Theme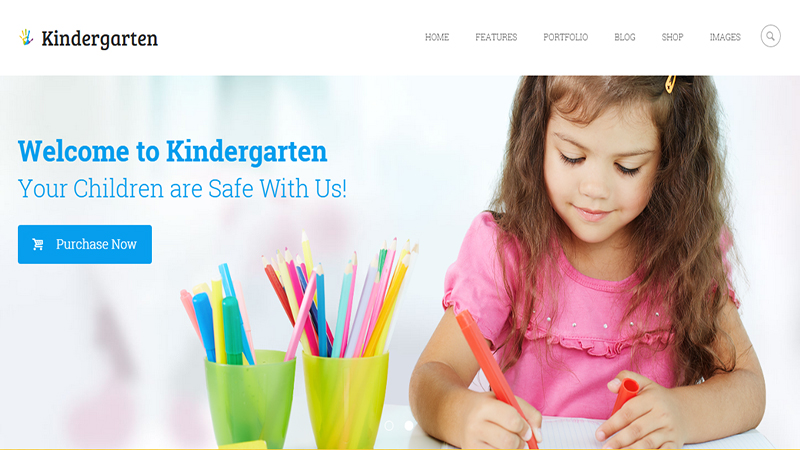 This WordPress theme was designed for kids' education centers, nurseries, pre-schools etc. Bright and colorful it has all the necessary components to put a solid platform for your website together. Kindergarten offers multiple page layouts and styles for Blog, Portfolio and sliders. You will be able to create beautiful galleries and profile your staff, as well as experiment with Parallax effects. The theme is also WooCommerce ready, so you can go ahead and start your online store right away. Kindergarten is a feature-rich and highly flexible theme that was designed to fulfill the needs of a Children/ Youth organization.
Kids Care – Multipurpose Children WordPress Theme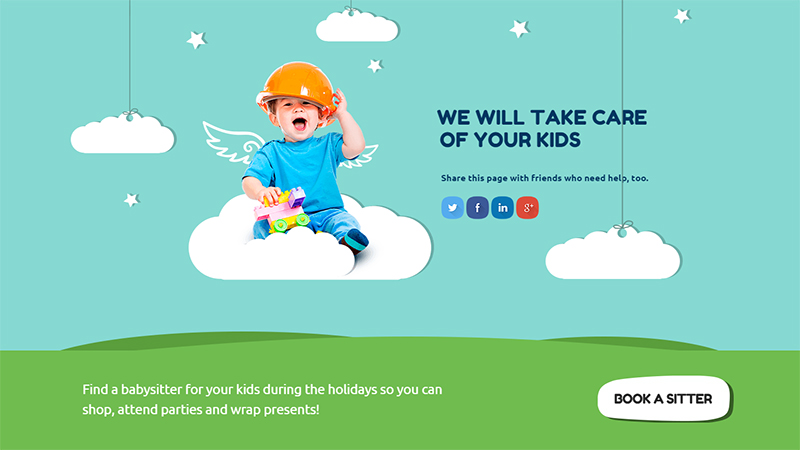 Kids Care is a modern and highly customizable WordPress theme that will bring your website to a new level. The theme has 4 prepared skins: Babysitter, Medical, Parallax Background and eCommerce. There are various animated effects that are engaging for both kids and their parents, and the wide range of plugins, widgets and shortcodes make the theme really powerful and easy to customize. Kids Care was designed with precise accuracy for a trustworthy foundation for your wonderful website.
Cupid – Adorable Kindergarten WordPress Theme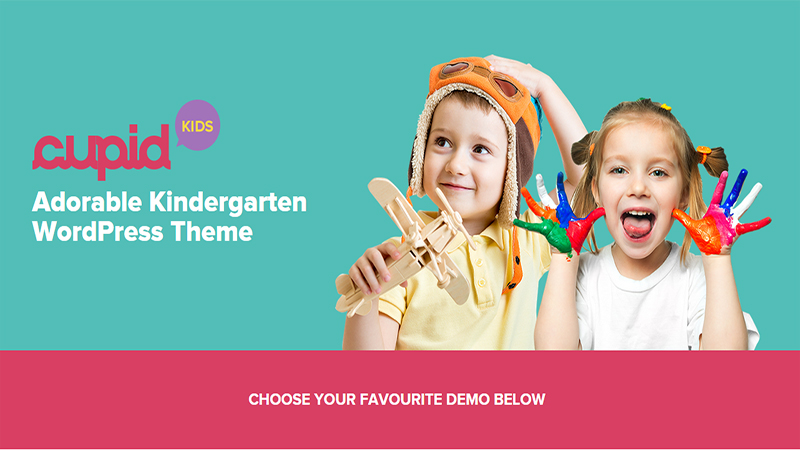 This is a colorful and bright theme with 6 various Demos for your convenience. If you are planning to have an education, medical, party/holiday website or a kids' e-store, Cupid has everything covered for you. The authors offer tons of options for simpler customization. It is SEO friendly, responsive and retina ready. You will be able to experiment with different effects and colors, as well as create amazing galleries and sell your products and services though the website!
PeachClub Kindergarten ChildCare WordPress Theme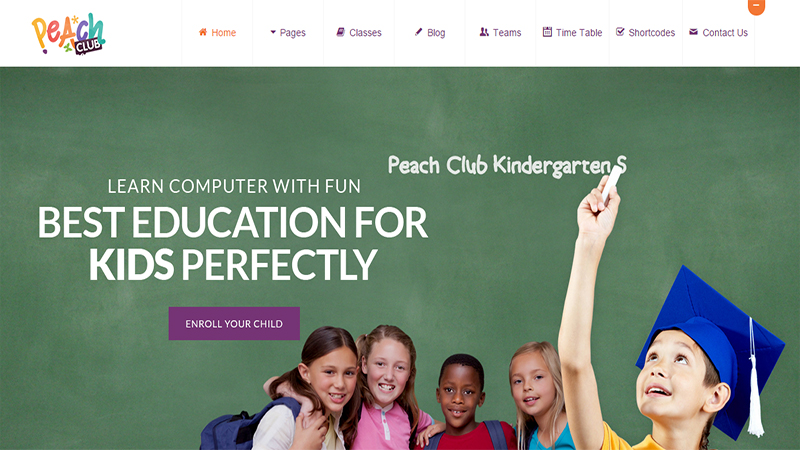 PeachClub is a professional and highly functional WordPress theme for a children website. With its help you will be able to promote your education center, school, kindergarten etc. It allows creating schedules and list teams of teachers/employees in a separate section that is convenient for profiling purposes. The modern design makes the pages pleasant to browse through, and subtle animated effects add fun to the process.
Baby Kids – Education Primary School for Children WordPress Theme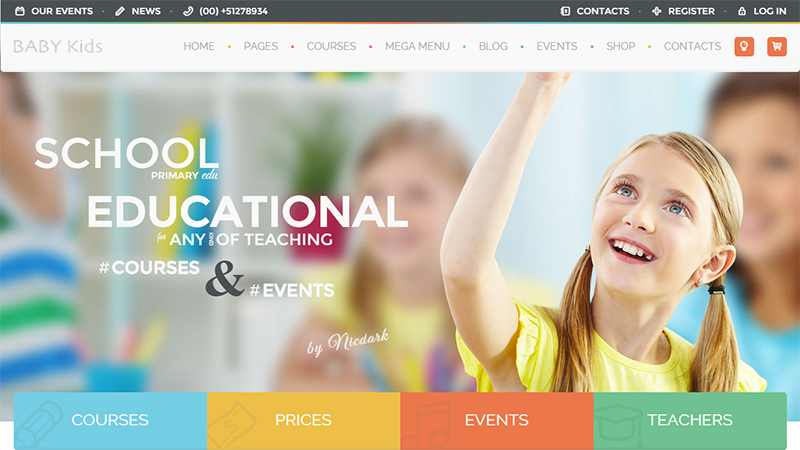 The theme was designed for schools mostly. It is ideal for promoting your establishment by attracting new visitors to the website. It is a feature-rich and user friendly theme that allows you building a trustworthy website. You can create events, list courses and prices and even use it as eCommerce platform. There are multiple color options available, as well as numerous plugins and custom pages. Baby Kids is a good choice for your Children Education website that parents will approve.
Daycare – Kindergarten WordPress Theme
Daycare is aimed to attract parents of smaller children. The theme will work best for babysitting/pre-school organizations. The playful animated design will help you achieve the most wonderful results in building your site. Available are 3 main color schemes: Water, Grass and Desert for your preferences. Daycare is equipped with Google calendar for convenient planning of events and activities as well as Parallax effects for catchy design. It supports WooCommerce, so there really is no limit to customizing this theme into a website of your dream.
HappyChild – Kindergarten WordPress Theme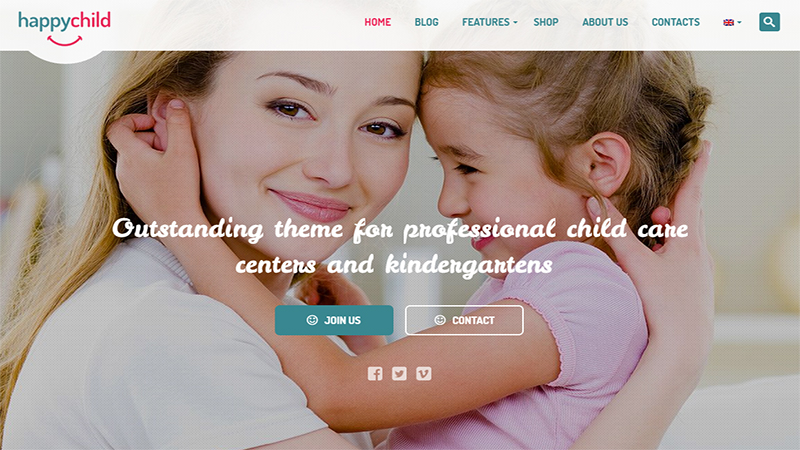 HappyChild is a WordPress theme that is designed to help you create the most wonderful children websites that parents will enjoy visiting. Its stylish universal design works great for any type of Kids' websites. There are 3 pre-made topics: Kindergarten, School and Cources. However, it doesn't mean that you should stop and choose among these options only. Due to the wide range of components and features, the theme can be customized to serve any of your needs. It also supports WooCommerce, so creating a shop will not be a problem.
Kids Zone Responsive Children WordPress Theme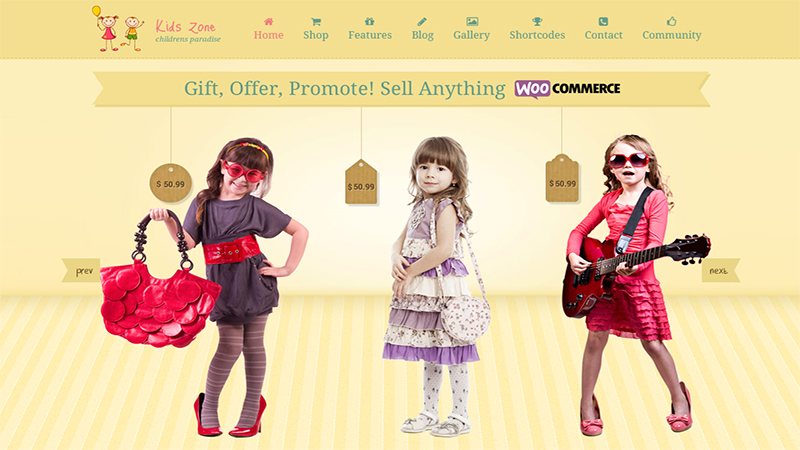 Kids Zone is a theme for those who like dynamic design and numerous options for themes' customization. With this theme you will be able to build an online store for kids, create beautiful galleries and even form communities along with an amazing blog. Use Visual Page-Builder to create new pages with no hassle and schedule events via Events Calendar Pro Support. Kids Zone is a fun and engaging theme that will be interesting equally for parents and children.
Kindergarten WordPress Theme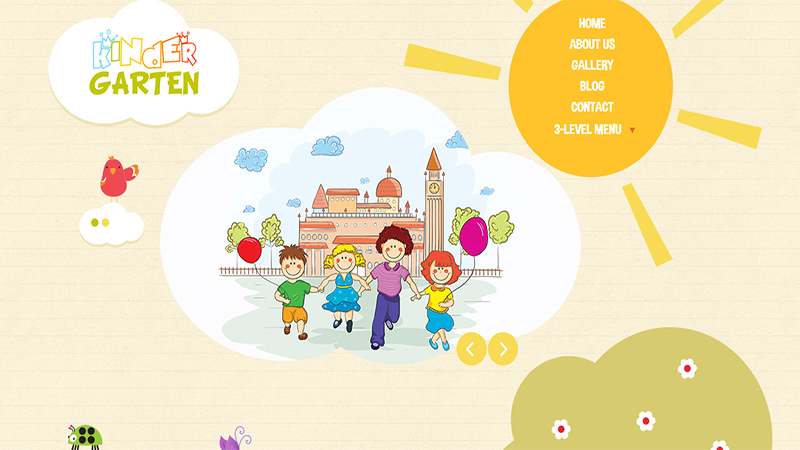 This minimalist theme is designed to become a tool for creating a nice blog, gallery and a short introduction to your center, school or business. You will not find many options for customization, but you will get a theme ready to be used as a solid foundation for your eCommerce website and a website that is dedicated to children. There are several page templates and post formats.
Happy Kids – Children WordPress Theme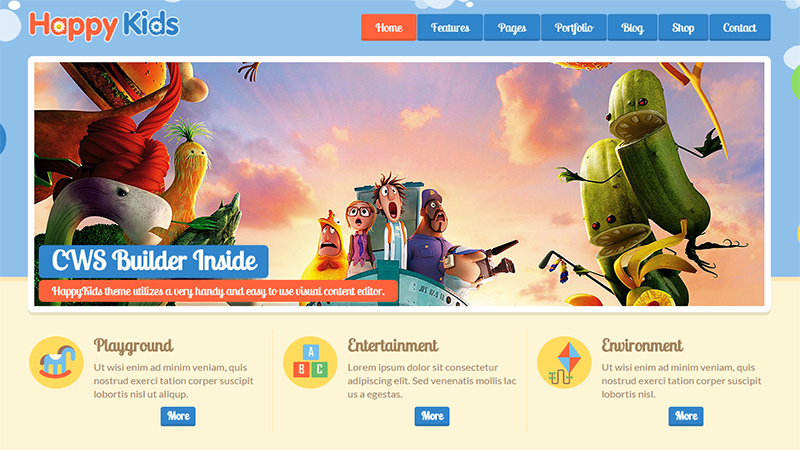 This bright and fun WordPress theme is a great solution for a Kids portal, parents' forums or an online store. Happy Kids will help you promote your children organization and attract new visitors thanks to its structure and user-friendly navigation. There are multiple custom widgets and shortcode generator. This theme comes with unlimited color schemes and nice 9 backgrounds. Not a bad combination!
Babysitter – Responsive WordPress Theme
This is a clean and flat WordPress theme for nanny agencies, parents' blog or any other website for kids. Babysitter is fully responsive and highly customizable for you to try different options and see for yourself how you can use this theme at its best. Simple and functional the theme will help you with promoting your organization and forum.
Child Care Creative – Shop and Kids WordPress Theme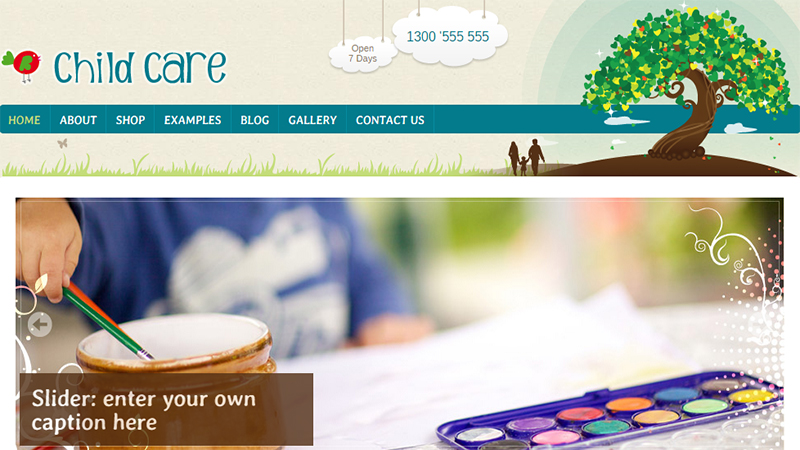 Child Care Creative is a kids and environment oriented WordPress theme that will also work for art, family, craft websites. The design is simple yet functional and bright. You will be able to build a store for kids, as well promote your organization or create a powerful blog. There are header options, slider styles and custom widgets available, so you will be able to adapt it to your needs.
Kiddo Turf – Kids WordPress Theme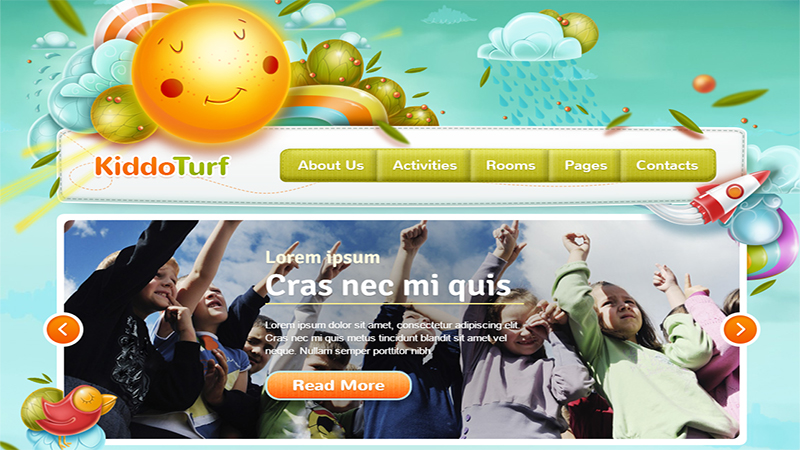 This bright and colorful theme will become a safe platform for your children website. It will work fine promoting your organization, school, nursery, nanny agency etc. Colorful and bright, Kiddo Turf can be easily customized. You will be able to go with a different color scheme, background and even choose a different layout. It is fully responsive and retina ready with hand crafted illustrations!
Boutique Kids Creative – WooCommerce WordPress Theme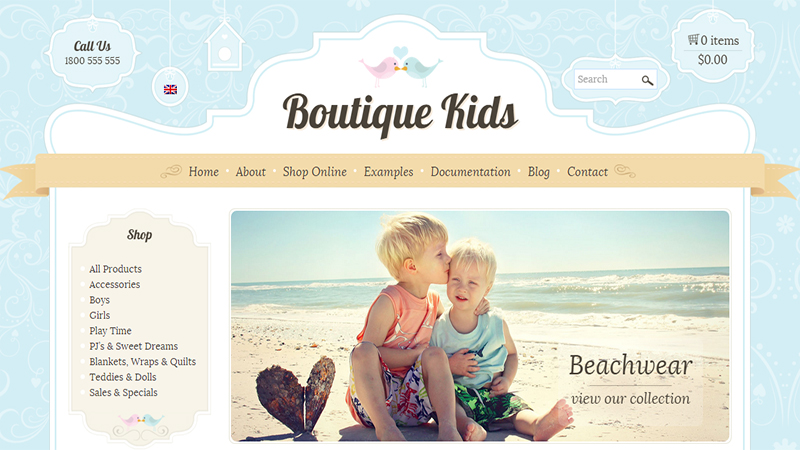 If you are going to open an online children shop, Boutique Kids is a pretty good option to upgrade your site. The design is nice and clean, with simple navigation and multiple customization options. The theme is fully responsive and allows selling physical items and virtual/digital downloads. All elements that you need your store to properly operate are integrated. Now handling a professional Kids store is not a problem!
Toddlers – Child Care & Playground WordPress Theme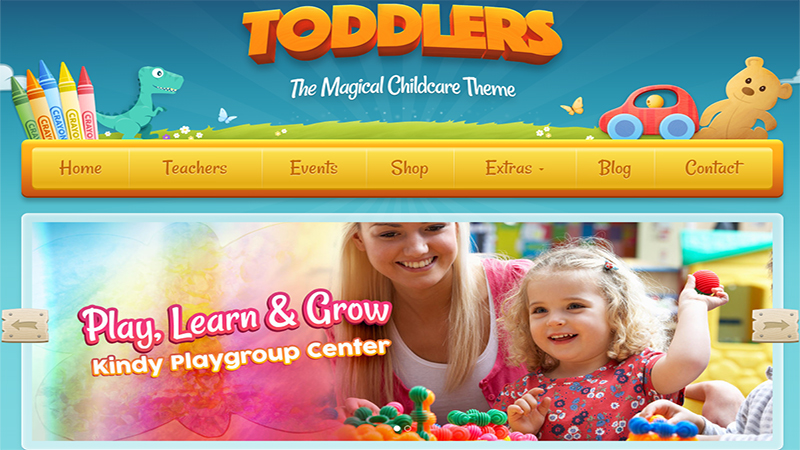 Toddlers is a modern WordPress theme designed to build a successful website for your private school, babysitting agency, parents' blog, shop etc. The theme is easy to customize – all images can be replaced, there are several post formats and optional drop down menus. The theme supports WooCommerce plugin, so you can create the most amazing online store for kids and their parents!
Kidz Store WordPress Theme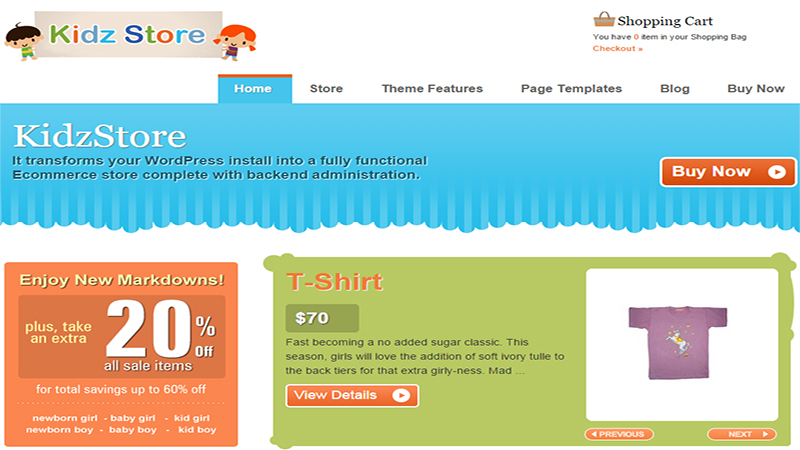 Another WooCommerce theme for your e-store for children. It will save your time and effort for creating a professional functional shop that will have easy navigation, all necessary components and will also give you an option to convert it to any other type of store. You don't have to go with just kids products. You can have something for their parents as well!
Mommy&Me Blogging WordPress Theme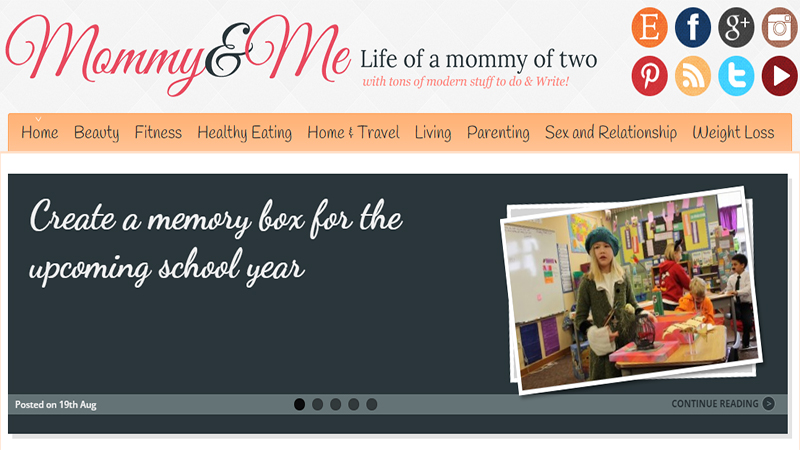 This theme is ideal for creating parents' blogs and forums. It is designed for you to easily post any sort of information, and a priori the accent is being made on the content. Mommy&Me is fully responsive, with built-in SEO options. Also there are six different advertisement placement areas with off/on options. Even though the theme's design might seem to be outdated a bit, you can always customize it and make it look modern and stylish – all the necessary components are included.
Pulp – Creative Responsive Blog & Shop WordPress Theme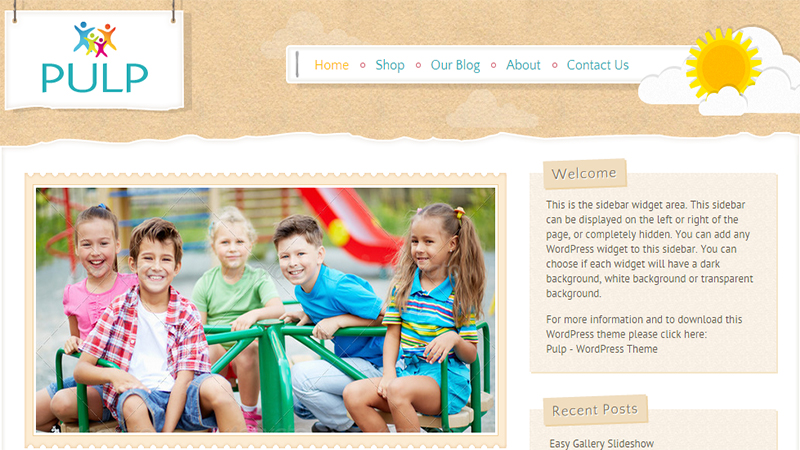 Pulp is a handy tool for building a Kids e-store or a blog for parents. The theme is fun to browse – there are quite a few animation and hover effects, plus you get to choose how to display sidebars and background colors. It is easy to adjust and navigate. You will get access to all the vital components for a successful shop due to the WooCommerce plugin.
Little People – Kindergarten WordPress Theme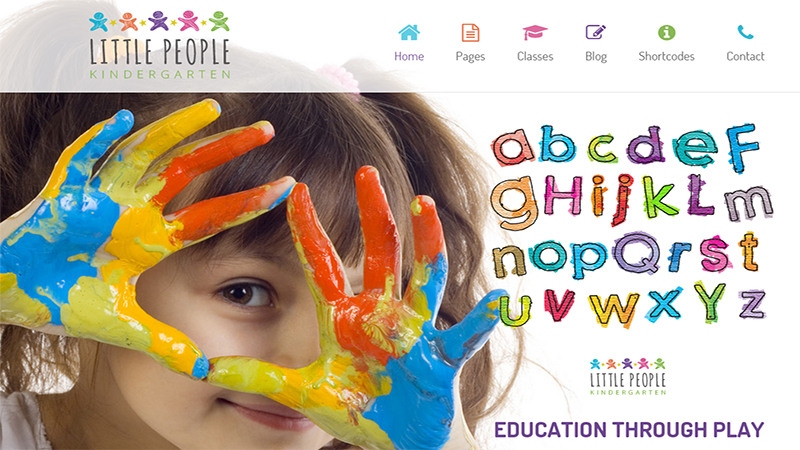 Little People is a clean and modern WordPress theme for your education center, agency or kindergarten. It was designed to effectively display the information that parents need to learn about your organization. The theme is responsive, stylish and original. It is equipped with all the vital plugins that make it highly functional, and video backgrounds add a nice sophisticated touch to the overall appearance.
Sunny Kids – Responsive Creative WooCommerce WordPress Theme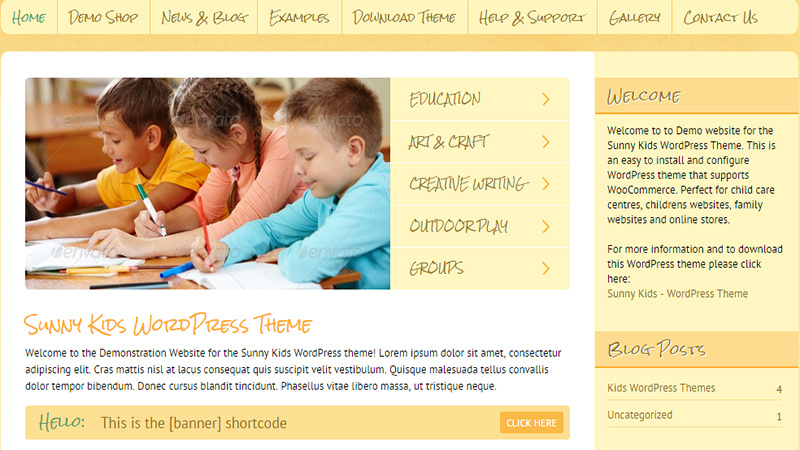 This theme is ideal for news portal, education centers, blogs etc. With Sunny Kids you will have access to multiple options for sidebars, colors, headers, logos and backgrounds! It is WooCommerce compatible and can become your online store. It becomes convenient to post news and blog posts.