Looking for a high quality WordPress Intranet Theme or Extranet WordPress template? You probably run a large company or department. And you sometimes face issues keeping your company connected. Then you should definitely consider setting up an intranet / extranet. The best way doing that is to use an Intranet WordPress Theme. Don't know what that means? We'll explain.
Table of Contents
What is Intranet & Extranet Portal?
Basically, an Intranet portal is a kind of local network, designed to help people within the same company share information. It is being run on a local server or closed server. Good intranet template can help you arrange this with ease.
An extranet portal, however, is a cloud phone system and is much easier to get to since the members don't have to access the same server to work with it. It is very useful, say, if you have multiple business branches in different locations. An extranet is considered more open. However, you can always install plug-ins that limit the accessibility of your network to a certain circle of users (your employees).
Setting up an Intranet & Extranet site is a very convenient way to keep all your employees up-to-date. They will always have an access to the important business information you have for them.
Whether you're running an intranet, and most especially if you're running an extranet, you need to make sure you have a reliable hosting service to help you set this up correctly. Such a service makes sure that both the internal and external users of the site are served with excellent performance, whilst keeping the site secure and within your control. Visit this article to read more about great hosting services.
Intranet WordPress Theme
Today we have 10 WordPress Templates for an Intranet & Extranet. All of the Premium WordPress Themes were provided by ThemeForest. But why use WordPress Theme for a network like this? Well, just the basic version of WP can satisfy all the intranet needs. It can be:
easy to access corporate documentation;
announcements and news;
training materials.
But, that is only the beginning. WordPress can also match some of the more advanced features like:
company directory & departments;
company calendar;
collaboration tools;
private social networking;
downloadable company documents;
project management;
and much, much more.
And if you get a premium WP intranet template for your network, you will also get 24/7 support from a team of professional coders. They will help you solve any problems you might encounter while working with your intranet / extranet template.
Down below you'll find the list of 10 premium WP Themes for an Intranet or an Extranet. Feel free to check the themes out and be sure to give us all the feedback you have in the comments section.
Alliance – Intranet & Extranet WordPress Theme
Alliance is a powerful Intranet WordPress Theme. It performs well and is comfortable to use. Its main purpose is to improve communication in your company. Alliance features things like dashboards, file sharing, polls, and others. Also it is integrated with the BuddyPress plug-in to arrange a WordPress Intranet Portal.
Micro Office – Intranet and Extranet WordPress Theme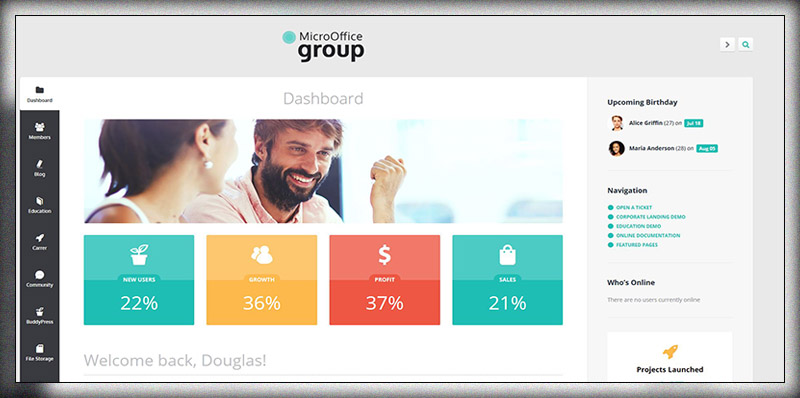 Micro Office is one of the most functional intranet templates. Also it is easily customizable and WPML ready. Furthermore, it includes the Revolution Slider plug-in, the Visual Composer, lots of shortcodes, parallax backgrounds, a set of Google Fonts and much more. This Intranet Template is a #1 choice for versatile company projects.
Coworking – Open Office & Creative Space WP Theme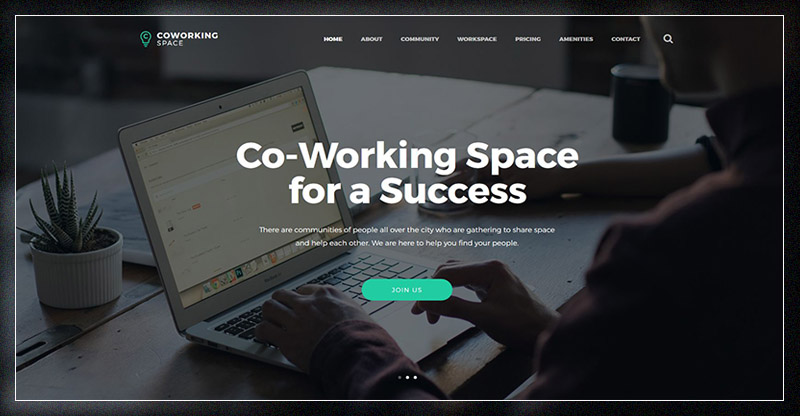 This modern functional template would be a great choice for any of your company's needs. It is fully responsive, Retina ready and compatible with a multitude of awesome plug-ins like Revolution Slider, Essential Grid, PO Composer, Visual Composer and others. Also, it is easy to customize, as well as simple and pleasant to work with.
Woffice – Intranet/Extranet WordPress Theme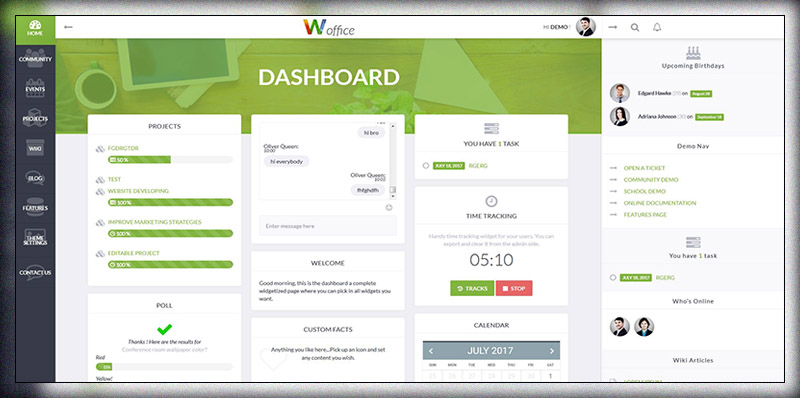 This template was inspired by Google's Material Design and has a very modern feel and a simple UI. It is feature-rich, powerful and adaptable to any sorts of Intranets/ Extranets, School Networks, Community Networks or Associations/ Charities. Woffice supports the Projects Manager, Wiki Articles, Online WooCommerce Shop, Calendar, Files Manager, Online Courses, bbPress Forum and much more.
Thrive – Intranet & Community WordPress Theme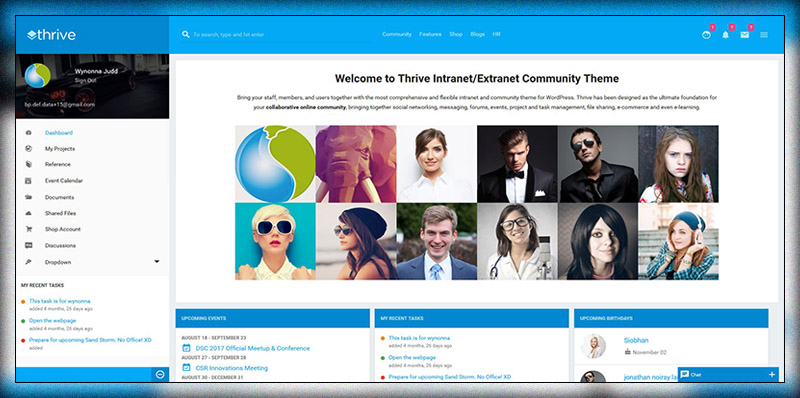 Thrive brings together social networking, messaging, forums, events, project and task management, file sharing, e-commerce and e-learning. It is fully integrated with BuddyPress, bbPress, BuddyDocs, BuddyDrive, the Events Calendar, WooCommerce, WP Form Builder, and WP-Polls. Also, it features the Visual Composer drag & drop page builder and offers you a private site option with a secure login.
BuddyApp – Mobile First Community WordPress theme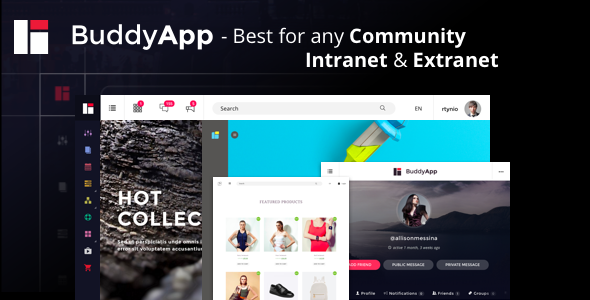 This template took the mobile first approach and can be used for a Private or Public community, both Intranet or Extranet. A few of the key features are the Live Site Customizer, Drag & Drop Page builder, WooCommerce integration and others. Above all, it is responsive, Retina and Widget ready.
UnitedCommunity – BuddyPress Theme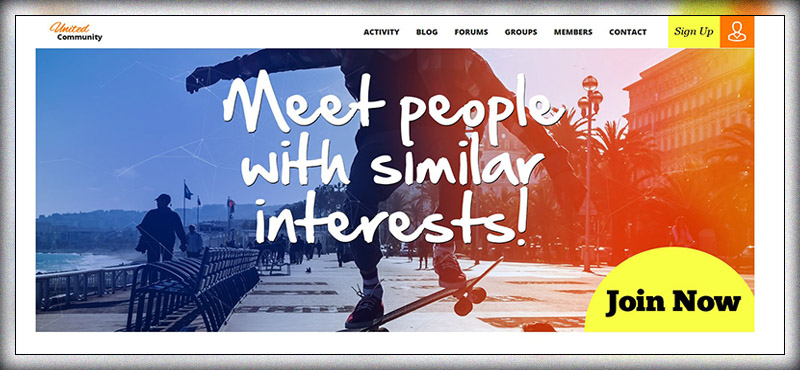 UnitedCommunity is one of the intranet website templates focused on community. It is compatible with BuddyPress, Event Manager, WooCommerce and includes Theme Customization API. Furthermore, it is translation ready and includes custom widgets as well as over 40 inner pages.
Segments – CRM & Project Management WordPress Theme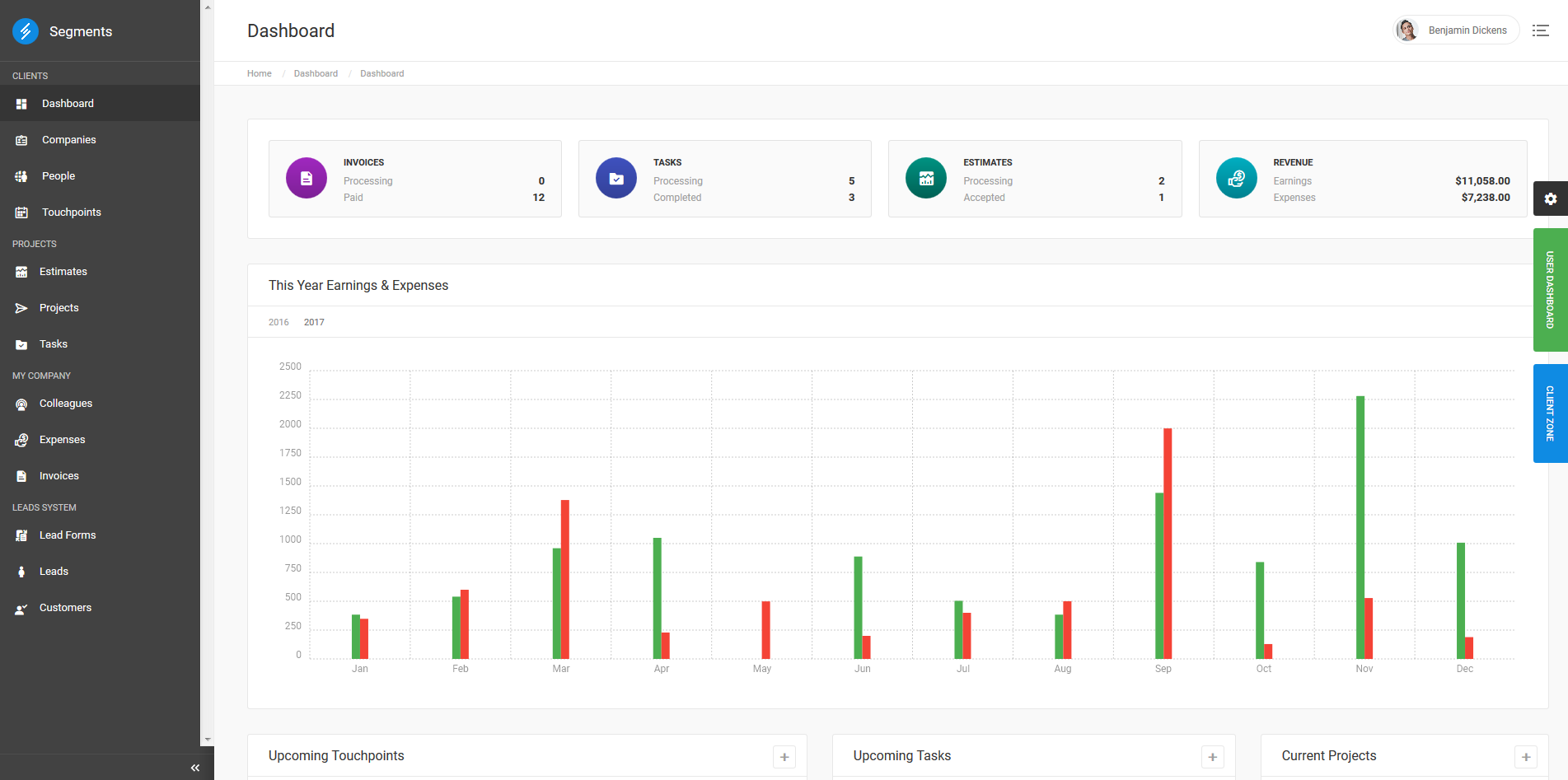 The purpose of this wordpress intranet theme is to simplify your company's business processes. Some of the main features are: front end data management without accessing WordPress admin, unique CRM implementation with no other plug-in dependencies, friendly code and others. Also it supports lots of CRM & Projects (And Project Management) tools and features.
PrimusNote – Project Management & Team Collaboration based on WordPress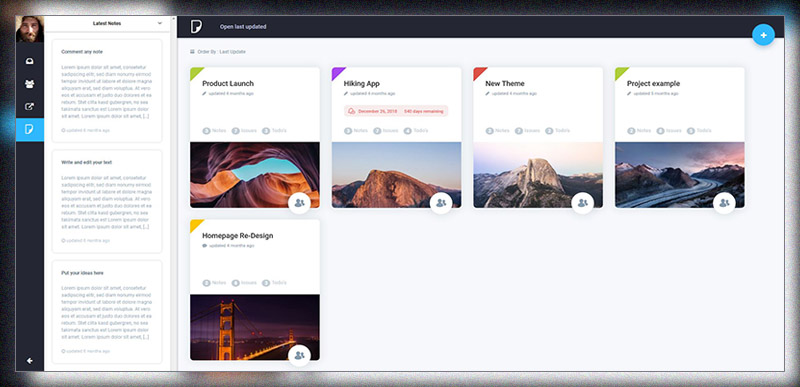 This WP based project management system is designed to do everything from the frontend. It has lots of useful stuff like To Do's, Issue Management, Nots, File Attachments, User Management, the Assign Feature and others. Also, it is responsive and mobile friendly.
KLEO – Pro Community Focused, Multi-Purpose BuddyPress Theme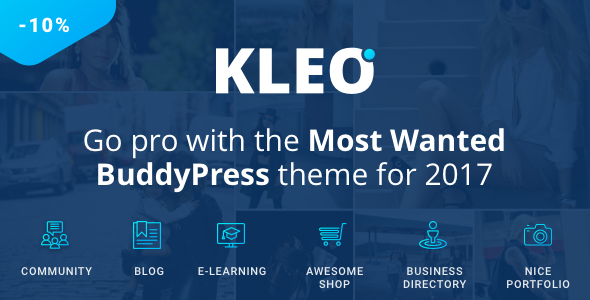 KLEO is the #1 selling BuddyPress Template this year. It is truly multipurpose and you can build a Community, Professional Blog. Also, it is great for a Portfolio, Business Directory or even an upsell shopify. The template includes a lot of demos, a bunch of plug-ins like GeoDirectory, Sensei, Visual Composer, and WooCommerce. Moreover, it is responsive and retina ready and the list of features just goes on and on.
Enjoyed our roundup premium of intranet and extranet WordPress themes, why not check a collection of free WordPress themes as well.
Intranet WordPress popularity
Here is the chart that shows Google Search trends. As you can see people are looking even more for Intranet WordPress Themes rather than just Intranet Template. Basically, it means that if you want to make an Intranet site – make sure it is on WordPress.