Quite often you may face an unsolvable dilemma when making a WordPress website. On one hand, you want your site to have a beautiful look with some nice visual effects and design solutions, and brilliant functionality that can be easily added by means of some powerful plugins. Yet, on the other hand, you want your site to be fast to get better Google Page Speed results and provide your customers with a good browsing experience. 
And that's how we came up with Kicker – a superior WordPress Blog theme released in May 2021 that provides the right balance between the outstanding creative design, powerful functionality, and the site's performance.
In this article, we will explain why Kicker is the Best Blogging WordPress theme and why you'll never use any other blogging theme except it again.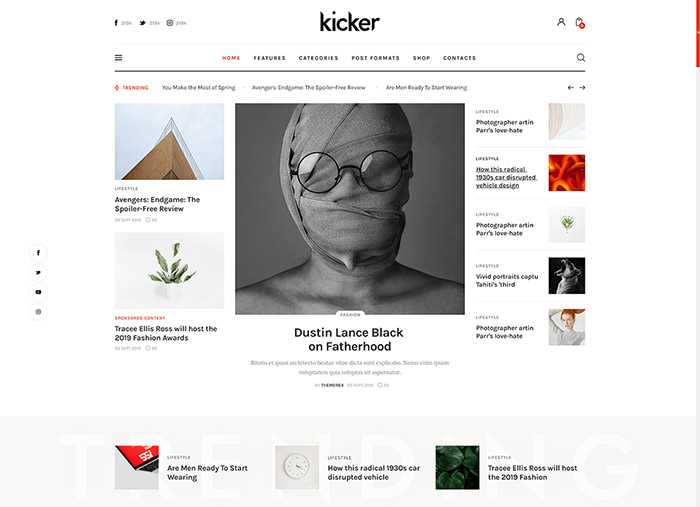 Kicker comes packed with skins and demos for literally any kind of modern news magazine or personal blog.
Here you can find premade skins for news, fashion, sports, travel, food, creatives, games, tech, music, science, viral, kids, review blogs, and much much more.
Above all, the theme author guarantees a new demo each month. So you will get at least 1 new demo every month even after the purchase.
Another important thing about Kicker's skins is that each demo comes with a unique design crafted specifically for a certain niche.
For example, Main Skin was made as a clean news portal.

While the Cyber Skin is more colorful and has an interesting typography pattern.

Elegant Fashion Skin is the nice combination of fonts, elements and visual effects.

Bright Sports & Fitness Skin offers the design that immerses visitors in a motivating environment.

And there are plenty of other skins, demos, and topics. So, all you have to do is to pick the most suitable one for your project.
You may already know that since May 2021 the site speed and the site's core web vitals have become officially ranking factors in Google. 
Therefore you need to make sure that your site is optimized for desktop and mobile devices. It is especially important for blogging sites, where the competition is really high and even small tweaks impact your rankings.
Kicker is equipped with 2 extremely useful and powerful features that can help you rank higher than your competitors: AMP support (Accelerated Mobile Pages) and custom Lazy Loading functionality.
Few words about these 2 crucial features.
AMP for Mobile Devices
The theme comes with the AMP plugin. It automatically generates the second version of your page/article optimized for mobile devices. 
It means that now you can show the AMP version of your site to your mobile visitors and the full Elementor based version to your desktop users.
Moreover, your customer can choose the version and switch between the options by clicking on the link in the footer.

*Please Note! AMP plugin works perfectly with the pages and articles created with Gutenberg. Moreover, we've also added special style sheets for posts to make them even better on mobile devices.
But! Pages and articles created with Elementor will NOT be 100% compatible with AMP. So, you will need to create their AMP version with the integrated user-friendly AMP Page Builder.

So, now you have full control of your site's AMP version.
As a result, even if you install Kicker on shared hosting with no caching and zero optimization it will still give you an awesome GPSI (Google Pagespeed insights) score for mobile devices.

Lazy Load
Since the WordPress 5.5 lazy load is a part of the core. But what exactly is it? And why do we need it?
Lazy load is the type of asynchronous loading that initializes the objects (mostly images) in the places where they are needed. In other words, the page will load the image only when your visitor scrolls down to the place where it should be.
This technique helps to significantly improve such indicators, like TTI (Time to interactive) and CLS (Cumulative layout shift).
But we went even further. We've created our own Lazy Load script implemented into Kicker that appeared to be twice more effective as the one offered by WordPress.
Moreover, Kicker offers several options like: enable/disable lazy load, choose the number of images that you want to be loaded instantly on pages and posts.

Another advantage of using our lazy load script is that it covers 95%-100% of all images on the page, while the one provided by WordPress can pull only 40%-50%.
And the last but not the least is that Kicker's lazyload works perfectly with masonry blocks, while WordPress's one… Well, you don't even want to see how poorly it works with masonry.
And if you want to simply disable it you can do it at any time.
3. Theme Options: Colors & Fonts
Kicker is supplied with the powerful customization theme panel. It allows you to customize your site with ease. But we put extra attention to colors and fonts.
For example, when it comes to colors you can start with choosing the color scheme present in the theme panel and then set global colors for each element.

You can also use your Customizer to tweak the colors of your site's elements.

Also, Kicker gives you ultimate freedom with typography. It supports dozens of fonts out of the box, namely Google Fonts.

Above all, you can upload any custom font, including Adobe Fonts.

As it was already mentioned Kicker is the Elementor based WordPress Theme. It's a powerful, flexible, and user-friendly visual page builder. And it's absolutely free.

Moreover, in combination with the Kicker theme, it becomes a real site builder, because you can edit everything including the site's header, footer, page content, posts, and sidebars.
If you never worked with this page builder you should definitely try it out with Kicker.
Header & Footer Builder
The header and footer building deserves special attention. With Kicker, you can create as freely as regular pages, and place them wherever you need.
You can create & edit them with Elementor.

Assign to any post or page individually.

Use all the Elementor components with no limitations.

Make Sticky headers.

Create Video and Parallax backgrounds.

Choose desktop, mobile, and tablet layouts independently.
Kicker is 100% compatible with Gutenberg. It's one of the most demanded features for blogging themes.
To make it even more flexible and versatile we've integrated a Gutenberg Blocks (Kadence Blocks) plugin. It significantly extends your customization opportunities and provides plenty of premade blocks and sections free of charge.
All the posts you can see on the demo are made with Gutenberg + Kadence Blocks plugin.

It is super easy to create and customize custom posts and they look really awesome.
Kicker offers numerous design solutions for different types of your posts.
You can use plenty of premade solutions and customize them further towards your needs. It includes customization of your sidebars:

Also, you can choose a unique layout for your posts. Currently, there are 14 premade styles and dozens of their combinations.

Pagination
There are plenty of pagination options for you. There are classic page numbers, Previous/Next buttons, "Load more" on the same page and our favorite one – Infinite scroll.

Next Post Auto-load
If you want to keep your customer on your site, there is a powerful feature called "next post-auto-load". It's when the page automatically loads the next article when the visitor finishes reading the first one.

Furthermore, you can create info posts, news, video & audio posts, media galleries posts, events posts, and much more.
Let's review some of them.
Regular Posts with Custom Layouts
You can use premade design solutions or go with custom layouts. These posts look extremely attractive and informative at the same time.

Review Posts
Kicker allows creating Review posts. They are super popular nowadays.

You can:
Choose between rating types: stars, points, or percentage.

Create your own criteria and add as many as you need.

Provide item specifications and key points.

Add Pros & Cons list.

Choose the exact review placement on the page.

Add affiliate buttons with your affiliate id to promote sales.
Media Posts
Since creating media content is rather popular nowadays Kicker offers a large variety of media posts.

Video post with the sticky frame

If you play the video and then scroll down the video will automatically appear in your right bottom corner.

Yes, you can actually create video playlists with Kicker. It can be done using video posts or any random videos of your choice.


So, if you produce videos, audio podcasts, photo galleries, or any other type of media, you have plenty of useful solutions with Kicker.
Related Posts
Related posts help to keep the client on your site. It increases the conversion rate and overall SEO.

That is why we have paid special attention to related posts. There are plenty of premade options:
Right side positioning.

Left side positioning.

Within the content.

Under the content.

Infinite scroll (when the next post is autoloaded). It's one of the most demanded features.
Updated Posts
Another quite demanded feature is "updated posts". It is useful when you post some article that you are going to update over time.
That is why this post has 2 dates: "initial publishing" and "last updated" date.

Sponsored Posts
For those bloggers that provide guest posts and sponsored content opportunities Kicker offers a special post type called "sponsored posts". It adds special marks within the article, "sponsored" attributes, and banner spots.

Kicker is quite flexible in terms of placing banners and ads on your site.

There are different options for your advertising:
Above the content

Below the content

Sidebar

Within the content

Popups

etc.
Plenty of modern bloggers also sell some stuff online. That is why Kicker comes equipped with WooCommerce – #1 eCommerce WordPress solution.
It has a clean and modern design. Here is the screenshot of the shop page.


As you can see, even though Kicker is a blogging theme, it offers much more. You can turn your site into an online store in just a few clicks.
Amazing Blogger Shortcode
Shortcode "Blogger" is the feature we are really proud of. It's a tool that allows you to display ANY of your articles in ANY place on your site. It can be added to any of your pages, articles right into the content. 
You can add it with Gutenberg.


It is also super customizable. For example, you can:
manage its style, layout;

specify the number of columns and rows;

choose pagination;

filter articles by category, date, id; 

etc.
Fully Customizable Blog Page
Usually, when you purchase a theme online you have quite a limited amount of tools to customize your blog page.

But Kicker provides you with multiple customization options to make your blog page look professional and informative.
You can choose the blog page styles.

Custom Header and Footer.

Manage sidebars.

Control the number of posts.

Manage metadata that you want to display.

Custom filters by categories, tags, etc.

Pagination.

Animation.

and much more.
All these features are available right in your customizer.
Menu Panels & Mega Menu
Usually, when you want to have some advanced menu you need to buy additional plugins that are sometimes even more expensive than the theme itself.
Kicker provides these options for free. 
For example, you can create a side menu panel that can slide in and out.

Also, you can create beautiful mega menus like this.

Good-looking menus help with the navigation and overall improve user experience.
Custom Popups and Newsletters
It is hard to imagine a modern successful blog without newsletters and popups. Kicker offers a variety of newsletter forms: 
Large newsletter popup

Slide-in/out small newsletter popup.

Static newsletter form within the content.

Static footer newsletter.

GDPR & Cookies
Kicker is a 100% GDPR friendly WP Theme. It comes equipped with WP GDPR Compliance, GDPR Compliance for MailChimp, and GDPR Cookie Consent plugin.
For some themes, it takes plenty of hours to make them 100% GDPR compatible, while for Kicker it's just a few minutes.

Localization-friendly, Multilingual & RTL
Kicker was made localization-friendly. It is compatible with the Loco Translate and PO Editor. They make it super easy to localize the theme for any language.
Also the theme is 100% compatible with the WPML plugin. In case you want your site to support 2, 3 or more languages feel free to use Kicker with the WPML.
And of course the theme supports RTL (right-to-left) content orientation. It will be automatically applied when you choose the right language before the theme installation.
Kicker is the world-class Elementor WordPress Blog theme. It has lots of great design options and powerful functionality.
Basically, it has everything you may possibly need for your blog or news magazine. Buy it once and the theme author will continue to supply you with new awesome lifetime updates free of charge.