Are you looking for a quick way to revamp your website? If your website is made on WordPress, then adding new features and plugins to your website are not big. All you need is a great WordPress theme, and you can completely change the look of your website that too hassle-free! We have compiled 15 WordPress Themes that you can use in your projects right away.
Topper – All-in-One Elementor Blog & News Magazine WordPress Theme (Pro Plan)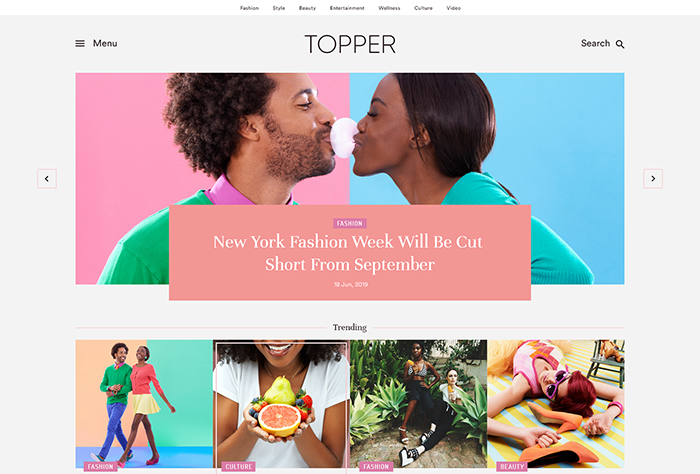 Take your WordPress blog to the next level with Topper – All-in-One theme. It is a trendy, attractive, refined, and colorful WordPress theme that you need to try out. The theme is perfect for how-to blogs, guides, giveaways, niche blogs, and more. You can use it for FAQs, surveys, quizzes, customer experience, ads, and more. 
There is no limit to what you can do with the Topper – All-on-One theme. It comes with pre-built pages and ensures quick installation. Moreover, you can take advantage of its easy editing and customization capabilities to create a user-friendly and intuitive WordPress website. 
The theme also supports popular plugins like Elementor, Essential Grid, WP GDPR Compliance, MailChimp, and WPML.  
Samadhi – Oriental Buddhist Temple WordPress Theme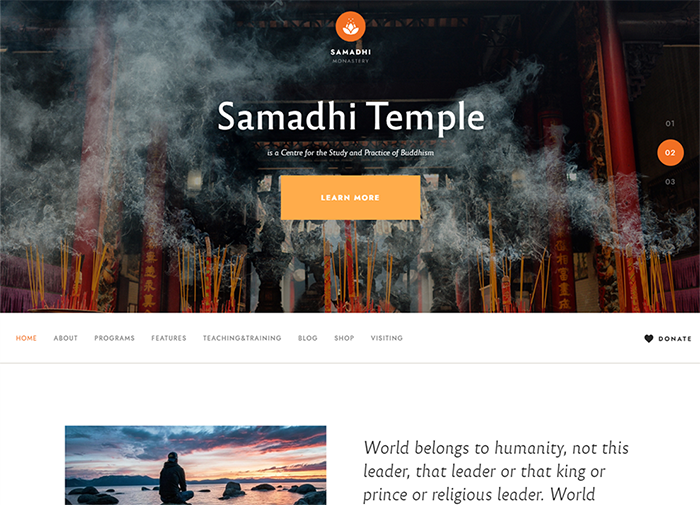 Do you run a meditation or retreat center? Then, you need to use the Samadhi WordPress theme for your project. The theme does an amazing job at presenting what you have to offer. It is a great WordPress theme for all types of services such as construction, real estate, commercial and residential development, brokerage services, online store, and more. 
Its modern design, professional support, one-click installation, and powerful framework have made it incredibly popular. The Samadhi theme is WooCommerce Ready, which means you can start selling the moment you use it.  
Amuli | Property & Real Estate WordPress Theme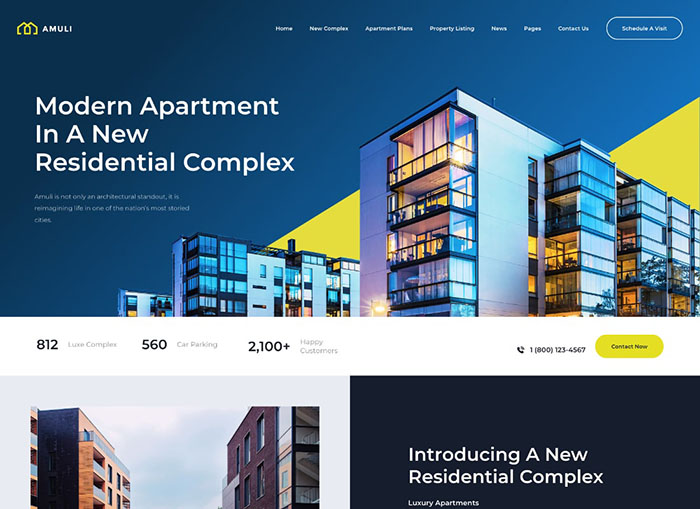 Boasting a high rating, Amuli is a great WordPress theme that you can immediately use for your project. It is a stylish and contemporary theme that offers the ultimate solution for all types of businesses. It is perfect for rental businesses and real estate agencies. One can use its easy-to-edit features to personalize their entire site. It supports all popular plugins and is SEO-optimized.
Holistic Center - Wellness and Spa Salon WordPress Theme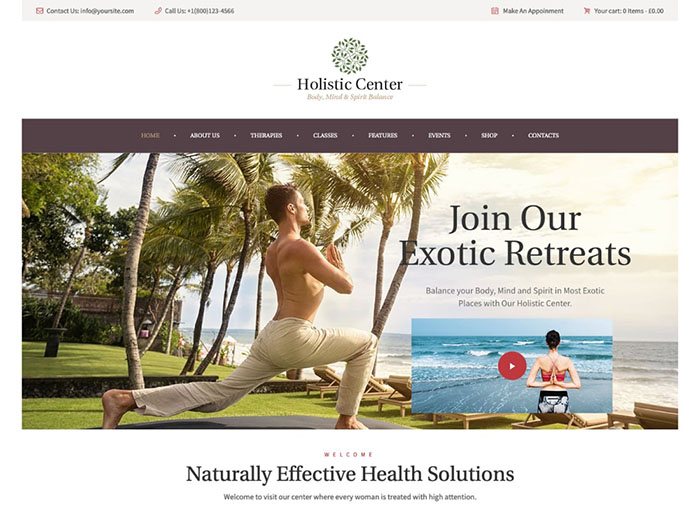 If you are looking for a health and Beauty WordPress theme, Holistic Center is the only theme that you need to use. Its crisp design and advanced functionality make it a must-have. The theme is ideal for a hair salon, beauty company, retreat center agency, yoga school, spa salon, well center, and much more. As it is WooCommerce Ready, you can start offering services the moment you get the theme. It is also fully responsive for all mobile devices.
TanTum | Car, Scooter, Boat & Bike Rental Services WordPress Theme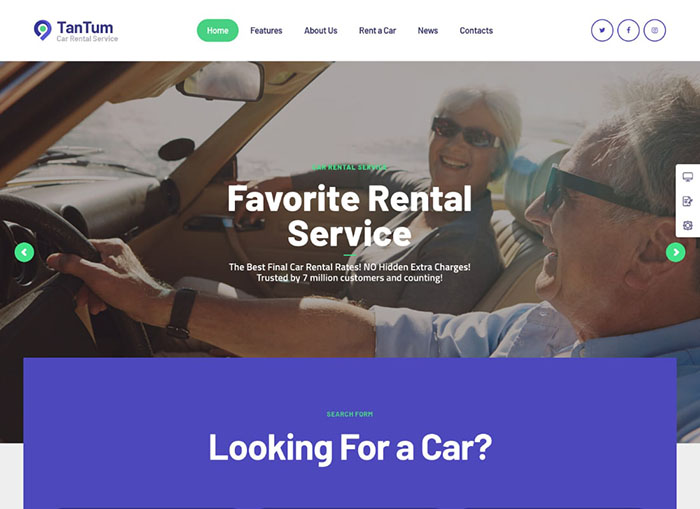 Finally, TanTum is an incredible WordPress theme that is crafted for rental services. If you have a car rental or bike-sharing business, you can get the theme to ensure that your business is prepared to offer the desired services to the masses. Its modern design and powerful framework is the reason why it is so popular.  
Kalium - Creative Theme for Professionals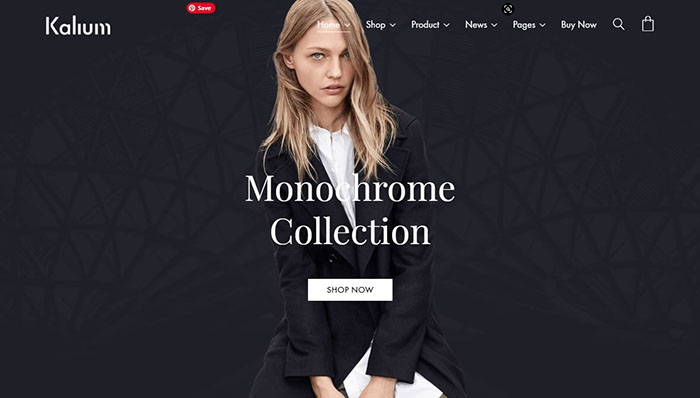 If your website has a blog or a portfolio, then Kalium is the theme for you. The theme promises a well-designed and organized format, which makes it easier for both the website owners and customers. The theme will also give the users a live demo, which will help the website owners understand Kalium in detail. 
If that's not enough, then you can also consult the documentation that comes along with the theme. Kalium gives its users unlimited ways to display content in the best ways. Use the features to create artsy content, valuable slides, and much more! You can also choose from different hover styles and control many other aspects of your website through this amazing theme.
Webify – All-in-One Elementor WordPress Theme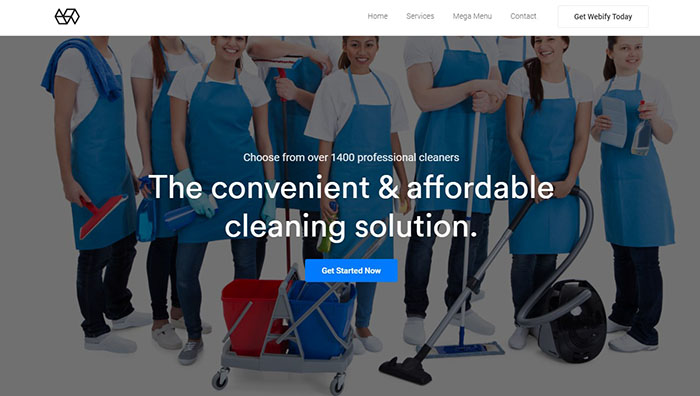 This WordPress theme has gained an immense amount of popularity over the past few years. This WordPress theme has numerous features that will help make your website stand out. To help out the users, there are as many as twenty demos lined up for the users. The good news is that Webify is a suitable WordPress theme for everyone. Whether they are businessmen, freelancers, travel agencies, bloggers, or even if your own a carpet cleaning service – Webify will help create the perfect website for anyone and anywhere! 
Total - Responsive Multi-Purpose WordPress Theme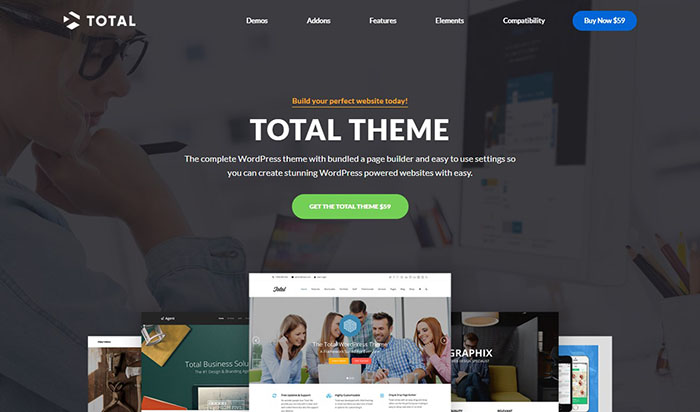 Total requires no coding at all; all you need is to make decisions based on your intuition. Total WordPress theme uses the WPBakery page builder. This builder gives users front-end and back-end page designing capabilities. Total will give your websites a professional and neat look. There are plenty of options to customize the webpages, such as high-quality sliders, premium quality menus, and so much more! The theme customizer makes website tasks speedy and simple. Get access to live demo websites to help you prepare the website of your dreams. 
Composer - Responsive Multi-Purpose High-Performance WordPress Theme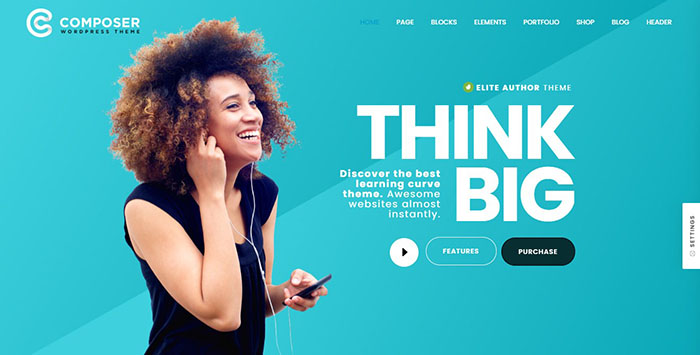 Composer gives its user over 75 demos for a smooth, speedy installation process. This theme is great if you want to build an e-shop on your website. Composer provides a user-friendly layout that fits all screen sizes, and you can edit your website on any device. Moreover, get access to tons of customizable elements with tons of designs to choose from to make your headers and sliders amazing. Composer makes it easy and quick to create your website. You get access to updates, demos, and tech support too!
Shopkeeper - eCommerce WordPress Theme for WooCommerce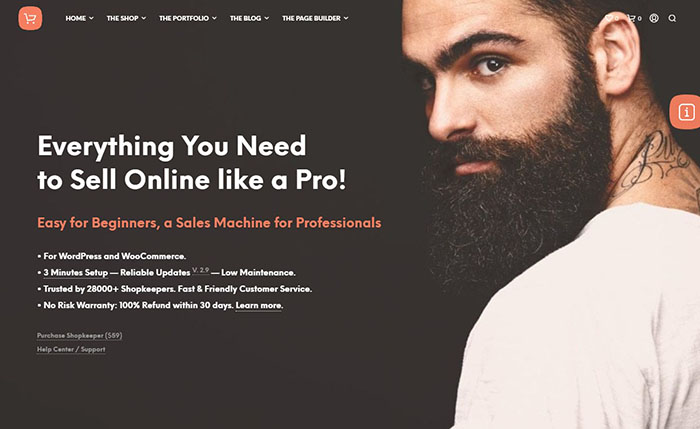 Shopkeeper is another great WordPress theme if you want to build an online store. The theme lets you design your webpages according to your brand voice. The layout gets easily adjusted to any screen size and device. Similar to Total, Shopkeeper is also equipped with the WPBakery Page Builder. This makes it easy to drag and drop elements to build your website. You may also use the broad slider to promote your products, other discount packages, and new services. Moreover, Shopkeeper integrates your e-shop to your brand's social media, which helps you improve your reach.
Uncode - Creative Multiuse & WooCommerce WordPress Theme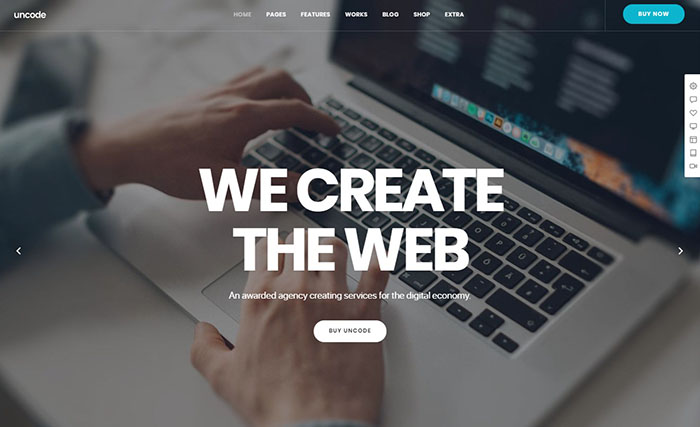 If you are looking for pre-built website demos, then Uncode is a great theme for you to explore. Uncode offers webpages that would suit all business types. Whether you have a blog, portfolio, or an e-shop, Uncode will help you build it all. The theme has a huge range of library content, blog templates, and so much more! Uncode has had many new updates, which have added plenty of new features and improved the functionalities. Moreover, the drag and drop functionality makes Uncode one of the best WordPress themes. 
Werkstatt - Creative Portfolio WordPress Theme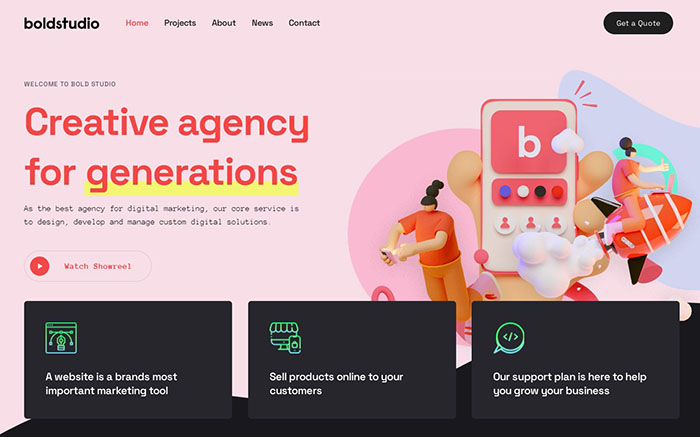 Looking for a creative way to launch your portfolio? Werkstatt will give you a great start! This theme gives plenty of options to display your webpages. Moreover, Werkstatt gives plenty of inspiration if you want to build your website from scratch. The pre-built designs are great, but if you want to build a website through your design, then there are plenty of customizable options for you to do that too.

Divi is one of the most popular WordPress themes in 2020 and is recorded to have a total of 800 000 users around the world. The theme offers unlimited, customizable options and functionality, which would otherwise be possible only with the help of an experienced web developer. 
Divi doesn't limit you when you are changing the color, icons, and other formatting capabilities. The best part is that you don't need a tech background to make any changes, as the layout builder has a simple-to-use drag and drop feature. Once you have installed Divi 18, layouts have been pre-set; all you need to do upload content. The whole process will take less than an hour to complete!
Appilo - App Landing Page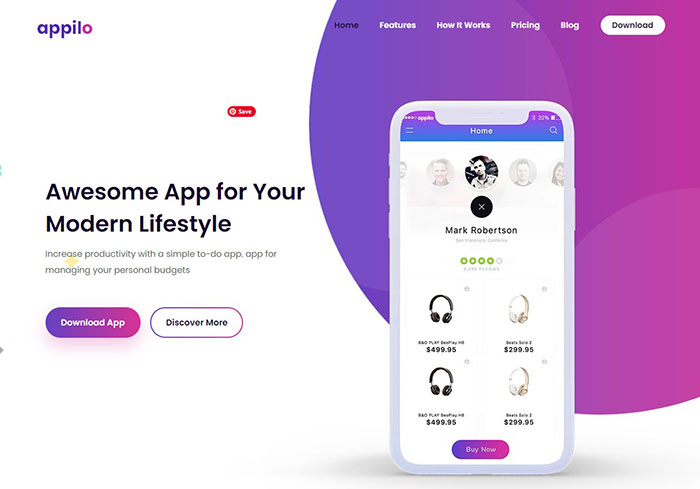 Appilo will help you develop stunning pages that readily create an impact on the viewers. No matter what kind of business you own, Appilo will help you successfully develop a website that helps you generate views. Similar to the other WordPress themes we discussed, Appilo too uses the drag and drop feature. Making changes of all kinds is super easy with this theme. Moreover, Appilo readily integrates with devices and browsers. You can also get help from the support team if things go south. This ensures your website running smoothly without any issues.  
Intact - Multi-Purpose WordPress Theme

With a Redux-based framework, Intact provides a multi-purpose framework to build websites of all kinds. There are several ways to customize your WordPress website through intact. All the features can be updated with only a few clicks! The famous WPBakery Page Builder makes the website building process even more simple. You can get several integrations to make the website building process even more efficient. 
Now, you can create the website of your dreams in no time with the WordPress themes mentioned above.  Choose the best WordPress theme to make your website efficient and appealing for the users. 
From Kalium to TanTum, each WordPress theme is equally powerful. Select a theme that is suitable for your business. We hope our guide will help you make better decisions. Go through each WordPress theme to make the right decision.