A logo means so much more to your business, even though it's usually a small image. 
It helps customers visually and immediately recognize your brand as well as what your business represents. For instance, the apple represents Apple, the swoosh stands for Nike, and the letter F represents Facebook. All of these brands have unique logos. 
Creating a logo is one hell of a responsibility since a well-designed logo is a brief and full representation of your business. It can communicate who you are as a brand, what sets you apart from others, and what you offer. 
Now, you don't have to be a pro to create a logo that catches your customers' eyes obviously for all the right reasons. Moreover, you don't have to use a graphics expert to get a quality logo (surprising, I know!).
The reason is that there are lots of logo design tools that will help you make an exceptional logo without spending a dime.
Whether you're looking to refresh your company's image or you're just getting the hang of branding, there are loads of logo design tools that you can use to create your own logo for free. After a few clicks, you'll have a professional-looking logo. 
Before you get started, it's important to keep in mind the following logo design principles. No matter what kind of logo you opt to make, you should always make one that is:
Simple

: Always try to create an uncomplicated logo that's not over-designed or over-complicated. Simplicity is great and less is definitely more when it comes to making a logo.

Recognizable

: Your logo visually represents what your brand is about. A good design should make a good first impression and be memorable.

Flexible

: A well-designed logo is one that's able to adapt to many different applications and mediums. For example, it still should look amazing in black and white and in different sizes.

Long-lasting

: You should create a logo that can stand the test of time. Steer clear of trendy symbols and fonts so that your logo is still effective and relevant 10 to 30 years from now.
Six Ways to Make Your Own Logo for Free


LogoMyWay is an easy-to-use logo maker that lets you easily drag your text and shapes to wherever you want. Begin by searching icons and shapes, then edit your color, size, and so on. Add your text and place it where you want it, all while customizing your color, font type, and size. Use the smart crop tool to perfectly crop your logo.
Once you're ready, just save the logo design on your computer. There's an option to edit your logo for free. You can upgrade and pay a fee to get more logo files. What stood out with the LogoMyWay logo was the quality of logos. They have amazing designers creating these logos and icons for you to purchase.
WIX has a free browser-based logo tool that lets you create a high-quality, customizable logo in a few clicks.
After opening your WIX account, you'll be able to access the logo creator and start making the logo by entering the name of your business. There are other optional customizable fields, including:
Industry

: This is for relevance of style. 

Tagline

: Some logos do have taglines, others don't.

Intent

: This is where you want to use your prospective logo.

Look and feel

: There are 10 styling options in total, such as fun, dynamic, modern, playful, timeless, techy, creative, fresh, hipster, and formal.
Once you pick your preferred created template, you may further customize the icon, colors, and font of your logo. You may download a low-resolution version of your logo free of charge, or you may buy the advanced or basic logo package.
Hatchful is owned by Shopify and is one of the easiest-to-use logo creation tools around. For that reason, it's a nice place to start. Thanks to its smart design and simplicity, Hatchful boasts the perfect interface for mobile gadgets.
Hatchful is designed for rank beginners, automating the design process as much as possible. You begin by answering a number of questions to figure out what sort of logo you're looking for–first your industry, followed by your brand personality, then lastly where you'll be using the logos. From there, the tool generates several sample logos from which you can choose one or more. You can also personalize them on your own using the design editor in case you decide to make minor alterations.
But the downside of Hatchful is that it doesn't offer good file formats. You only get PNG images and no vectors, meaning that your logo won't be able to be printed in high resolution or used in larger sizes. But if you just need a small image right now for your business, it may just work for now.
If you want a stunning and personalized logo using simple logo design tools, you should consider giving Canva a try. It's got a wide range of templates you can apply to make sample logo designs in minutes.
To get started, simply sign up for a free account, check out professionally created templates and personalize the design with your favorite colors, fonts, and graphics. Lastly, save the logo on your computer and share it with everyone.
Canva design tools and templates are all free of charge. Canva also offers premium images for just $1 per single-use. Once you have your logo, you can share it on your social networks. You'll see great things happening after that, like gaining followers, expanding your fan base, and getting new customers.
 Away from online logo design tools, Inkscape is a great free downloadable graphics editor you can use on your computer. Taking everything into account, it's a really amazing high-quality design application that's available for free. There's a downside to it, though. The more design options and features Inkscape offers, the more difficult it is for learners to use.
As Inkscape is open-source software, it updates frequently and there's a huge developer community working to make it better. On the flip side, since it's a free program, it doesn't have the same wealth of options or stability as paid programs. All things considered, it's perfect for those who want to learn logo design but aren't prepared to splash the cash for more expensive tools. 
Our last way to get a free logo for your company isn't through an online application or software program. It's asking for free help from someone with graphic design knowledge. Of course, professionals don't always work for free. So if you want your logo created for free by someone skilled in graphic design, you've got to find the right individual and consider what you can give them in exchange.
For starters, is there an artist among your family and friends? Being a sculptor or painter is different from being a graphic designer. However, artists still have some visual arts knowledge and the results might be something special to make you stand out. 
If you don't have anyone who could create a logo for you for free, you may also consider enlisting a hobby designer or design student. Hobby designers and design students often take on low-priced work in order to learn and expand their portfolio.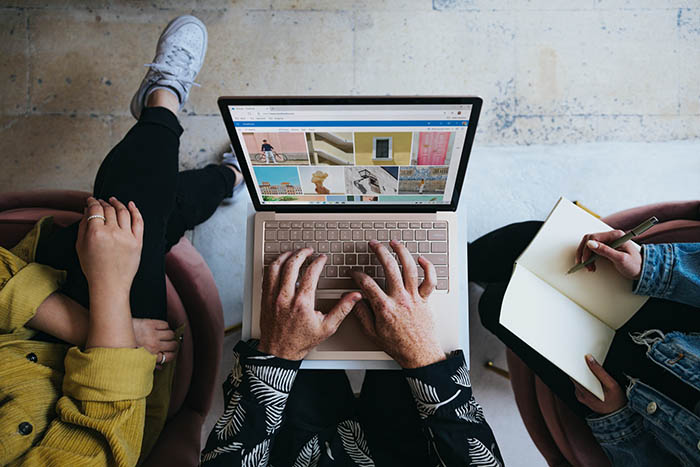 Logos aren't only meant for large corporations. With many free logo design options available online and offline, you really don't have any excuse to not have a beautiful and functional logo for your small business.
Take some time exploring these free logo makers and you'll most likely find something that fits your needs and budget.