The world today is more fast-paced than ever before. We no longer live with 56K dial-up Internet and slow speeds that take ages for websites to download. Users today can access websites within seconds of clicking on a link. This is a blessing for them, but not so much for websites that take time to load.
You need to make sure that your website loads immediately upon its request. Otherwise, you risk the chance of turning away visitors. Neil Patel has shared some important statistics about the impact your website load time can have on traffic and conversion. The two that truly stand out are:
A whopping 47% of users expect a website to load within 2 seconds.

A delay of just 1 second can drop conversion down by 7%.
Speed isn't just important to users as search engines, like Google, also take it into account. While Google doesn't outright have a ranking metric for speed itself, it does rank for user experience. How fast a website loads is part of the user experience metrics on Google. So if your website loads fast, it has a good chance of scoring high on their user experience metric.
How Fast Should Your Website Be?
The ideal load time for a website should be under 3 seconds. But a majority of websites fail to achieve that benchmark. You can get away with having a website that takes longer to load than that based on the industry you are in.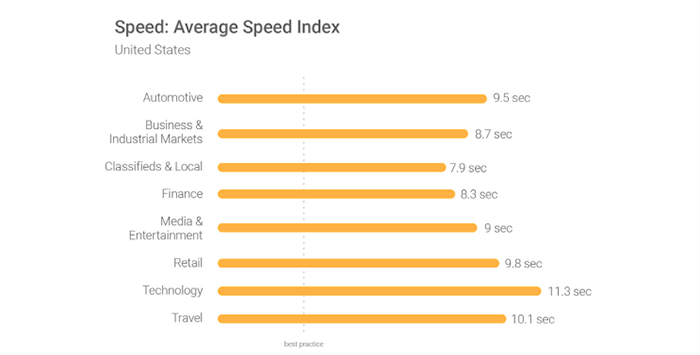 This graph above shows that few online businesses are aware of the importance of faster websites as the chart's average is 9.3 seconds. Which means that if you take the right measures then your website will be far ahead of the average in your industry.
But how can you check your website speed and improve it?
Where to Test Your Website Speed?
There are many platforms online that can be used to test website speed. Webpagetest.org is a free platform that gives you detailed insights of not just the load time, but also readings on when the website starts to render and its first-byte time. All three of which can help you determine what to target to make your website faster. We will get into how you can do that.
How to Speed Up Your Website?
Your website load time is determined by many factors. So, there are different ways you can improve its speed. Some ways are more effective than others and we have picked out the top 4.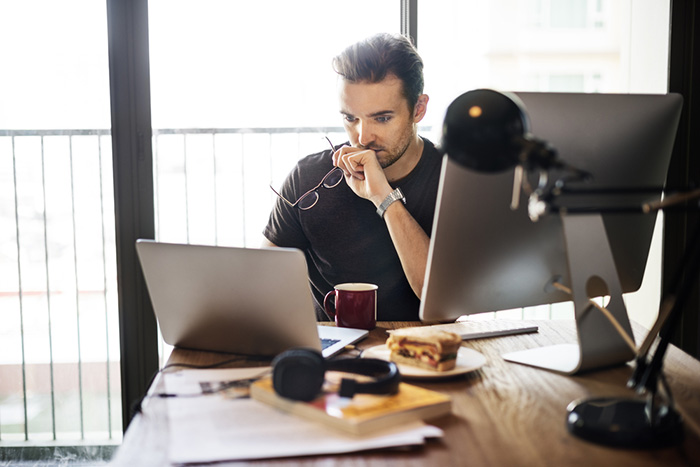 Lower the Requests for HTTP
Your website has many elements as it is made up of scripts, images, stylesheets, and different pages. All of which make up the front-end of the website. 80% of your website load time is determined by the front-end.
The amount of time it takes a site to render is heavily dependent on front-end components. The more elements you have on your website, the longer it takes the page to load.
Web Page Test allows you to determine the total number of HTTP requests made during its test and also highlights every request that occurred.

In the example above, 321 total HTTP requests were made when the site was completely loaded. Since the tester also breaks down each and every request, you can look at the numerous requests and determine what you can get rid of to lower the number and enhance the speed.
Combine and Reduce Files
You don't have to get rid of HTTP requests, you can reduce them by combining requests. If you use a WordPress theme or other template based website, chances are you will have more requests since the coding on them is slightly messier. They have multiple codes for JavaScript, CSS, HTML, and other such files. Codes that can easily be combined together, will reduce requests.
For users that have a website on WordPress, the WP Rocket plugin can help you get the job done. Once you run the plugin, you can click on the "Static Files" tab. This will give you the option to combine various HTML, JavaScript, CSS, and other files. You just need to select the file types you want to combine and submit them by clicking "Save Changes."
After which, you can run the speed test one more time to see the impact of making your website leaner and hosting fewer requests has had.
Minimize TTFB
Time to first byte (TTFB) refers to the time it takes for the first byte of the website to be received by the server. Google has recommended in the past that a website's TTFB should be as low as under 200 milliseconds.
TTFB isn't determined by the front-end, but rather, concerns the server-side of the website, which falls with the website host. As soon as the HTTP request is sent by a user's browser for the website, three things happen:
DNS lookup

Server Processing

Response
To determine how long TTFB takes on your website, Web Page Test gives you a "First Byte" reading.

You don't have to worry about much if the load time is under 200 ms. If it is above that mark, there could be several different reasons behind it: network issues, server configuration, and amount of traffic to name a few. There are technical ways in which you can improve the server configuration. You can even contact your hosting provider and have them help. But the real solution to this is to consider moving to a faster hosting provider.
The Last Word
Getting your website down by a mere 1 second can have quite an impact on it. But the task can be challenging. You need to start off small by combining files first to see what kind of impact a leaner website can have. From there you can think about whether or not a faster hosting provider would be the solution for you. Be sure to thoroughly look through the results of your website speed test and determine your approach from there. Otherwise, you might as well be approaching this task with a blindfold on.