It is probably needless to say how your website is the business card, especially if you run a business that begs for showcasing. Real Estate business is one of those cases when you have to have an eye-catching website that will be both handy to display content and user-friendly.
Web designers have gone above and beyond to compose WordPress themes that will respond to as many requirements of a specific business as possible. Real Estate is not an exception. The amount of available themes is sometimes overwhelming, and that is why we no longer build so many Multi-purpose themes. Among thousands of website templates only the ones that were designed with Real Estate business in mind are presented in this collection. But again, the fact that they are called Real Estate themes does not put a label on them to permanently serve as a platform for these types of websites. Modern WordPress themes are customizable and can become anything you need them to be. Well, almost anything 😉
So, get yourself ready for the most amazing, fresh out-the-oven collection of 2015 Real Estate WordPress Themes.
Quick Sale – Single Property Real Estate WordPress Theme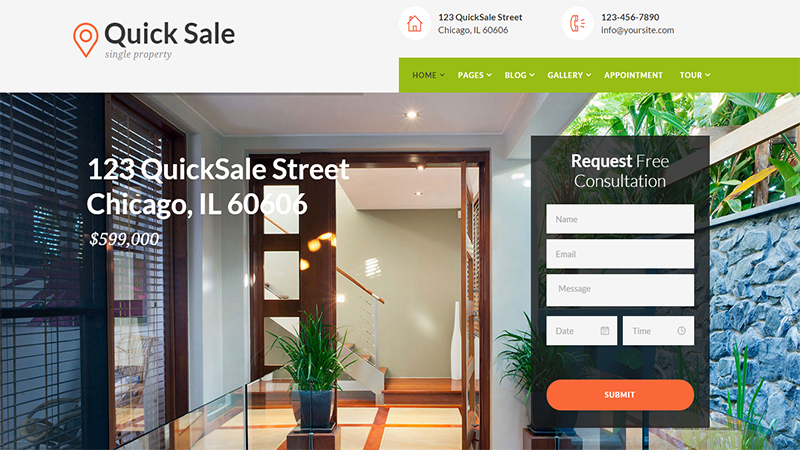 Please, do not get the following message wrong, but this is one of the most stylish and functional Single Property Real Estate WordPress themes on the market. Let's see why. Quick Sale was designed to impress. With just a few steps you get a powerful tool to create the most amazing site for one of your assets that you would like to sell. The theme is equipped with useful elements for you to achieve the goal with minimum effort. For example, there is an Online Appointment system that is supported by WP Booking Calendar plugin and allows your clients to reach you anytime anywhere. And you can take them on a Tour without leaving your workplace – check out the awesome section that is completely dedicate to this purpose. Available also are multiple layouts and styles to help you make the website unique and beautiful.
Top Producer Real Estate and Top Speed Car Dealer WordPress Theme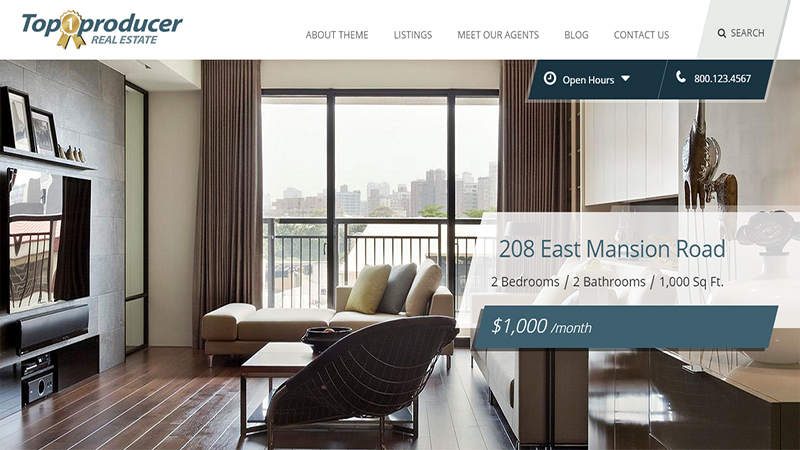 These guys decided to split the theme's design to fit 2 different categories of business: real estate and car dealership. We will not go into car business. Yet. But we will definitely dig the real estate part inside and out. First off, when you get to see the Home page, any of them, it doesn't strike you as a theme that you would fall for. I mean, it did not strike me for sure. But you just hold on and do not go by the first impression. The theme is packed with tons of widgets, shortcodes and plugins, as well as page sections and layouts. They all scream business, so, if you wish your website to be highly professional and modest, with heavy emphasis on content, this is the right choice. Laconic and functional, Top Producer Real Estate theme is handy for promoting your agents, services and agencies.
Realsite – Material Real Estate WordPress Theme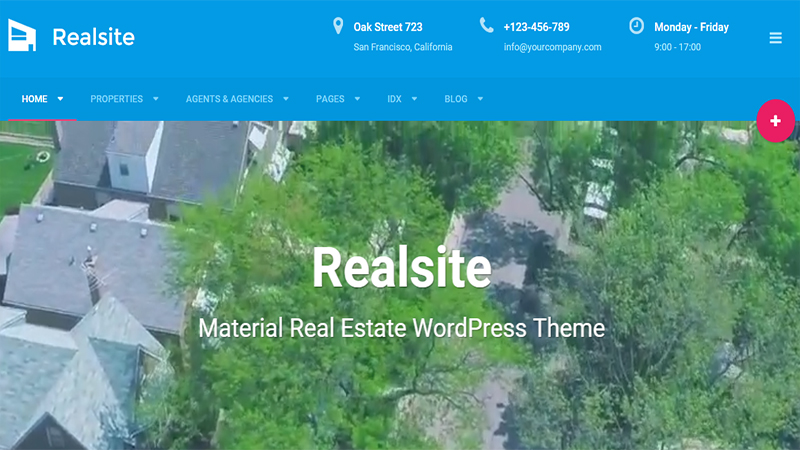 This is the theme that kind of does struck you. The authors have created so many page layouts it makes your head spin. Talk about showcasing, huh? Realsite lets you choose what you think is best for your website. It can be simple, with no crazy stunts, or you can go with the video background right on the Home page and display any kind of show you think your clients will appreciate. But since the authors claim it to be performed in material design, there are actually few tricks you can pull. Anyway, I think the real trick is to get your head around all the awesome features that come with the purchase. For example, your clients and random site visitors will be able to compare properties (up to four of them side by side) and to create lists of their favorite ones. Also, though I've never been into selling property, the availability of statistic makes me excited. It gives a chance to review the most visited items, popular locations, total views in time or by properties etc.
Reales WP – Real Estate WordPress Theme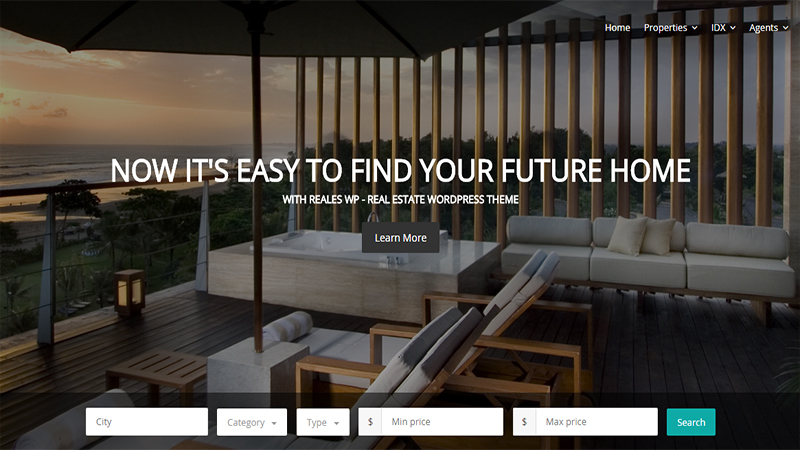 Well, this is actually nice. Nice is almost everything in this theme, from the slider on the home page to the integrated Google map, and it's kind of frustrating. Reales WP looks professional. It is a business theme, but the design does not give you the vibe of plain facts, prices and contact numbers, and therefore, it doesn't send you into deep boredom. The smooth yet pretty noticeable hover effects are everywhere. You would think it's annoying, but since they are pretty much the only effects that you find in the theme, it's not. Besides the variety of hovers, you will find that it is easy to navigate around and almost everywhere you go you find Google maps. The authors made a huge emphasis on how important and convenient it is to be able to locate a user or a property. And the awesome Advanced Properties Filter makes the search experience much better. Custom colors, useful shortcodes and many other components are combined in this nice theme with Intuitive design as per authors.
Solus – Single Property WordPress Theme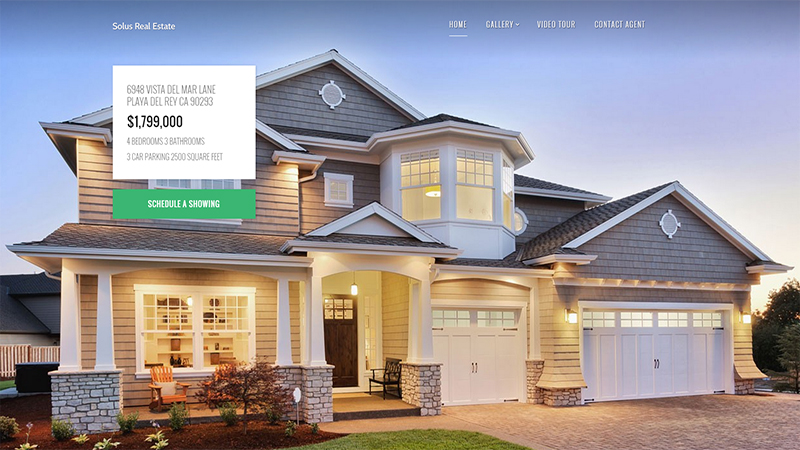 Okay, this is another theme for single property selling website; therefore, it's all about giving potential buyers a tour. To help you get rid of the property as soon as possible the designers of Solus came up with several useful tools to do just that. The entire theme is like a gallery. Large slider on the Home page is ideal for displaying photos of the estate. And who said that photos are enough? You can upload videos showing off the property to different sections of the site. It might be depressing that your pictures and videos slightly differ from posh ones that come with the theme as samples. So, hiring a professional photographer is probably a good idea. Nobody needs a depression over a random image. However, if you look up some of these videos online, you might cheer. Anyway, there is another feature worth mentioning – a Showing Request Form. Impressed by your photography and filmography visitors can fill it out online and schedule an appointment. Overall, this is a good platform for your single property website, blog and gallery.
Dream Home – Real Estate WordPress Theme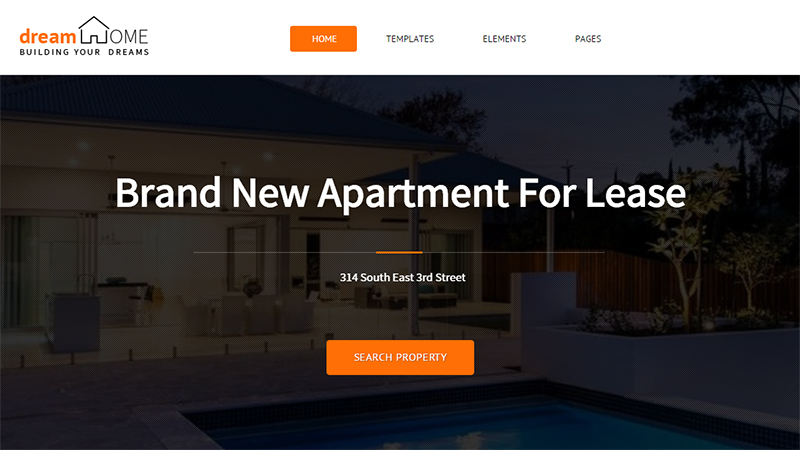 Lightweight is something that Dream Home is far from. Very far. Though the concept is clear and the theme is beautiful, it makes you want to leave it alone. But this is not our motto to leave barehanded, so let's dive. To be more specific about the concept: this is a typical business theme that was altered to meet Real Estate needs. If your agency needs to be promoted, this theme will give it advantage in terms of visual appearance. It allows posting in "Our Latest Property" as many estate images as one can handle. The point of this isn't exactly distinct as the more you upload the slower it works, the stronger your wish to leave gets. But we're still not done. You will find multiple pages layouts, styles and types. This is handy. Another handy tool is the advanced search and filter for effective navigation and usability. Not every visitor will want to look through the endless photos of houses and apartments (I can't seem to get over it) right away.  And the last feature that is quite worth mentioning is the staff profile. It is nice and useful for introducing your employees to the potential clients prior to personal meetings.
Skyestate – Real Estate with Front-End Submission WordPress Theme
So, the key words here are "front-end submission". For Real Estate website this option is not vital; however, if you aim to have an interactive site like forum or news board, you might want to give it a try. And if you wish you can use the dsIDXpress plugin that is supported in this theme. It works for brokers only, and if you are not a member of MLS, you are not allowed to use it. Realtors are so mean sometimes. Otherwise, Skyestate is a feature-rich theme that was designed by people who know stuff about selling property. Besides multiple layouts and styles you will find advanced search available. Too bad it is not located on the home page though. There should be a search to find the advanced search in demo version. But everything else seems to be just fine. The minimalist and clean design, the multiple sections and pages, the availability of custom widgets, shortcodes and plugins make a pretty good combination for a real estate website.
Hometown – Real Estate WordPress Theme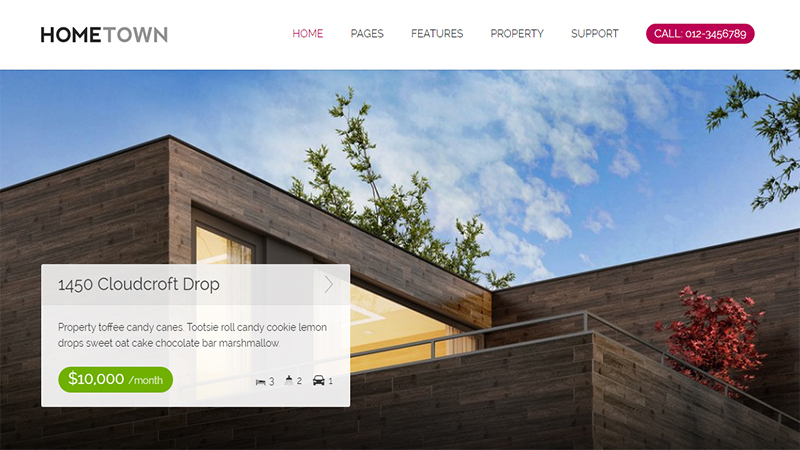 The theme comes in two demo versions, though the second version is a bit outdated. It is not likely to be used, especially if you compare it to the first one, so we will not focus on it. What I like immediately in this theme is that the advanced search is right there on the Home page. Otherwise, it is a standard Home page of a business WordPress theme with links to the employees, featured items (properties in our case) and partners if you wish to help them with their ratings, because this theme is supposed to be SEO optimized. Also, if you don't get excited about too many choices for your Blog or Services page layouts, Home Town might be the savior. There are few styles and they all are quite one-track. Mostly because they relate to the slider. Anyway, there is dsIDXpress plugin available, as well as PayPal front-end Property Submit.
Mikado One – Multi-Concept WordPress Theme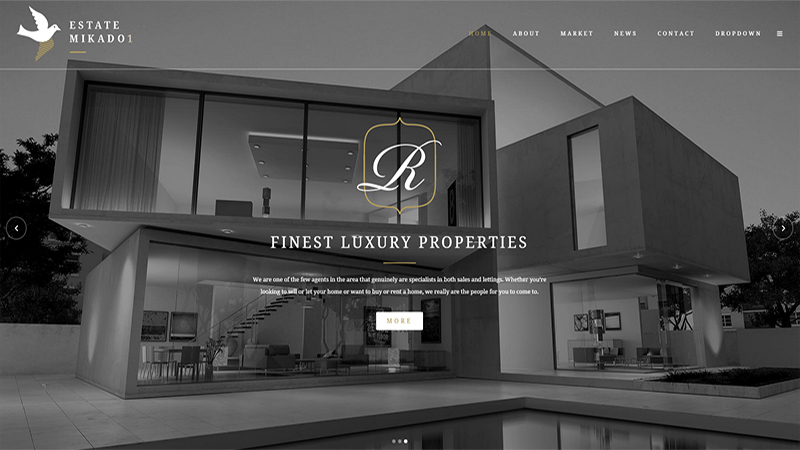 The authors of the theme seem to be obsessed with the idea of putting every possible websites' category in this Mikado One. Finally, we have a luxury theme for luxury properties. With Estate Mikado One you will feel the difference. What kind of difference is another question though. The accent is being made on large slider and images. In other words, the theme is good for presentations. There are no optional layouts and styles, except alternative names for the site's sections in the hidden menu. So, just grab it as it is. Then there is a possibility to upload videos, create charts in the About, or Year over Year section and post news in a pretty well-built Blog. This is a good choice for an agency that needs to promote the website and attract new clients.
Real Estate – Business WordPress Theme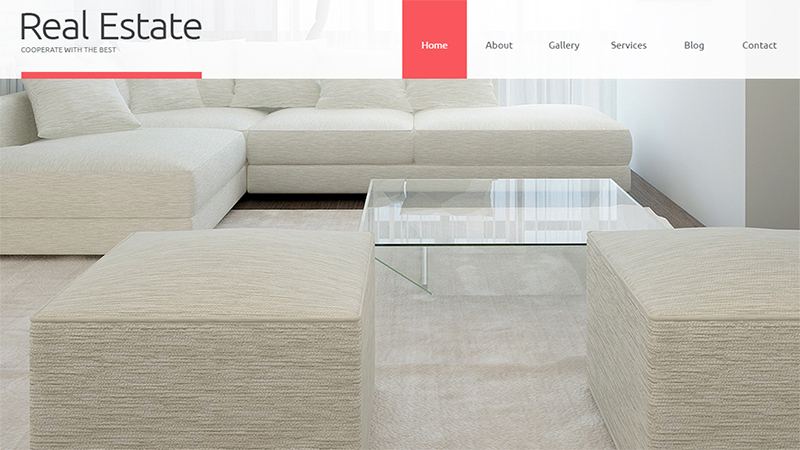 This is a professionally built theme for Real Estate businesses' websites. It really is obvious that there is nothing extra and nothing is missing. Except probably the dsIDXpress plugin. And a proper listing system of properties with pricing, description and – my favorite – advanced search. After such a disappointing discovery you would think that this SEO Optimized theme was designed to advertize a Real Estate agencies, promote services and be a solid platform for Galleries. By the way, there are quite a few styles for Gallery, and for some reason the authors gave you an opportunity to compose it as blog posts, with descriptions, categories and comments. And, of course, there is a Blog. Quite helpful.
Realtor Services – Responsive WordPress Theme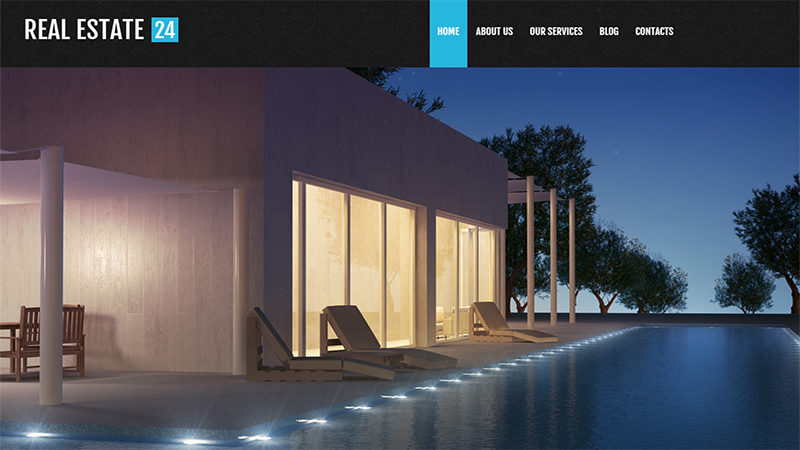 Now this is definitely a theme to help you advertize and promote your agency. There is no Gallery, but it goes unnoticed as the Home page is setup to partially perform this role. The concept of the theme was taken from the name. Literally. There are few sections and features, except multiple styles for Our Services section. The theme is supposed to be fully editable and customizable. It is also SEO Optimized to help you achieve your Marketing goals. In general, this is a good theme that become a portfolio for a real estate agency or an individual realtor.